How to Protect Your Home from Natural Disasters with the Right Insurance
Not all damage is covered by standard homeowners policies. Make sure you're prepared before it's too late.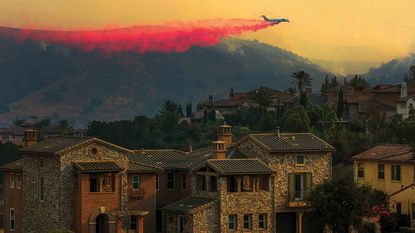 (Image credit: Photo by Irfan Khan/Los Angeles Times via Getty Images)
The pandemic and the presidential election dominated the news in 2020, but natural disasters also loomed large across the U.S. There were 22 extreme weather events last year, according to the National Oceanic and Atmospheric Administration, including the wildfires that spread across California, the tropical storms and hurricanes that pummeled the Atlantic coast, and a handful of tornadoes. Those disasters left more than $95 billion in damages in their wake, with homeowners and businesses large and small bearing the brunt of the costs.
Many homeowners have misconceptions about what their home insurance policy will cover, leaving them with unexpected expenses when disaster strikes. For example, when Policygenius.com, an insurance comparison website, surveyed homeowners last (opens in new tab) year, more than 53% of them said they believed that flood damage is covered by a standard homeowners insurance policy. (It's not.) The survey also found that more than 80% of homeowners mistakenly thought that earthquake damage was covered, too. If you're at risk for either of those events—or any natural disaster—here's what you need to know to make sure you're covered.
Floods and hurricanes
Certain kinds of water damage are covered by standard homeowners insurance. For example, if your water heater springs a leak or a water pipe inside your house bursts, your home insurance will probably cover the damages after you meet your deductible. (For tips on how to detect leaks early, see below.) But if it's any other type of water event, such as flooding from heavy rainfall or a hurricane, you're on the hook for the costs to repair the damages.
Subscribe to Kiplinger's Personal Finance
Be a smarter, better informed investor.
Save up to 74%
Sign up for Kiplinger's Free E-Newsletters
Profit and prosper with the best of expert advice on investing, taxes, retirement, personal finance and more - straight to your e-mail.
Profit and prosper with the best of expert advice - straight to your e-mail.
Last fall, heavy rainfall led to flooding in the basement of Chynna Keys's home in Fort Washington, Md. Keys had to deal with water in her basement a couple of years ago, too, but she thought it had been caused by a faulty sump pump, which she replaced. This time, however, the rainfall flooded not only the main part of her basement but also a back room, damaging the carpet. Keys called her insurance agent at Erie Insurance, her home insurance provider, only to learn that she was on her own because she didn't have a separate flood insurance policy. So far, she has paid $5,700 to fix the damages.
Homeowners can purchase flood insurance from the federal government or a private insurer. The government's National Flood Insurance Program provides up to $250,000 of dwelling coverage and up to $100,000 of contents coverage. The policy has two separate deductibles (one for dwelling, one for contents) that you must pay before coverage kicks in. Deductibles start at $1,000 but can go as high as $10,000 for single-family homes. If you think this coverage is too low, you can try the private insurance route, which typically has higher coverage limits and will reimburse you for the full replacement cost of your home's contents. (The NFIP only covers the items' actual cash value, which includes depreciation.)
The cost of an NFIP policy varies, depending on risk, but averages about $700 a year. A policy from a private insurer averages $1,050 a year, according to Policygenius. Premiums will vary depending on where you live. For example, if you live close to the beach, premiums for a private policy will probably be higher than average.
In some areas, a private policy may cost less than one from the NFIP. A 2017 study from Milliman, a risk-management and benefits firm, found that a large number of homeowners in Texas, Florida and Louisiana could buy a policy from a private insurer for less than they'd pay the NFIP. An insurance agent can help you compare options. Search for one near you at www.trustedchoice.com (opens in new tab).
If you live in a hurricane-prone area, floodwaters aren't your only concern. While damages from wind and wind-driven rain are covered by a standard homeowners policy, many charge separate wind deductibles, which means higher out-of-pocket costs for you. The deductibles are usually based on a percentage of your coverage rather than a flat dollar amount.
"It has been a gradual shift to different deductibles being applied to wind damage—particularly in the 19 states that are most prone to having hurricanes," says Dan Karr, founder and CEO of ValChoice (opens in new tab), an insurance industry watchdog. "So you could still have a $1,000 deductible on your home, but your wind deductible might be 5% to 10% of your dwelling coverage."
That can really add up. For example, suppose your home is insured for $500,000 with a 5% wind deductible, and you have $30,000 worth of roof and siding damage from high winds. You're responsible for $25,000, with your insurance covering only $5,000 of the damages.
Wildfires and earthquakes
Wildfires have become increasingly common across California and some other western states, bringing with them a slew of insurance woes. Wildfires are covered by standard homeowners insurance, but insurers have been canceling policies in some high-risk areas. To protect homeowners during the 2020 fire season, California State Insurance Commissioner Ricardo Lara issued a one-year moratorium on policy cancellations for policyholders affected by wildfires. So while they're covered through 2021, California residents living in brushfire areas need to be prepared to face some speed bumps when it comes time to renew their home insurance policies.
"Over the past several years, as these wildfires have destroyed communities, the insurance carriers have been leaving or declining to provide coverage for those homes," says Derek Ross, an independent insurance agent in Oak Park, Calif. "So where you may have had five to eight insurance carriers offer insurance coverage in a brush area, now you may be lucky to find one, two or three."
Ross himself is in the process of shopping for a new policy. Even though he has been with his insurance provider for 15 years and hasn't filed any claims, the insurer chose not to renew his policy. While he's not worried about finding a new policy and is prepared to pay for it, he warns that homeowners in a similar situation may face sticker shock when it comes to premiums and deductibles.
For example, deductibles in areas with high brush exposure and other wildfire zones can now run as high as $10,000 or be based on a percentage of your home's dwelling coverage amount, as is the case with wind deductibles. A policy that may have cost $1,000 a year ago could cost three to six times that much when it's up for renewal.
Earthquake damage is always excluded from standard homeowners insurance policies. You need a separate policy or an endorsement on your current policy to cover direct damages caused by an earthquake.
The deductible for earthquake insurance is usually 10% to 20% of your coverage limit, according to the National Association of Insurance Commissioners. So if your home is insured for $500,000 with a 10% deductible, you could be out $50,000. And depending on how your policy is written, your house, personal belongings and any outside structures could each have their own individual deductible.
Californians can get earthquake coverage from the California Earthquake Authority to cover replacement costs and up to $200,000 of belongings. Deductibles range from 5% to 25%. For more information on CEA policies, go to http://earthquakeauthority.com (opens in new tab).
Playing defense
In the words of the late University of Alabama football coach Bear Bryant: Defense wins championships. That's especially true when it comes to preparing your house to withstand anything that nature can throw at it. You can add protection without breaking the bank, and you may get a break on your home insurance premiums, too.
Flooding. To avoid flood damage, purchase water detectors and install them in your utility closet, says Sean Harper, CEO of Kin Insurance (opens in new tab), an online insurance provider. The detectors alert you if there's a leak by emitting a loud alarm sound, sending a notifi­cation to your smartphone, or both. Some detectors can also be set to shut off your water at the first sign of a home leak. Detectors with automatic water shut-off tend to cost more than those that just sense leaks. One option is the Flo by Moen Smart Water Detector ($50 at Amazon) (opens in new tab). It is battery-powered and sends notifications to your smartphone through an app.
Wind. If you live in an area susceptible to hurricanes, tornadoes and other types of windstorms, you need to ensure that your roof is securely strapped down. The best time to add this protection to an existing home is when you replace the roof. A few inexpensive upgrades can make a big difference. The Insurance Institute for Business and Home Safety's Fortified standards (which will earn you a premium discount from many insurers) focus on three layers of protection for the roof. The bottom layer—the plywood roof deck—is held on by special "ring shank" nails. The next layer seals the roof deck with a membrane or special tape. Properly sealed storm-resistant shingles form the top layer. Installing flashing anywhere the roof changes slope also helps. Even if you aren't replacing the roof, you can add roof straps, metal connectors or retrofit clips in your attic.
Wildfires. Homeowners who live in or close to wildfire zones should keep gutters clear of debris, clear out dead plants and shrubs, and remove any dead tree limbs or limbs that are too close to your house. You also want to create what are known as "defensible safe zones" around your property. In the 5-foot area around your home, remove any flammable outdoor furniture and other combustible materials, such as firewood. For more on how to create a safe zone, go to http://farmers.com/catastrophe/wildfire-defense (opens in new tab).
Earthquakes. The most common earthquake retrofit braces the "cripple walls" with plywood and bolts the house to its foundation. These walls are usually found on wood-frame homes built before the mid 1970s, and they sit between the foundation and the floor of the house to support the house, creating a crawl space. Even a house without cripple walls may benefit from bolting. Check with your city to see if it has a standard retrofit plan ready for permitting. Look for a licensed, insured contractor with seismic retrofit training from the Federal Emergency Management Agency.
When your home is your workplace
In addition to determining whether you have enough coverage to protect your home in the event of a disaster, consider whether the new normal of working from home has changed your insurance needs.
Even if you've purchased new technology, your current policy will probably cover the costs if your computer or printer is damaged or stolen. A standard home in­surance policy usually provides $2,500 in business equipment coverage. Plus, if you work for someone else, your employer may cover any damages to your work equipment, says Fabio Faschi, a home insurance expert with Policygenius.com (opens in new tab). If you work for yourself and believe existing coverage of your equipment is too low, you can increase it to up to $5,000 for as little as $25 a year, according to the Insurance Information Institute.
Living and working at home means your appliances are running more often, so you may want to consider adding equipment-breakdown coverage, Faschi says. With a standard home insurance policy, equipment-breakdown coverage will reimburse you for the costs of mechanical breakdowns, an electrical problem due to a power surge or a problem that stems from faulty installation. It doesn't cover normal wear and tear. The additional coverage typically costs about $24 a year.
In addition to making sure your belongings can be replaced, you'll want to make sure you're adequately protected from lawsuits. For example, if someone trips and falls in your driveway, they could sue you to cover the cost of caring for their injuries. Unless you're meeting coworkers and clients in your home, your current liability coverage, which is typically $100,000, is probably sufficient to protect you from lawsuits. But for more protection and peace of mind, you can buy an umbrella policy that provides more coverage at a relatively low cost. The first $1 million of coverage gen­erally costs $200 to $400 a year; the next $1 million runs an additional $75 to $100.
Renters need insurance, too
Even though renters don't have a house to rebuild, they still need to protect belongings that could be destroyed by a fire or another disaster. However, only 37% of tenants have renters insurance, according to recent data from Policygenius.com (opens in new tab), an insurance com­parison website. If you're a renter and need a policy, or if you plan to re-shop the one you have, here's what you need to know.
In general, a renters policy covers three basics: your liability in the event of lawsuits, replacement of personal possessions, and living expenses in the event your apartment becomes uninhabitable. The policies typically cover losses from burglary, vandalism, windstorms and certain types of water damage. Water damage caused by hurricanes or other weather-related flooding isn't covered by most renters policies. However, if a pipe bursts inside your apartment and causes water damage, that falls into the accident category, which is usually covered.
A renters insurance policy costs an average of $180 a year, according to Policygenius.com. The price is calculated based on where you live, the amount of coverage you have, your deductible and other factors. Policygenius recommends that renters buy a policy with $30,000 of personal property coverage, $100,000 of liability coverage, and loss of use coverage that's equal to 40% of personal property coverage. Loss of use means your insurer will pay for you to live somewhere else while your place is being repaired.
If you're worried about flooding, review your local flood maps to see if you're at risk. Go to http://fema.gov/flood-maps (opens in new tab) and scroll down to the FEMA Flood Map Service center to find your community flood map. If you live in a community that participates in the National Flood Insurance Program, you may be able to purchase a separate flood insurance policy from the Federal Emergency Management Agency to protect your belongings. Policies start at $99 a year for $100,000 of contents-only coverage.
If you're concerned about other disasters destroying your belongings, you should consider buying a renters insurance policy with a high personal property limit. Coverage amounts start as low as $15,000 and can go up to $500,000. If you have expensive electronics or jewelry, you may want to add an insurance rider (if one is available) because your standard personal property coverage may not be enough to replace them.
Coverage with higher personal property limits is usually inexpensive. For example, a Liberty Mutual renters policy for a Maryland apartment in the Washington, D.C., metro area would cost $26 a month with a $500 deductible. This includes $25,000 in personal property coverage, $100,000 in liability, $5,000 in loss of use and a $5,000 electronics rider with a separate $50 deductible. Without the electronics rider, the policy drops to roughly $21 a month. Both prices include a discount for buying the policy online.
Staff Writer, Kiplinger's Personal Finance
Rivan joined Kiplinger on Leap Day 2016 as a reporter for Kiplinger's Personal Finance magazine. She's now a staff writer for the magazine and helps produce content for Kiplinger.com. A Michigan native, she graduated from the University of Michigan in 2014 and from there freelanced as a local copy editor and proofreader, and served as a research assistant to a local Detroit journalist. Her work has been featured in the Ann Arbor Observer and Sage Business Researcher.