Flood Insurance: What It Costs and Why You Need It
The average cost of a flood insurance policy is about $939 a year, but premiums vary depending on your property's flood risk.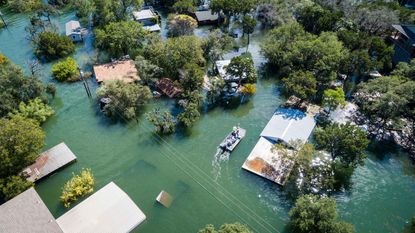 (Image credit: Getty Images)
Floods, hurricanes and seasonal rainfall can wreak havoc if you aren't prepared and properly insured. You need more than some fresh batteries and bottled water. You need flood insurance. Homeowners insurance typically covers damage that comes from the top down — such as rain and wind damage — but it doesn't cover rising water and flooding.
Hurricane Idalia was the latest major storm to batter Florida and other East Coast states and cities. Idalia made a historic landfall in Florida's Big Bend — no major hurricanes have been tracked in Apalachee Bay since records starting being kept in 1851. Preliminary estimates of the damage put it between $9.3 billion, according to UBS, and $20 billion, according to AccuWeather.
Storms like Idalia strain insurers that are expected to face claims for billions of dollars. This adds to a challenging year for the insurance industry that could result in higher premiums for customers. Florida has already seen insurers pull out of the housing market.
Subscribe to Kiplinger's Personal Finance
Be a smarter, better informed investor.
Save up to 74%
Sign up for Kiplinger's Free E-Newsletters
Profit and prosper with the best of expert advice on investing, taxes, retirement, personal finance and more - straight to your e-mail.
Profit and prosper with the best of expert advice - straight to your e-mail.
The Federal Emergency Management Agency (FEMA) administers the National Flood Insurance Program (NFIP) to ensure you have access to flood insurance and help you restore your home to pre-disaster condition. This coverage can be purchased through an agent, from your current insurance company or you can use the NFIP insurance provider locator to find a provider.
What is the National Flood Insurance Program (NFIP)?
Flood insurance isn't covered by standard homeowners insurance policies, but most people can get flood insurance through the NFIP. Your lender may require you to get flood insurance if you live in a high-risk area, but the coverage can be important even if you don't. The coverage takes effect after a 30-day waiting period, so it's a good idea to buy a policy as soon as possible so you'll have the protection before the end of this year's storm season.
Flood insurance is provided by the federal government but sold through local agents at an average cost of about $939 per year, according to a Policy Genius report. But premiums vary depending on your property's flood risk.
Risk Rating 2.0
In 2021, FEMA implemented a new system for assessing flood risk called Risk Rating 2.0 and is adjusting premiums accordingly. The old methodology neither took the cost of rebuilding a home into consideration, nor did it reflect new data that includes more flood risk variables.
The data has been updated to include flood frequency and the damage from different types of floods, your distance to a water source and property characteristics such as elevation and the cost to rebuild. These new risk assessments have now been factored into premium costs. Those with the greatest risk will see the largest increases. FEMA provides a breakdown of how Risk Rating 2.0 impacted premiums. You can view information about your state, county or zip code.
What are the flood insurance policy limits? What does it cover?
Flood insurance can be inexpensive for low-risk areas. For low-risk homes with a maximum coverage of $250,000 for the dwelling and $100,000 for possessions, the premiums are $436 per year and slightly higher if you have a basement. You'll also pay a new surcharge of $25 for primary residences, or $250 for nonresidential property and second homes. Similar coverage can cost more than $2,500 in a high-risk area.
If you're a renter, the NFIP offers affordable flood insurance to protect your possessions in the event of a flood. There is a maximum coverage of $100,000 for contents-only coverage. A starting policy will cost you about $99 per year. You'll have coverage to replace your furniture, clothes, television, computers, rugs and artwork.
How much would a flood cost you?
You can look up the risk of flooding for your address and get price quotes at FloodSmart.gov. Your mortgage provider may require you to get flood insurance if you live in a high-risk area, but the coverage can be valuable even if your lender doesn't require it. In 2021, the average residential flood claim was $44,401.
The website also has a tool, the cost of flooding, that shows how much flood damage is likely to cost you, based on the number of inches of flooding and the size of your home (with a breakdown of the types of items that would be damaged during a flood of that level). For example, the tool shows that a 6-inch flood in a 2,500-square-foot home could result in $52,307 in damages.
Topping up your NFIP coverage
The government flood insurance program is a good start, but you may need more coverage. You can only get up to $250,000 in coverage for your dwelling and $100,000 for your possessions. And federal insurance doesn't pay for living expenses if you have to move temporarily because of flood damage. You can get supplemental flood insurance through a few private insurers, such as Chubb and Fireman's Fund. These policies increase coverage limits to the same level as your homeowners' policy, cover expenses while you're away from home because of the flooding, provide more extensive coverage for items damaged in your basement, and will insure your possessions up to their replacement value (federal coverage is limited to depreciated value).
Ask your homeowners' insurance agent if he or she sells federal flood insurance policies. Some insurers, such as Chubb and Fireman's Fund, let you buy extra coverage on top of the federal plan's limits. Or you can find a local agent at FloodSmart.gov.
You can find out more about federal aid and disaster assistance from the Federal Emergency Management Agency at www.disasterassistance.gov.
Donna joined Kiplinger as a personal finance writer in 2023. Previously, she spent more than a decade as the contributing editor of J.K.Lasser's Your Income Tax Guide and edited state specific legal treatises at ALM Media. She has shared her expertise as a guest on Bloomberg, CNN, Fox, NPR, CNBC and many other media outlets around the nation. Donna graduated from Brooklyn Law School and University at Buffalo.