AAA Joins List of Insurers Restricting Coverage in Florida
The action comes as Farmers Insurance withdraws certain homeowner policies in the state.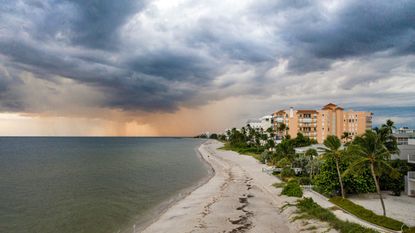 (Image credit: Getty Images)
AAA said it will no longer renew certain auto and home insurance coverage in Florida, citing the state's catastrophic natural disasters that are leading to "unprecedented" reinsurance rate increases.
Calling the Florida market in recent years challenging, AAA pointed to a catastrophic 2022 hurricane season that drove up costs for insurance companies to operate.
"As a result, we made the difficult decision to not renew a very small percentage of higher exposure homeowner's policies," a company spokesperson told Kiplinger in a statement. She added that the Florida-based insurance provider is not leaving the state and encouraged those affected to work with their AAA insurance agent to help identify alternate coverage.
Subscribe to Kiplinger's Personal Finance
Be a smarter, better informed investor.
Save up to 74%
Sign up for Kiplinger's Free E-Newsletters
Profit and prosper with the best of expert advice on investing, taxes, retirement, personal finance and more - straight to your e-mail.
Profit and prosper with the best of expert advice - straight to your e-mail.
The news comes on the heels of Farmers Insurance announcing plans to withdraw auto, home and umbrella policies in Florida and adds to a growing list of insurers that are restricting or dropping coverage in states hard hit by natural disasters.
As Kiplinger previously reported, Florida may be experiencing a population boom due in part to its favorable tax benefits, but its devastating weather events have pushed its homeowner insurance premiums way over the national average.
"If you're taking hits to your bottom line in these marketplaces, you're just gonna go, 'We're out,'" M. Thomas Martin, president of the Homeowners Consumer Center, told Kiplinger. The companies may experience losses in the winter in regions such as Illinois, Michigan and New York, "but they're not going to be the catastrophic losses that happen every one to eight years (as in) Florida," Martin said.
Insurers are risk-averse, but that does not necessarily mean they will abandon coverage to hard-hit communities, Martin said. He noted the political pressure on insurers to stay in Louisiana when Hurricane Katrina struck in 2005. "They didn't necessarily all pull out then," he added.
But Hurricane Ian's especially devastating blow to Florida's Fort Myers and other coastal communities last September may have been a turning point for some insurers, he said. "I think that Ian gave insurance companies pause."
A Farmers spokesperson said in a statement that its decision to discontinue certain offerings was necessary to effectively manage risk exposure, and that it applies only to policies issued through its exclusive agency distribution channel.
"There is no impact to 70% of policies currently in force for customers in the state," including Bristol West, Foremost Signature, Farmers GroupSelect, Foremost Choice and Foremost-branded policies, the spokesperson said. He added that the company will notify affected customers about when their coverage will end and advise on options for replacement coverage.
The announcement follows State Farm's decision in May to stop accepting new applications for business and personal property coverage in California. The company cited historic increases in construction costs, rapidly growing catastrophe exposure and a challenging reinsurance market.
Meanwhile, coverage is also being restricted or suspended in other states, including Louisiana where 12 insurers have exited the market altogether, according to a Washington Post article.
As severe weather events are occurring with greater frequency, experts advise homeowners to plan accordingly. "The simplest way for homeowners to better protect themselves if they live in an area that's prone to flooding – or if there's even a remote chance of flooding – is to get federal flood insurance through FEMA," Martin said.
Related Content
Esther D'Amico is Kiplinger's senior news editor. A long-time regulatory journalist, Esther has covered a range of industries including antitrust and congressional affairs, infrastructure, transportation, climate change and the industrial chemicals sector. She holds a bachelor's degree in journalism and in English.