How to Get a Refund on Your Water Bill If Your Faucet Leaks
Many water municipalities will reimburse you for wasted water if you report and fix the problem.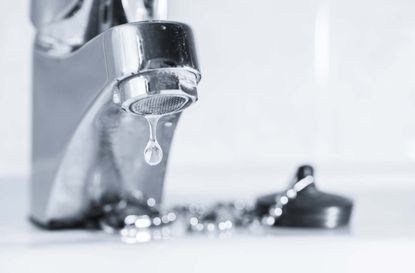 (Image credit: Getty Images)
Sometimes water doesn't just go down the drain. It leaks — and you have to pay for water you never used. Did you know you can recover some of that ill-spent money? Here's how.
Water utility agencies across the United States, through goodwill policies or because of government regulation, offer customers a way to recover money they lose when a toilet runs, a lawn-sprinkling system bursts, a pipe leaks and other scenarios that cause money to needlessly fall through your hands like . . . water.
Depending on your water utility's policy, you could recover all or some of that lost money. You may be able to seek leak refunds only one time, once or twice every 12 months, or once every two years.
Subscribe to Kiplinger's Personal Finance
Be a smarter, better informed investor.
Save up to 74%
Sign up for Kiplinger's Free E-Newsletters
Profit and prosper with the best of expert advice on investing, taxes, retirement, personal finance and more - straight to your e-mail.
Profit and prosper with the best of expert advice - straight to your e-mail.
"It's something the larger utilities are willing to do in an effort to maintain good relations with their customers," says Deirdre Mueller, public affairs manager of the Denver-based American Water Works Association, a trade group representing 3,500 of the nation's metropolitan water providers. "I suspect smaller utilities are less likely to do this simply because their financial situations tend to be a bit tighter."
We found many water utilities — large and small — in the United States that have either mandated water leak adjustment policies or ways for customers to submit "courtesy leak adjustment" claims.
John Tang, vice president of government relations and corporate communications at San Jose Water Co., says, "It's really a public benefit, particularly here in California, with the drought we have. It's an incentive to try to motivate customers to fix a leak."
To recover one-time water losses, a customer must contact the agency's customer service department or fill out a form on the agency's website. Proof of repair must be submitted (a plumber's bill or receipts for parts purchased by the homeowner).
The utility then will reimburse some percentage of the overage caused by the leak in that month. The utility will review the last few months' bills to measure the extent of the overage in the month when the leak occurred.
The Beaufort-Jasper Water & Sewer Authority, which serves about 50,000 customers in the Lowcountry region of South Carolina, offers refunds averaging $40 for residential customers and $100 to $140 to commercial customers who have, for example, experienced a broken sprinkler head, says Dottie Hofmann, deputy general manager for finance and administration.
Thousands of your fellow homeowners across the country take advantage of such policies every year. Denver Water, for example, had 1,997 claims in 2014 and 2,222 claims in 2015, says Travis Thompson, media relations coordinator.
In Fairfax County, Va., in suburban Washington, D.C., the Fairfax Water Authority saw 1,773 of its accounts — the agency services 2 million — file a courtesy leak adjustment claim in 2015, says Susie Miller, acting public affairs officer. The average claim was $211.60.
West Virginia American Water provides what it calls a priority leak adjustment that covers only hidden leaks, says Laura Jordan, external affairs manager. That's part of the agency's policy as mandated by the state's public service commission.
"Typically, it's most often a service line, or plumbing in the wall, with a leak not detected until the customer gets their next water bill and sees exceptionally high usage," says Jordan.
So if you simply have a leaky toilet in the Mountain State, you're on your own regarding that water — and money — going down the drain.
Bob was Senior Editor at Kiplinger.com for seven years and is now a contributor to the website. He has more than 40 years of experience in online, print and visual journalism. Bob has worked as an award-winning writer and editor in the Washington, D.C., market as well as at news organizations in New York, Michigan and California. Bob joined Kiplinger in 2016, bringing a wealth of expertise covering retail, entertainment, and money-saving trends and topics. He was one of the first journalists at a daily news organization to aggressively cover retail as a specialty and has been lauded in the retail industry for his expertise. Bob has also been an adjunct and associate professor of print, online and visual journalism at Syracuse University and Ithaca College. He has a master's degree from Syracuse University's S.I. Newhouse School of Public Communications and a bachelor's degree in communications and theater from Hope College.