Financial Infidelity and 5 Other Relationship Deal Breakers
There are many romantic things you could do with your date on Valentine's Day besides compare your budgets or tally debts.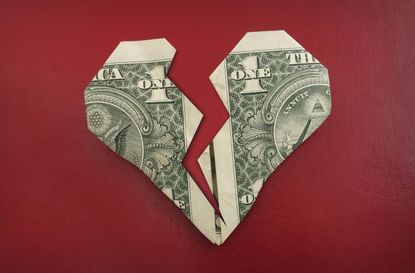 (Image credit: Thinkstock)
There are many romantic things you could do with your date on Valentine's Day besides compare your budgets or tally debts. But the mushy stuff won't last long if you avoid conversations about money: Nearly half of couples argue about money, and one-fourth of couples never resolve their spats, according to a recent survey by Fidelity Investments.
If your date or prospective spouse exhibits any of the costly habits on our list, be wary. A credit score of 600 or a passive attitude toward future savings isn't necessarily a deal-breaker. But failing to address these harmful habits now could leave you short on cash, ruin your credit history and, worst of all, wreck your relationship. Here's what to watch for.
1/6
A Low Credit Score
Achieving a high credit score won't just help you snag a low rate on your car loan or mortgage. It's also key for a strong relationship. A working paper from the Federal Reserve Board found that people with higher credit scores are more likely to form committed relationships and stay together. Why? Low credit scores can indicate financial distress, which will likely put pressure on the relationship. And your credit score might also reflect an underlying trait, such as trustworthiness, that affects your life and your relationships.
If both you and your partner have poor scores, however, your marriage – if not your finances – may be saved. The research also shows that two people with bad scores might be more compatible over time than people with a big disparity in their scores.
2/6
Demand for Total Control of Finances
You might be relieved if your partner offers to monitor your investments or crunch the taxes. But if he or she insists on taking control of all household finances, be concerned. At best, you may land in some compromising situations, such as overdrawing your checking account (because you don't know what's in it), or you may be at a loss when death, divorce or illness forces you to manage a financial life you know nothing about.
At its worst, a controlling partner can inflict financial abuse on his or her victim, making the victim dependent, damaging his or her financial standing (such as running up credit card debt), and sabotaging his or her ability to work. Similarly, if you combine finances after you wed, make sure major purchases and savings accounts are held in both your names so that each of you has equal access and can maintain a credit rating. In the event of divorce, you don't want to find out your name wasn't actually on the car title.
3/6
Hiding Expenses
Infidelity isn't just about a wandering eye. When a partner lies about money, he or she is committing financial infidelity – and that can ruin a trusting relationship. A recent survey conducted for the National Endowment for Financial Education found that 42% of adults who combine finances with a partner or spouse have committed financial infidelity, including hiding a purchase, a bill or a bank account from their significant other, or even lying about how much they earn or what they owe. And a recent survey from by Citi Double Cash found that 56% of adults admit to making a significant purchase without consulting their significant other.
Keeping secrets about your finances can lead to arguments, and even divorce – more often than disagreements about chores, in-laws and even sex lead to a split. Financial infidelity, after all, can also be a sign of deeper issues in the relationship. Ted Beck, president and CEO of the National Endowment for Financial Education, says that one red flag is when your partner acts withdrawn or defensive when you bring up a discussion try to discuss money.
4/6
Unwillingness to Budget
When you're single, failing to keep a budget probably only affects you. But once you've merged lives with your sweetheart, it's vital to create a new budget that includes his and her income, debts and monthly expenses. Laying out your spending realities and savings goals makes it easier to identify problems you can fix early on. You may wish to set aside a chunk of money that each partner can use as he or she chooses – and, hopefully, avoid the problems that come when one member of the couple starts hiding expenses.
Does your budget include contributions to an emergency fund (ideally six months' worth of essentially living expenses), which could come in handy if one person loses a job or faces a surprise medical bill? What about life insurance? Even if you don't have kids, you may need coverage if your spouse relies on your income to help pay the mortgage and other bills. (See Buying Life Insurance at Every Life Stage.) A partner who's unwilling to carve out money from your budget to protect against disaster puts you and your finances at risk.
5/6
Significant Debt
Many singles aren't too keen on debt: A recent survey by NerdWallet about credit card debt found that 51% of American women, and 46% of men, are less interested in dating someone who carries that burden.
Even after you get married, debt remains the responsibility of the individual who accrued it. But that doesn't mean your partner's debt won't hold you back. As you merge your finances, your debt-ridden partner's ongoing student-loan or credit card payments will keep him or her from contributing more toward joint goals, such as a down payment or retirement. You might even feel inclined to direct as much of your income as possible toward shrinking your spouse's debt, for the sake of your overall balance sheet.
6/6
Different Spending Habits
Opposites attract. So if you tend to be more of a spendthrift, you may appreciate being grounded by a tightwad. Similarly, tightwads may be drawn to the relaxed attitude of a spendthrift. Such marriages can start out well, with each member of the couple balancing out the other.
But research shows that marrying someone with a truly divergent spending habit eventually causes bickering – especially when it comes to making a substantial purchase, such as a house or car. If you've fallen in love with someone who lands on the opposite end of the scale, considering investing in a prenup – even if you normally keep a tight hold on your wallet.
Associate Editor, Kiplinger's Personal Finance
Miriam lived in Toronto, Canada, before joining Kiplinger's Personal Finance in November 2012. Prior to that, she freelanced as a fact-checker for several Canadian publications, including Reader's Digest Canada, Style at Home and Air Canada's enRoute. She received a BA from the University of Toronto with a major in English literature and completed a certificate in Magazine and Web Publishing at Ryerson University.