10 Reasons You're Still Broke
You have a job, maybe even a good one, but your paychecks never seem to stretch as far as you think they should and ends never quite seem to meet.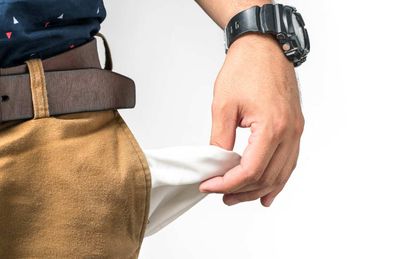 (Image credit: Getty Images)
You have a job, maybe even a good one, but your paychecks never seem to stretch as far as you think they should and ends never quite seem to meet. You know you should be saving more and spending less, yet you never manage to do either. You're hoping your financial fortunes will somehow turn around. In the meantime, the debts keep piling up. Sound familiar?
Instead of waiting for your situation to magically improve, it's time to take a hard look at all the things you're doing that are contributing to your financial woes. That's right: It might actually be your own fault that you have no money. Here are ten common reasons why people find themselves broke. A few will probably look very familiar to you. Follow our advice for fixing your finances and you should be able to dig yourself out of your hole.
1/10
You Quit School
Your parents nagged you about the importance of getting an education. Well, guess what? They were right. The difference in lifetime earnings between a typical high school graduate and a typical college grad with a bachelor's degree is staggering. Over a 40-year career, a worker with a bachelor's will earn $1 million more than a worker with just a high school diploma -- $2.66 million versus $1.56 million, according to 2019 projections from the U.S. Bureau of Labor Statistics. An advanced degree bumps up that figure to $3.24 million.
Simply going back to school doesn't guarantee a bigger paycheck. As you mull over what to study consider what majors are more likely to lead to a lucrative career. (Hint: Think about studying finance, engineering, nursing or just about anything computer-related.) Also, be wary of how much debt you take on to get your sheepskin. A good rule of thumb for student loans is to graduate from college having borrowed no more than you expect to earn in your first year of work. Check out our list of schools with the lowest average debt at graduation.
2/10
You Try to Keep Up With the Joneses
Your best friend wears Prada, your colleague commutes to the office in a new Porsche and your neighbor is moving into a McMansion. If they can have it all, you feel entitled to it, too. But should you? "Keeping up with the Joneses is a trap that's easy to fall into," J.D. Roth, founder of personal-finance blog GetRichSlowly.org, told Kiplinger.
Simply put, never attempt to maintain a lifestyle you can't afford. As Editor Emeritus Knight Kiplinger writes in his timeless essay The Invisible Rich, "The biggest barrier to becoming rich is living like you're rich before you are." So instead of buying an expensive new car with a big monthly payment, consider a safe-but-affordable used car. Or, perhaps the thriftiest option of all, make your current car last 200,000 miles or more. And if you're thinking about buying a home, save enough to put 20% down and keep your monthly mortgage payment below 28% of your gross monthly income.
3/10
You're Hardly Working
The next time someone asks, "Are you working hard or hardly working?," don't just laugh off the question. In fact, the answer may truly be that you are hardly working -- and you're all the poorer for it. An it's-not-in-my-job-description attitude will inevitably lead to small paychecks and poor career prospects, says Tom Corley, a certified financial planner and author of the "Rich Habits" book series.
To get ahead, don't just do your job -- do it well. "Nothing says you're worth it like the high quality of your work," executive coach Karen Elizaga told Kiplinger. Don't stop there. Make sure your superiors are aware of your accomplishments by documenting the value you bring to the business, be it through new customers you landed or projects you completed under budget. As your successes pile up, ask your boss for a raise or promotion because, chances are, you won't get either unless you make a case for yourself, Elizaga says. Be sure to build relationships beyond your boss as well, by networking with people both inside and outside the workplace. If you need more skills to advance, find out whether your company will pay for professional-development training.
4/10
You Have Bad Habits
You drink, you smoke, you like fast food and you don't run unless someone's chasing you. So maybe your health isn't great, but at least you're having fun, right? Chances are, though, your finances aren't healthy, either, because bad habits are a big financial drain. And there's nothing fun about that. GetRichSlowly's Roth says that most of the people he knows who struggle with money have a slew of bad habits.
But give up those bad habits and you -- and your wallet -- will be healthier as a result. Considering a pack of cigarettes might run you $6, you'll spend about $2,200 a year on a pack-a-day smoking habit. Plus, each pack comes with $35 in health-related costs, estimates the American Cancer Society. That's an extra $12,775 a year if you smoke a pack a day. As for alcohol, even moderate drinking adds up. Just two glasses of wine a day runs you more than $1,000 a year, and that calculation is based on sipping the cheap stuff at home. If you prefer Bordeaux at a bar, you're paying a lot more.
5/10
You Make Impulse Purchases
We've all been there: You're standing in line when something catches your eye, and you put it in your cart without thinking. One industry survey found that about 1 in 5 supermarket shoppers makes an impulse purchase at checkout. The occasional pack of gum won't break the bank, but multiple unplanned purchases will, warns Jeff Rose, a certified financial planner and creator of the Good Financial Cents blog. It's amazing, he told Kiplinger, how often he hears from people who are struggling financially as a result of uncontrolled spending.
To regain control, track your spending for a month to see how much money you're throwing away on unnecessary items. You don't have to cut out all discretionary purchases, but you do need to come up with a budget to determine how much you can afford to spend after paying bills and setting aside savings. Then, whenever you do go to a store, make a list and stick to it. To resist the temptation to spend impulsively, unsubscribe from retailers' e-mail lists and avoid window-shopping at the mall or browsing store Web sites when you're bored.
6/10
You Play the Lottery
You buy Powerball tickets every week hoping to strike it rich. Dream on. The odds of winning the grand prize are 1 in 292,201,338. Yet, Corley discovered in the course of researching his "Rich Habits" books that 77% of those who struggle financially play the lottery weekly. A $20-per-week lottery habit adds up to $1,040 per year wasted. In contrast, he found that just 6% of those who are financially successful play the lottery weekly. Why? Because successful people don't count on luck for their wealth, he says.
Instead of throwing away a grand a year on lottery tickets, put that money to better use by opening a Roth IRA. Invest $1,040 every year in a fund that earns a 7% annual return, and the Roth's balance will grow tax-free to $105,000 after 30 years. Not bad when you consider that your total contribution is $31,200. See 5 Better Investments Than the Lottery for more ideas.
7/10
You Make Minimum Payments
Rose, of the Good Financial Cents blog, says that many of his financial-planning clients who were struggling when they first came to him didn't have a clue how much they owed, much less have a plan to pay off their debts. As a result, many were making minimum payments without fully appreciating the interest implications. But consider this: If you send in just the monthly minimum (2% of the balance) on a credit card with a $5,000 balance and 15% interest rate, it will take 32 years to get rid the debt, and you will pay nearly $8,000 in interest on the original $5,000 balance.
Ask your card issuer if it is willing to lower your interest rate to keep you as a customer. Even if you continue paying the minimum on the $5,000 balance, trimming the rate to 11% from 15% will shave nine years and almost $4,000 off the repayment. Alternatively, buckle down and boost your payment to $250 a month, which will erase the $5,000 balance in just a couple of years and the interest will total less than $800. True, $250 a month might stretch your budget in the short term, but the thousands you save on interest in the long run can be put to better use building wealth rather than servicing debt. (Look for low-rate cards among our best rewards credit cards.)
8/10
You Lack Goals
If you're not rich, you probably wish you were. That's natural. Yet there's a big difference between a wish and a goal, says Corley. The wealthy individuals he surveyed for his "Rich Habits" books consider a goal to be something that requires action to achieve. However, of those surveyed by Corley who had household incomes of $35,000 or less and liquid assets of $5,000 or less, just 5% said they had ever set annual financial goals; only 2% had spent a year or more working toward a goal.
Be as specific (and realistic) as possible when setting your financial goals. Otherwise, says GetRichSlowly's Roth, you won't prioritize your spending, so one use of your money seems just as good as another. Let's say you wish to buy a house. Don't give yourself the vague goal of saving up for a down payment. Instead, commit to saving, say, $250 a month, which you can achieve by cutting expenses. Transfer the money you save every month from your checking account to your savings account until you reach your desired down payment.
QUIZ: Do You Have What It Takes to Be a Millionaire?
9/10
You Hang Out With the Wrong Crowd
When you were a kid, didn't your mom warn you that hanging around the wrong people would lead to trouble? Well, the advice is still valid when you're an adult and your finances are involved. It's hard to get ahead financially if you associate with others who have bad money habits, says GetRichSlowly's Roth. The reason: You're less inclined to change your ways when those around you are reinforcing them.
Roth admits that when he was spending recklessly and mired in debt, he spent most of his time with others doing the same. But what ultimately helped him take charge of his finances was associating with people who were successful with money. When he heard people talking about the wise financial decisions they had made -- not get-rich-quick boasts but practical choices, such as starting a rainy-day fund -- he sought out their advice and cultivated relationships. It's important to find a role model or mentor, he says. Reach out to a superior at work, a successful relative or even a former classmate who's doing well.
10/10
You're a Couch Potato
At the end of the day (and perhaps in the beginning and middle of the day as well) there's nothing you like to do more than kick up your feet and watch television or surf the Web. But if you're having trouble making ends meet, then you're wasting potentially valuable time. Corley's research for his "Rich Habits" books found that 77% of those struggling financially spend an hour or more a day watching TV and 74% spend an hour or more using the Internet recreationally. In contrast, the majority of wealthy individuals spend their time engaging in self-improvement, volunteering, working side jobs or pursuing some dream that could lead to more financial rewards.
Don't let fear, laziness or uncertainty keep you rooted to the sofa cushion. Taking even small steps to use your time more wisely can improve your financial picture. Sort through your stuff to find things to sell at a yard sale, on consignment or online. Turn a hobby into income. Or if you have a spare room, find a roommate to share living expenses. Here are 38 great ways to earn extra cash if you're motivated.
Executive Editor, Kiplinger.com
DeSenne made the leap to online financial journalism in 1998, just in time for the dot-com boom. After a stint with Dow Jones Newswires, dreams of IPO riches led him to SmartMoney.com, where over nine years he held several positions, including executive editor. He later served as the personal finance editor at HouseLogic.com and AARP.org. In 2011, he joined Kiplinger.com, where he focuses on content strategy, video, SEO and Web analytics. DeSenne has a BA from Williams College in Anthropology—a major deemed the absolute worst for career success by none other than Kiplinger.