Escape to These 11 Surprisingly Affordable Private Islands for Sale, 2016
Is the idea of Hillary Clinton or Donald Trump as the next U.S.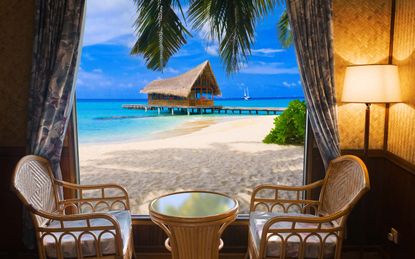 (Image credit: Thinkstock)
Is the idea of Hillary Clinton or Donald Trump as the next U.S. president worrying you? Various polls show more than 25% of Americans will consider leaving the country after this year's election.
Perhaps you've even begun to scout your next home -- in Canada, a popular retirement haven for ex-pats in Mexico or South America, or, better yet, on your own private island.
Celebrities such as Johnny Depp and Leonardo DiCaprio claim multimillion-dollar private islands as secondary residences, but you don't have to be a one-percenter to buy your own. We've found tiny islands for sale for as little as $30,000.
We're not really recommending that you buy a private island. Like buying a yacht, expensive artwork or jewelry, private islands are luxury purchases and not prudent financial investments. Some islands come equipped with boats, houses and utilities, but many don't. Add up the construction costs, water, electric, sewer, docking and local regulatory costs, and imagine the challenges of transporting supplies and waste back and forth. Owning a private island can turn into a financial nightmare in a hurry.
So rather than plunk down hundreds of thousands of dollars on a money pit, take a virtual escape instead to these far-flung island getaways. We've assembled 11 dreamy private islands for sale—all for an asking price of $1 million or less. Several are technically U.S. properties in case your preferred candidate wins this fall, but most will satisfy your dreams of moving far, far away from it all. Take a look.
1/11
Tuamotu Island
This truly tropical island comes with its own coconut grove and tons of white sand. It is one in an archipelago of 80 islands among coral reefs in French Polynesia. The island is undeveloped, which is why you get almost 19 acres for less than half a million dollars. You'd be just one hour away by boat from a local airport in Fakarava, Tahiti. Wilson, what do you think? Wilson?
2/11
Pink Pearl Island
Location: Pearl Cays, Nicaragua (close to the mainland)
Asking price: $500,000
Acreage: 2.5 acres
Developed
Who needs pearls with all this pink color? The island is developed with three round-hatch cabanas and a main resort-style house. You won't be roughing it on Pink Pearl Island, either—the main house is equipped with a laundry machine, electricity from an island generator and even an ice bar for when you need to cool off after a long day of sunning on the beach.
This island is remote, but not that remote—about a 30-minute boat ride from Pearl Lagoon on the Nicaraguan mainland and a two-hour boat ride to Corn Island, which has an airport.
3/11
Green Island
Location: Blue Hill Bay, Maine
Asking price: $795,000
Acreage: 1 acre
Developed
This island refuge gives you a view of the mainland from a historic lighthouse, plus you'll get the keeper's house, which comes furnished with solar electricity and other utilities powered by wood or gas.
There's easy access to all of New England's summer festivities as well. The island is 100 miles from Portland, and 30 minutes from a private airport in Trenton, Maine. Lonely? Never. There are plenty of opportunities to wine and dine in style at the nearby Blue Hill Country Club, along with tennis clubs, a golf course, and cross-country skiing in the winter.
4/11
Ball's Island
Location: North Sanford, New York
Asking price: $599,000
Acreage: 7 acres
Developed
Let's call this being up the river with plenty of paddle power. Ball's Island is located on the Susquehanna River three hours north of Manhattan. The 1930s island house is a Sears Roebuck catalog home and has been preserved in its original style. It comes with all the modern comforts and amenities, too.
There's a flat-bottomed ferry and an aerial tramway to get you back to the mainland fast.
5/11
Carberry Island
This is what the Irish call a vacation haven. It's located in the western part of County Cork, the southern-most part of Ireland, and you would have access to the small Celtic seaside villages of Bantry and Schull. The property comes with a beautiful historic stone house. The whole package speaks "private" in Gaelic—as long as you're comfortable sharing the island with lots of seals and otters.
The two local villages constitute an international shipping harbor, so there is no dearth of trade goods or online shopping opportunities.
6/11
Hicks Island
Location: Queensland, Australia
Asking price: $980,000
Acreage: 0.74 acres
Developed
Love the idea of a luxury private island but dread the responsibility of arranging travel to and from the mainland for supplies and adventures? Consider one of four homes sold individually—or should we say mini-resorts?—on Hicks Island. These elevated properties come with underground parking garages and modern comforts, such as a supplementary solar power system, a generator and two guest house bungalows.
Each week, you would receive mail from the mainland and any supplies via small service boat. These services are part of the purchase deal. Hicks Island is just north of the Great Barrier Reef. The location is ideal for traveling to popular Australian tourist locations.
7/11
Sunset Key Island
Location: Florida Keys, Florida
Asking price: $595,000
Acreage: 5 acres
Undeveloped
SEE ALSO: Buying a Vacation Home
Yes, you can own your own Florida Key for less than a million bucks. Iconic celebrities such as Ernest Hemmingway, Ralph Lauren and Kenny Chesney have all owned property in the area—and some still do. All you would need is a grass hut, a fishing pole and a no trespassing sign.
8/11
Seldovia Island Resort
Location: Alaska
Asking price: $865,000
Acreage: 7 acres
Developed
Not a fan of the heat? Consider one of three homes on this North Woods island in southern Alaska. All come with kitchens, electricity and plumbing.
This island is remote, though; you can only access it from the mainland by bush plane. You would be all alone with your neighbors and some bears.
9/11
Sheep Lake Islands
Location: Lunenburg County, Nova Scotia
Asking price: $33,000 to $38,000
Acreage: 1.13 - 2.38 acres
Undeveloped
That's right, private islands for the cost of a tiny home. This cluster of undeveloped islands in Nova Scotia, 75 miles from Halifax, is quite remote and dirt cheap. But you could choose any name you want for your particular island.
10/11
Dinisonan Island
Location: Palawan, Philippines
Asking price: $1,000,000
Acreage: 0.7 acres
Developed
For $1 million, you wouldn't get much land, but you'd get a two-story modern mansion with resort amenities, powered by large solar panels on the roof. You'd also get a dock and boat, so you could sail to neighboring islands.
11/11
Costaérès Island
Location: Costaérès, France
Asking price: $16,792 per week
Acreage: N/A
Developed
Love the idea of a private island but can't see owning one? Rent one instead. Costaérès Island, off the coast of Brittany in northern France, comes with a medieval castle, complete with candelabra and large stone fireplaces.
The price of the weekly rental decreases the longer you stay. It comes fully furnished, and you can arrange to have a private chef cook for you while you're there.
Sarah Smith is an intern for Kiplinger.com. She is a senior majoring in international relations and gender, sexuality, and women's studies at the College of William and Mary. At school, Smith serves as the news editor of The Flat Hat, William and Mary's student newspaper.