6 Tech Trends That Will Dominate 2018
We have witnessed the arrival of amazing tech breakthroughs over the past few years.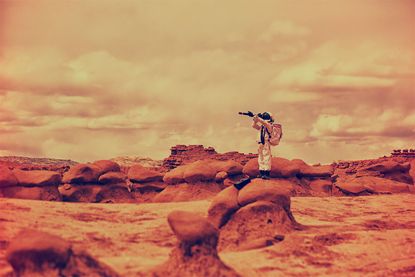 (Image credit: Getty Images)
We have witnessed the arrival of amazing tech breakthroughs over the past few years. They range from the profound (algorithms that can spot tumors better than radiologists, or self-driving cars) to the whimsical (digital assistants that tell us which clothes look best on us).
"We're truly in an amazing time," says Ken Allen, who would know, as manager of the T. Rowe Price Science & Technology Fund (PRSCX).
Aside from the personal benefits, there's a lot of money to be made for investors. Anyone who bought Amazon.com (AMZN) in the summer of 2009 – a major player in artificial intelligence and cloud computing – is now up 1,380%. Alphabet (GOOGL) is up 420%.
Good news on that front: Things are only just getting started. The "Big Five" tech companies alone – Facebook (FB), Microsoft (MSFT), Alphabet, Amazon and Apple (AAPL) – now spend $150 billion a year on research, compared to $16 billion 10 years ago, Allen says.
Tech experts like Allen expect big advances in 2018 and beyond in six key areas. Here are the most exciting tech trends to watch, and some companies that will benefit:
Click on ticker-symbol links in each slide for current share prices and more.
1/6
Artificial Intelligence
Warren Buffett may be approaching the end of his life, but he will live on. That's because a money management shop in Europe called Acatis Investment, thinks it has "Warren in a box" – or algorithms that mimic the Oracle of Omaha's stock picking prowess.
Stanford University computers diagnose pneumonia in chest X-rays better than humans. They also use Google Maps images to peg the political leanings of neighborhoods based on the cars in driveways. Troubled souls seek therapy via an app called "Woebot."
All these tech breakthroughs are powered by artificial intelligence (AI), or the use of computers to sift through tons of data and learn and think on their own just like humans – only better because they never get moody or tired. And if you noticed how different those applications are, that's the point. "AI can be used in every industry, even outside of technology," says Peter Karazeris, a senior equity research analyst at Thrivent Financial. "When technology is at its best, it makes non-tech industries better."
While tech giants Alphabet, Amazon and Microsoft are spending billions to build AI platforms, "they aren't just greedily holding on to their AI capabilities for their own use," Allen says. "They are freely opening them up so others can make their products better in a way that they wouldn't be able to do on their own."
Besides these tech giants, Salesforce.com (CRM) should benefit because it has an AI app called Einstein that helps sales teams act on leads to close deals, Allen says. So will IBM (IBM), which is deploying its AI brain, Watson, in health care. Other winners include chip makers powering all of this, such as Intel (INTC), Xilinx (XLNX) and Nvidia (NVDA), the last of which predicts the market for AI chips and computing servers will grow to $30 billion by 2020 from around $5 billion now.
AI breakthroughs "will continue with a vengeance," says Irving Wladawsky-Berger, a tech expert who helped identify emerging tech trends at IBM, and who teaches at the Massachusetts Institute of Technology Sloan School of Management.
2/6
Augmented Reality
Virtual reality – think devices like Facebook's Oculus headset – grabs all the headlines. But for investors, augmented reality is where the action is at.
What's the difference?
In virtual reality, thrill seekers get whisked away just for the fun of it. "People think about it for entertainment and sex," Wladawsky-Berger says. "But so far, it hasn't hit the ball." In contrast, augmented reality – one of the work-tech trends outlined in The Kiplinger Letter – overlays information onto the real world around you. Yes, it's more mundane, but it's more practical, too. This explains why it will be bigger than virtual reality near-term. Everyone can benefit.
Surgeons and technicians use AR overlays to see details about the task at hand. Shoppers can get a glimpse of how that sofa would look in the living room. Or they get to "try on" clothes without actually schlepping to a store. Architects can drop a building into a neighborhood to view how it fits in.
There's entertainment in augmented reality, too. The Pokémon Go craze was powered by AR apps. Facebook and Snap photo effects are basically a form of AR. But near-term, business apps matter more. Lowe's (LOW), IKEA, Sephora, Estee Lauder (EL) and Gap (GPS) all have AR apps that let consumers try out products before they buy. Nike (NKE) recently used augmented reality in New York City to lead shoppers on a scavenger hunt for sneakers. Boeing (BA) uses it to help technicians.
Aside from these, what companies will benefit in 2018? Apple looks like a potential winner. Its ARKit helps developers create AR apps for iPhones. "If developers bring out things that really differentiate Apple, that's not in the stock today," Karazeris says.
Like Apple, Google offers a software development kit called ARCore for android phones, and it has an AR platform called Tango. Microsoft's HoloLens uses holograms to help workers in industry and health care. Amazon's Sumerian platform helps developers to build AR. A private company to watch for a possible initial public offering: Magic Leap, which offers augmented-reality platforms.
3/6
Autonomous Vehicles
Truth is, we've had forms of self-driving vehicles for years. Deere (DE) sold its first tractor with auto-steering in 2002. Your anti-lock brakes are controlled by a computer.
But two key changes are moving us a lot closer to having our own self-driving cars, says Laura Koetzle of Forrester Research. First, more "enabling technology" will be developed and deployed, such as sensors and connectivity devices. Cutting-edge companies such as Nvidia and Intel acquisition Mobileye are refining components that go into high-definition maps for self-driving cars.
Next, the technology needed for self-driving cars will keep getting cheaper. Just a few years ago, lidar – the laser-and-sensor system for autonomous vehicles – cost more than $75,000. Alphabet's self-driving car unit, Waymo, put the cost at roughly a tenth of that earlier this year.
No, we won't see George Jetson cars any time soon. But Nissan Motor (NSANY) says it will start testing self-driving taxis in Japan in 2018, which riders can summon with their smartphones. Waymo will expand its test fleet of driverless cars in Phoenix. Self-driving technology also will be more extensively deployed in shipping and logistics.
This trend is about more than convenience. "These technologies are already making cars much safer," Wladawsky-Berger says. So, they should reduce traffic fatalities.
Aside from Alphabet and self-driving innovator Tesla (TSLA), companies that will benefit include Nvidia, Qualcomm (QCOM) and NXP Semiconductors (NXPI). Since the trend turns drivers into passengers and creates more free time, even media companies could benefit, down the road.
4/6
Intelligent Assistants
One of the big benefits of artificial intelligence is that it's changing how we interact with technology.
Early on, we got Siri – Apple's virtual assistant who fetches answers for us online or carries out simple smartphones tasks. Now we have much more sophisticated assistants like Alexa, the "person" inside Amazon's Echo smart home device. Alexa does everything from waking up users and controlling lighting to carrying out purchases online. The Echo Look takes pictures of users in various outfits and offers an opinion on which one looks better. Google's Home and Microsoft's Cortana are also competing in the assistance space.
In 2018, Apple will launch its smart home device, called HomePod. It will be a high-end version of the Echo with better-quality sound, Karazeris says.
These devices will also get more sophisticated in 2018 by learning how to better collect insights on the behaviors, preferences and even emotions of users. "The key to a really good intelligent assistant is context," Wladawsky-Berger says.
They'll use these insights to influence spending decisions, of course. Forrester predicts that 10% of purchase decisions will be guided by intelligent agents in 2018, demonstrating importance of "empowered machines." Amazon hopes to move its device into the workplace with Alexa for Business. There, she'll help make calls, manage calendars and meetings, order supplies and check security-camera feeds.
5/6
Internet of Things
More and more devices, from wearable watches to factory equipment to jet engines, are being rigged with sensors that report data to computers. There, it can be analyzed for insights on when to do maintenance. Or the data can be sliced and diced to generate insights on how to tweak business strategies. It's all part of the Internet of Things (IoT).
"Industrial IoT is taking single-function devices in manufacturing and making them smart," Karazeris says. This trend will continue in 2018.
"People are looking at turning just about anything physical into something that is connected to the Internet and has intelligence," Wladawsky-Berger says.
Allen thinks Microsoft should be a big beneficiary. Microsoft's Azure IoT Edge helps run Internet-of-Things devices and connect them to the cloud. Likewise, Amazon will benefit because its AWS Greengrass helps run connected devices.
Karazeris also cites Texas Instruments (TXN), Cognex (CGNX) and IPG Photonics (IPGP) as beneficiaries because they make sensors and other technology used in IoT. Rockwell Automation (ROK) and NXP Semiconductors should enjoy a lift for the same reasons.
6/6
5G
Fifth-generation (5G) wireless technology, which is the next level on deck for smartphones, should deliver significantly faster speed than the 4G or LTE technologies we use today. It won't really be here in earnest until 2019 or 2020, but 2018 still will be a key year for 5G.
"The standards will be established," Allen says. "And companies like Qualcomm will be increasingly talking about its importance."
Verizon (VZ) says it will launch 5G in three to five cities in 2018, starting with Sacramento, California. "That's really the beginning, into the big volume ramp of 2020," Karazeris says.
Allen says Qualcomm has "a strong portfolio around 5G, and that matters a lot." Other companies that will benefit as networks upgrade include Nokia (NOK), Ericsson (ERIC), Xilinx (XNLX) and Intel.
Michael Brush has suggested AMZN, GOOGL, FB, INTC and QCOM in his stock newsletter Brush Up on Stocks. Brush is a Manhattan-based financial writer who has covered business for The New York Times and The Economist Group, and he attended Columbia Business School in the Knight-Bagehot Fellowship program.
Contributing Writer, Kiplinger.com
Michael Brush is an investor and market commentator for MarketWatch who also publishes a stock newsletter called
Brush Up on Stocks
. Brush is a graduate of the Columbia Business School Knight-Bagehot Fellowship Program, and the Johns Hopkins School of Advanced International Studies in Italy. He has also covered business and investing for The New York Times, The Economist Group and MSN Money, and he has won several journalism awards. He is the author of Lessons From the Front Line, a book about investing published by John Wiley.