9 Surprising Places Robots Will Soon Turn Up
Robots working in factories, on the battle field, in hostage situations and in many other places are commonplace today.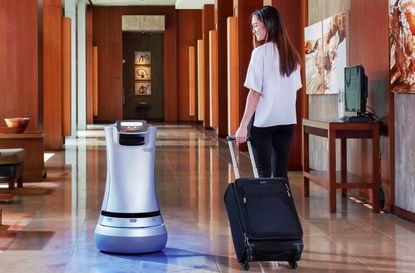 (Image credit: Courtesy Savioke)
Robots working in factories, on the battle field, in hostage situations and in many other places are commonplace today. (See all the robots Kiplinger has introduced you to in years past—in 6 Fields Where Robots Are Taking Charge and 8 Robots That Will Change Your Life.)
But it may surprise you to learn about the rapid development of humanoid robots and other intelligent machines that will soon pop up in places you might not expect—from the hair salon and corner bar to the dairy farms that produce your milk.
Such robots may not quite rise to the level of "synths," the fictional human-looking robotic servants starring in the summer science-fiction series Humans, but they're amazingly handy and may eventually be as ubiquitous in our lives as smartphones.
Check out these nine robotic assistants (most fresh on the market, some still in development) designed to make our lives easier and make businesses more efficient in a number of surprising ways.
1/9
On Uneven Terrain
Two-legged machines that look like humans aren't new, but most versions are slow, clunky and quick to fall over. The upgraded ATLAS robot, built by Alphabet-owned Boston Dynamics, blows the others out of the water. It's smaller, sturdier and more nimble than any humanoid robot thrown into real-world settings. The 5'9", 180-pound robot is packed with sensors to maintain balance and avoid obstacles. It walks over uneven terrain in a snow-covered forest and takes a hard push without tipping over. The robot can also pick up packages and place them on shelves, open doors and even get up after a fall.
While ATLAS isn't ready to replace humans just yet, it does show promise for tackling all sorts of human tasks, from stocking shelves to cleaning houses. Sure, huge challenges remain, including designing dexterous robotic hands and improving autonomous decision-making. Early uses will include emergency tasks, such as search and rescue missions in dangerous territory.
Note: Mobile robots that work alongside humans can already stock shelves and move things in warehouses. Amazon's Kiva robots move objects around in huge warehouses, and Fetch Robotics designs small robots that can work alongside workers and help stock shelves.
2/9
In Your Hair
Panasonic is developing a robot that can rinse, shampoo and blow-dry your locks while massaging your scalp with its 24 automated "fingers." It's not designed to handle razors or scissors, so barbers and hairstylists can rest easy about their job prospects…for now.
With its aging population and shrinking workforce, Japan will probably be the quickest to embrace this new technology, with the U.S. following along slowly.
Panasonic has tested prototypes in Japan but hasn't yet unveiled any for commercial use.
3/9
On the Farm
Got milk? These robots do. Robo-machines weighing more than 2,000 pounds are equipped to corral cows. A stainless steel arm equipped with cameras and lasers accurately locates teats to automate the milking process. It pumps out about 800 gallons of milk per day, while also performing chemical analysis on the milk to keep tabs on each cow's health. The robo-milkers are so cow-friendly that animals nuzzle up to them voluntarily. Dairy farmers can monitor the machines remotely via a smartphone app and can even get texts for each cow's insemination date, especially useful when dealing with big dairy herds.
Each machine, from manufacturer DeLaval, costs about $200,000.
4/9
Where Everybody Knows Your Name
Whether you take your martinis shaken or stirred, this robot bartender will serve up a satisfying drink. Robo-bartenders made their big debut during the maiden voyage of Royal Caribbean's state-of-the-art cruise ship, Quantum of the Seas, last year. Programmed to mimic the graceful moves of Italian dancers, the robot's two automated arms can handle 176 bottles of spirits (all of which are mounted to the ceiling, with special valves for precision dispensing) and serve up to 120 drinks per hour. Patrons order drinks from an app on their phones and wait for the robo-bartender to work its magic.
One might even make an appearance at the next party you attend. Makr Shakr is rolling out a mobile version that can be delivered to any location upon request.
There is a downside, though: Robo-bartenders don't listen to your problems quite as well as their human counterparts.
5/9
At the Mall
Developed by Toshiba, this android, with lifelike skin and hair along with humanlike gestures, created quite a stir when "she" began working at a Japanese department store earlier this year, smiling at customers and greeting them with a prerecorded message. Though she can sing, too, she doesn't answer questions. Robots like this will become more common in Japan as its population ages and more and more jobs go unfilled by humans.
6/9
At Your Hotel-Room Door
Step aside, Jeeves and Hobson. SaviOne, an autonomous robot for the hospitality industry, is already at the service of guests in a few of Silicon Valley's ritzier hotels. How does it work? Hotel staffers simply load SaviOne with items requested by guests. Then, guided by Wi-Fi, the robot can go up and down elevators and glide through hallways to make deliveries. Forget your toothbrush? SaviOne will be there with a new one, posthaste, and send you a text message when it's at your door. (A cousin performs similar tasks in hospitals.)
At the moment, SaviOne is not cost-effective enough to displace many hotel workers, but manufacturer Savioke hopes hotels that are short-staffed will make the investment.
7/9
At the Grill
99 billion hamburgers served? Soon, some of those will be made by robots. Momentum Machines has designed a new robot that flips patties, slice and dices veggies, and assembles everything on a toasted bun, producing a complete burger every 10 seconds, or 360 per hour. Momentum Machines planned to have five machines installed in burger joints by this year and 1,500 by 2017. They have not reached their goal yet, but the push for a higher minimum wage in the fast-food industry may spur quicker adoption.
8/9
In Med School
Before med students go to work on humans, they can practice on robot stand-ins who won't complain so much about botched procedures—at least not yet. The latest evolution of medical mannequins, these humanlike robots (cousins of crash test dummies?) can mimic human patients by sweating, bleeding, convulsing and more with the help of internal batteries, pneumatic power and wireless sensors. They're so lifelike that their pupils dilate in response to light. The robots can even recognize and respond to injected drugs. Robots are programmed to test doctors-in-training, and a teacher can remotely take control of the robot's voice to make situations more real.
A fully equipped SimMan 3G from Norway-based manufacturer Laerdal runs about $70,000.
9/9
By Your Side
Need someone to talk to when the rest of the fam is too engaged with their smartphones? Jibo may be the friend you need. It can engage in conversation, with replies based on your mood. It's also capable of telling stories, complete with graphics and sound effects, and taking photos of special events with its see-and-track camera, which can automatically sense when someone is posing for a picture.
It'll also help to keep you organized with timely reminders of appointments. Jibo's developers hope that it will function as a sort of humanoid tablet, keeping track of your information at the same time that it keeps you company.
Jibo costs $749 but is temporarily sold out.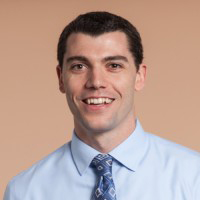 Senior Associate Editor, The Kiplinger Letter
John Miley is a Senior Associate Editor at The Kiplinger Letter. He mainly covers technology, telecom and education, but will jump on other important business topics as needed. In his role, he provides timely forecasts about emerging technologies, business trends and government regulations. He also edits stories for the weekly publication and has written and edited e-mail newsletters.
He joined Kiplinger in August 2010 as a reporter for Kiplinger's Personal Finance magazine, where he wrote stories, fact-checked articles and researched investing data. After two years at the magazine, he moved to the Letter, where he has been for the last decade. He holds a BA from Bates College and a master's degree in magazine journalism from Northwestern University, where he specialized in business reporting. An avid runner and a former decathlete, he has written about fitness and competed in triathlons.