FANG Stocks: Don't Fight Them – Own Them
This clique of tech stocks might seem expensive, but consider the alternatives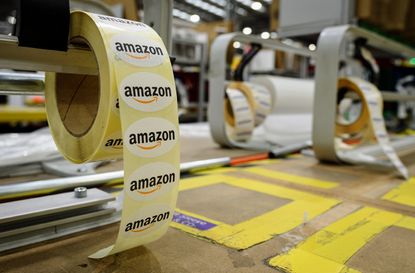 (Image credit: 2017 Getty Images)
"If you can't beat them, join them."
This is the modern version of what The Atlantic Monthly, in February 1932, described as one of Indiana Sen. James E. Watson's "favorite sayings."
Most people know what that means. If someone found a way to do something better than everyone else, then others should do it the same way, too. And right now, big technology companies are changing the world with such a huge head start that it is nearly impossible to beat them.
Subscribe to Kiplinger's Personal Finance
Be a smarter, better informed investor.
Save up to 74%
Sign up for Kiplinger's Free E-Newsletters
Profit and prosper with the best of expert advice on investing, taxes, retirement, personal finance and more - straight to your e-mail.
Profit and prosper with the best of expert advice - straight to your e-mail.
If you can't beat them, then, own some of their stocks.
After an amazing bull market, ask most people if they think Amazon.com Inc. (AMZN (opens in new tab)), for example, is a good stock to own. Most people who don't own it will say it is too high to buy. Ask a Wall Street analyst the same question and he/she will warn emphatically that AMZN is overbought and in a mania, and that valuations must revert down to their means.
Of course, they said that a year ago when Amazon stock traded around $750 per share. It trades near $1,150 now, which means it has gained more than 50% in just 12 months. Astounding!
In business school, they teach that the current value of a company is the sum of all future cash flows, discounted back to the present with a reasonable interest rate. It is a nice theory, but it does not explain why a stock can become over- or undervalued in the marketplace.
FANGs: The Game-Changing Companies of Today
Investors today are familiar with Amazon and the rest of the hot tech stocks from the past few years. The financial media obsesses over them and even gave them an acronym – FANGs – for extra click-worthiness online. And by traditional fundamental valuations, some of them are wildly overvalued. How can that be?
The bigger question is whether they still are good investments despite the warnings and consensus opinion.
The answer is yes.
This group of stocks started out with Facebook Inc. (FB (opens in new tab)), Amazon, Netflix Inc. (NFLX (opens in new tab)) and Google parent Alphabet Inc. (GOOGL (opens in new tab)). It evolved to include or substitute Apple Inc. (AAPL (opens in new tab)), Microsoft Corp. (MSFT (opens in new tab)) and graphics chip maker Nvidia Corp. (NVDA (opens in new tab)), using altered acronyms such as the FAANGs and FAAMGs.
The wild card is people – or more specifically, their attitudes toward the companies, the economy and their own individual financial situations.
The stock market usually reflects the successes and failures of corporate America. However, it is not for the reasons one might think. It is true that the greater the profit a company earns, the better its stock performs, but it is far from a direct correlation. A stock moves higher not because the company earns more, but because investors think it will earn even more in the future.
Most of the FANG stocks sport valuations (in the form of price-to-earnings, or P/E, ratios – simply a stock's per-share price divided by earnings per share) well above the market's average. Amazon, for example, has a sky-high P/E of 305 based on the earnings it actually reported over the past 12 months. In contrast, the entire Standard & Poor's 500-stock index has an average P/E of about 25. If we look at analyst estimates of next year's earnings, Amazon's ratio drops to "just" 150 – still far, far above average.
Are the discounted future cash flows from Amazon really going to be almost 11 times the average of the premier blue-chip companies in the country? True, a cutting-edge company such as Amazon deserves a higher multiple than an electric utility or a widget manufacturer, but 11 times the market's cream of the crop?
Analysts do indeed worry that this is too much. They cite such factors as a herd mentality driving these stocks higher into what could be a bubble.
However, while traditional valuation metrics seem stretched for the FANGs, Palash Misra – director of Stax Inc., a New York-based business management consulting firm – said they still dominate in major areas.
"Facebook and Google are the largest online advertising players, Amazon dominates e-commerce and cloud services and Netflix is a leader in the streaming and cord-cutting war, developing content that consumers crave," he said. "Additionally, these companies are primary beneficiaries of the secular shifts in retail; the move from in-store to online. Consumers now shop on their phones. And due to their popularity, most of these companies have valuable real estate on consumers' phones, so doing business with them is just a tap away."
"They are magical cash machines," said Howard Lindzon, managing partner of angel investor holding company Social Leverage, and founder of Stocktwits, a social media platform for traders. "(They are) taking their permanent capital/cash flow from advertising and investing it in brains, artificial intelligence, robots, mapping and startups."
Fear the Reaper?
Although his recent missive (opens in new tab) was about the new breed of capital driving labor into oblivion, Joshua M. Brown, CEO of Ritholtz Wealth Management, drove home the idea of getting into bed with the leaders of today.
"Robots, software and automation, owned by Capital, are notching new victories over Labor at an ever-accelerating rate," he wrote. "It's gone parabolic in recent years – every industry, every region of the country, and all over the world."
If you're on the wrong side of this trend, the only way out is to "invest in your own destruction." In this context, FANGs are not a gimmick or a fad. They're a life raft.
To be sure, there is a caveat, especially when investors become convinced that this time is different. Robert R. Johnson, PhD, CFA, CAIA, CLF – president and CEO of The American College of Financial Services – cautioned that investors cannot throw risk-versus-reward considerations out the window just to own a piece of the future. There is a price at which the company curing for cancer will be too expensive for its future cash flows.
There are two ways to play what appears to be an unstoppable trend: Own a piece of the winners, and sell the companies that get left in the dust.
It is true that buying FANG stocks at this point in a very old bull market comes with a lot of short-term risk, so you can always hope for a correction. If that happens, many investors will back up the truck. But even if it does not happen, what is your alternative? Buying stocks of companies that compete with FANGs? There is always fine art, but with the latest da Vinci selling at a cool $450 million, that probably is not an option.
If you can't beat these tech stocks, it is better to have a piece of them. Just understand that corrections can and do happen, and treat them as opportunities to buy more.
Contributing Writer, Kiplinger.com
Michael Kahn, CMT (Chartered Market Technician) has been writing about the markets since 1986. He is the author of three books on technical analysis published in five languages. His specialty: jargon-free analysis accessible to everyone. He has contributed to many leading financial media including Barron's Online, MarketWatch and Nightly Business Report and was the Chief Technical Analyst for BridgeNews.