10 Companies With Lower Tax Rates Than Most Americans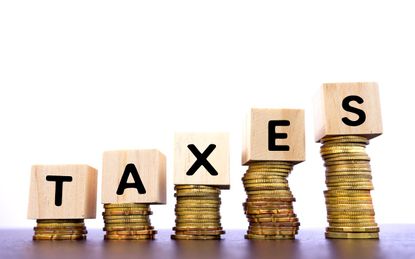 (Image credit: Getty Images)
The Tax Cuts and Jobs Act is coming up on its two-year anniversary, which makes it a good time to look at just how much it really changed the landscape for America's biggest firms.
The bottom line? A horde of the nation's largest companies have lower tax rates than most citizens.
The number crunchers at WalletHub (opens in new tab) analyzed annual reports for the S&P 100 – a blue-chip index of the largest companies in the U.S. stock market – to determine the federal, state and international tax rates they paid in 2018. Although individual companies' tax rates diverge widely, corporate America as a whole is paying much less to Uncle Sam than ever before.
The TCJA, signed by President Donald Trump in late 2017, permanently lowered the federal corporate tax rate to 21% from 35%. Data shows it worked. WalletHub says the overall tax rate (which includes federal, state and international) that S&P 100 companies pay is around 21%, which is more than 15 percentage points lower than they paid in 2017.
To get a sense of how small some of the nation's largest companies' tax bills are, we sorted through the WalletHub data to find the 10 corporations with the lowest overall tax rates. We excluded companies with negative tax rates in 2018 – the idea being that one year's discrete net tax benefit is less likely to be indicative of a company's tax situation going forward. For instance, we don't expect PepsiCo (PEP (opens in new tab)) to receive a 36.67% annual tax refund in perpetuity.
All of the companies on this list paid a lower federal tax rate (and overall tax rate) than the average American.
Read it and weep.
Stock data is as of Nov. 6. Tax data courtesy of WalletHub and S&P Global Market Intelligence. Cash taxes paid is the cash actually paid by the company to the IRS in a given period net of refunds.
Senior Investing Writer, Kiplinger.com
Dan Burrows is Kiplinger's senior investing writer, having joined the august publication full time in 2016.
A long-time financial journalist, Dan is a veteran of SmartMoney, MarketWatch, CBS MoneyWatch, InvestorPlace and DailyFinance. He has written for The Wall Street Journal, Bloomberg, Consumer Reports, Senior Executive and Boston magazine, and his stories have appeared in the New York Daily News, the San Jose Mercury News and Investor's Business Daily, among other publications. As a senior writer at AOL's DailyFinance, Dan reported market news from the floor of the New York Stock Exchange and hosted a weekly video segment on equities.
Once upon a time – before his days as a financial reporter and assistant financial editor at legendary fashion trade paper Women's Wear Daily – Dan worked for Spy magazine, scribbled away at Time Inc. and contributed to Maxim magazine back when lad mags were a thing. He's also written for Esquire magazine's Dubious Achievements Awards.
In his current role at Kiplinger, Dan writes about equities, fixed income, currencies, commodities, funds, macroeconomics and more.
Dan holds a bachelor's degree from Oberlin College and a master's degree from Columbia University.
Disclosure: Dan does not trade stocks or other securities. Rather, he dollar-cost averages into cheap funds and index funds and holds them forever in tax-advantaged accounts.