10 Top-Rated Industrial Stocks to Snap Up Now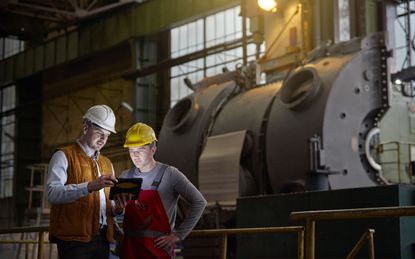 (Image credit: Getty Images)
If you are looking for compelling investing opportunities, consider an often-overlooked area of the market: industrial stocks.
Industrials frequently have made headlines because its components have been pressured by tariff volleys between the U.S. and China. But despite this, the industrial sector of the Standard & Poor's 500-stock index, at 12.6% returns, is the third-best-performing sector of the market behind technology and real estate. And profit growth could see industrial stocks continue to outperform the broader market.
"We're living in a world where growth is declining," John Davi, chief investment officer at Astoria Portfolio Advisors, told CNBC back in March. "S&P 500 earnings are de-accelerating, so if you can get stocks that have above-average growth to the S&P, then that's really attractive." And while consensus estimates have been scaled back since then, FactSet's Earnings Insight still shows that industrials are expected to grow profits 5.2% this calendar year – better than the 3.2% projected for the S&P 500.
The sector still faces headline risk, so you only want to buy the best of the best. To help with that, we've pinpointed 10 of the Street's best-rated industrials by using TipRanks' Stock Screener to scan only for companies in the industrial sector with a "Strong Buy" analyst consensus. The result: This group of 10 industrial stocks to buy.
Data is as of June 3. "Strong Buy" analyst consensus based on ratings published over the past three months.
Contributing Writer, Kiplinger.com
Harriet Lefton, originally from the U.K., began her career as a journalist specializing in the niche world of metal markets. She graduated from the University of Cambridge before becoming a qualified U.K. lawyer. Now she has turned her attention to the world of financial blogging, covering U.S. stocks, analysts and all manner of things finance-related.