5 Good Dividend Stocks Owned by Bill Gates
Microsoft cofounder Bill Gates is the richest man in the world, with an estimated net worth of $86 billion, according to Forbes.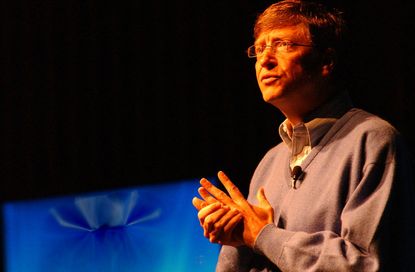 (Image credit: flickr user Mohammad Jangda)
Microsoft cofounder Bill Gates is the richest man in the world, with an estimated net worth of $86 billion, according to Forbes. He's also one of the world's largest philanthropists, running the Bill & Melinda Gates Foundation alongside his wife. The activities of the foundation are funded by a trust, which holds investment assets donated by Gates. (The trust also receives donations from fellow billionaire Warren Buffett.) For his own benefit, Gates has Cascade Investment, his personal wealth management firm, headed up by Michael Larson.
If there's a common thread that runs through the holdings in both portfolios, it's that Gates favors simple business models that generate dependable cash flow, says Brian Bollinger, president of Simply Safe Dividends, which tracks Gates's stock holdings. "Larson is primarily focused on buy-and-hold value investing," Bollinger says. "He goes wherever there is value."
Gates is no doubt more concerned with capital preservation than rapid appreciation at this point. Dividend stocks help get the job done because they can add ballast to a portfolio when the market gets stormy. "Safe dividend stocks will continue paying reliable income even if their stock prices are temporarily in the dumps," says Bollinger. "It makes it easier to stomach volatile stock prices and stay the course."
If steady income is important to the health of your portfolio, you could do worse than follow the lead of Gates. After sifting through the publicly disclosed holdings in the billionaire's personal and charitable portfolios, we identified five of the most attractive dividend stocks owned by Bill Gates.
Data is as of April 6, 2017, unless otherwise indicated. Click on symbol links in each slide for current share prices and more.
(Stocks are listed in alphabetical order. Market capitalization, provided by Zacks.com, represents current share price times the number of share outstanding. Dividend yield is calculated based on the last four quarterly dividend payments. Analyst ratings are per Zacks. Gates's holdings were identified with the help of S&P Global Market Intelligence and through the most recent regulatory filings.)
Senior Investing Writer, Kiplinger.com
Dan Burrows is Kiplinger's senior investing writer, having joined the august publication full time in 2016.
A long-time financial journalist, Dan is a veteran of SmartMoney, MarketWatch, CBS MoneyWatch, InvestorPlace and DailyFinance. He has written for The Wall Street Journal, Bloomberg, Consumer Reports, Senior Executive and Boston magazine, and his stories have appeared in the New York Daily News, the San Jose Mercury News and Investor's Business Daily, among other publications. As a senior writer at AOL's DailyFinance, Dan reported market news from the floor of the New York Stock Exchange and hosted a weekly video segment on equities.
In his current role at Kiplinger, Dan writes about equities, fixed income, currencies, commodities, funds, macroeconomics, demographics, real estate, cost of living indexes and more.