10 States With the Slowest Rates of Job Growth, 2020
U.S.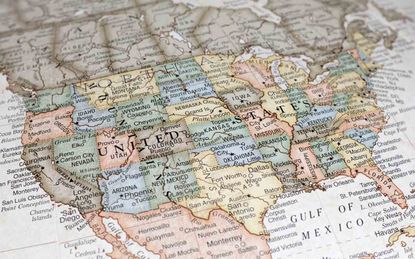 (Image credit: Getty Images)
U.S. job growth in 2019 is likely to average 170,000 jobs per month, down from 223,000 in 2018. The decline is partly attributable to fewer available workers to hire with the low unemployment rate. Also, businesses are reluctant to aggressively pursue growth, given increasing economic uncertainty from the intensifying trade war with China.
Hiring in some sectors --particularly health care-- remains robust. Services associated with a growing economy, such as computers, restaurants, and temporary help, are also up.
The weak spots? Retail is shedding workers as stores continue to close. The telecom sector also continues its long decline. The drop in oil prices has led to job cuts in the oil and gas sector. The trade war has hurt demand for agricultural products in farm states. Finally, low population growth is holding job gains in check for some states.
As a result, some states are struggling to add jobs. Every year, The Kiplinger Letter forecasts economic growth in all 50 states (plus the District of Columbia). Check out the 10 states with the slowest projected rates of job growth in 2020.
1/10
Hawaii
Population: 1,420,000
Unemployment rate: 2.7%
2019 job growth: 0.4% (2,600 new jobs)
2020 job growth: 0.4% (2,600 new jobs)
Hawaii lags the rest of the West with modest job growth this year and next, constrained by a lack of population growth. Its job creation rate is not expected to change much over the next several years. Similar to California, Hawaii has a high cost of living that likely led to a net emigration of 12,000 to other states last year. The economy has also slowed a bit, and Hawaii's low unemployment rate has risen to 2.8% from 2.3% a year ago. The tourism sector is still doing well, with expectations for a 2% increase, and hotel, food service, and real estate account for half of the job gains. However, visitor spending has flattened, and tourism growth is expected to flatten. State government accounts for the other half of the job gains this year, but will be unable to continue because of budget constraints. Most other sectors are barely growing.
Housing prices appear to have peaked in Honolulu. Prices have risen even faster than in California, and the high prices and economic slowdown have put a damper on demand.
Construction project completions in Honolulu in the second half of 2018 significantly cut the number of cranes in the city, where residential and mixed-use construction continue to dominate the market. In response to recent changes in the permitting process, hotel owners and developers are pushing their planned projects forward to accommodate the longer processing time, which may lead to an increase in the crane count toward the end of 2019. Hospitality remains a strong sector, with renovations outpacing new builds. Affordable- and market-rate multifamily high-rises continue to sell well, likely leading to more towers in the future.
2/10
North Dakota
Population: 760,000
Unemployment rate: 2.4%
2019 job growth: 0.6% (2,600)
2020 job growth: 0.4% (2,200)
North Dakota is in a good news/bad news period: the good news is that the energy sector slowly revitalized after being down in the dumps for much of the past three years. Prices for North Dakota oil have climbed since the beginning of the year. The oil sector is starting to draw migrants again, so the state's population and labor force are growing again. The bad news is that North Dakota is still highly dependent on the oil industry, and oil prices are falling again on increased global trade tensions. North Dakota's other main industries, agriculture and windfarms, are also subject to volatile economic conditions.
Job growth will be 0.6% this year, about the same as last year. Construction jobs will lead the way at 10%, and healthcare will grow a robust 4%, but the hospitality sector will remain in the doldrums a while longer. Transportation jobs will not reach previous peaks given the opening of the Dakota Access Pipeline in 2017. North Dakota's unemployment rate of 2.4% has dropped quickly this year and is second lowest in the country. Labor shortages, reminiscent of the past, may be in store for North Dakota again.
ONEOK will build a new 75-mile natural gas pipeline to connect its NGL pipeline with a processing plant in Williams County. Sanford Health aims to make a major expansion of its cancer treatment center in Fargo over the next several years.
3/10
Ohio
Population: 11,689,000
Unemployment rate: 4.1%
2019 job growth: 0.6% (33,500)
2020 job growth: 0.4% (22,400)
Ohio's three major metros of Cleveland, Columbus, and Cincinnati are growing above the state average. Cincinnati is growing the fastest, with job growth of 2.2%, and the other two are around 1%. A resurgence in downtown Cleveland has boosted a metro that has suffered a long decline in industrial activity. Columbus continues with strong tech-related growth.
However, Ohio is still at risk from the trade conflict with China, being the largest international destination for Ohio's soybeans, and faces the greatest exposure of any state to China's retaliatory tariffs. In addition, the Trump administration's 25% tariffs on imported steel posed a double whammy for Ohio steel users when they tried to switch to domestic sources, only to find that U.S.-based steelmakers had raised their prices. Two-thirds of manufacturers in northeast Ohio said they were being harmed by the penalties on metals imports.
Ohio will add 0.6% to jobs this year, about the same as 2018's rise. A number of smaller cities are showing signs of growth after being flat: Toledo, Springfield and Lima.
Some firms are expanding operations and adding to payrolls, including central Ohio's Magna Seating of America, which will create 300 jobs in Lancaster to make seats. Software company Nexient is adding 200 jobs and automated manufacturing machinery company ATS is expanding and adding 40 new employees. On the services side, Columbus-based Quantum Health, which coordinates health care for its clients' employees, will hire 350 people to boost its operations.
Ohio has long-standing status as a significant automaking state and parts producer but faces some problems in that sector, especially after General Motors' decision to idle its big plant in Lordstown that made the compact Cruze sedan.
4/10
Wisconsin
Population: 5,814,000
Unemployment rate: 3.1%
2019 job growth: 0.4% (11,900)
2020 job growth: 0.4% (11,900)
Most parts of Wisconsin are doing better than the aggregate forecast suggests. Weakness in Madison is pulling down the state average. However, with slow population growth and unemployment already below 3%, employers are running out of people who have the skills needed for some jobs or who are willing to take lower-wage employment in some service and tourism-related industries.
Wisconsin traditionally generates much of its economic wealth from manufacturing but is beginning to diversify. It is still getting growth from new and expanded factories, including Taiwanese-owned Foxconn Technology Group's commitment to build a liquid-crystal display manufacturing operation in the southeastern part of the state, though the company has backed off its initial promise of 13,000 jobs.
There is still fairly strong hiring for construction and within the leisure and hospitality sector including hotels and restaurants. While hiring for manufacturing jobs will slow, there is growth in other areas including warehousing and distribution. Amazon is building a 640,000-square-foot warehousing operation in Oak Creek, a $200 million plant that will employ 1,500 when completed.
Trade tensions have taken a toll on Wisconsin's farm sector. Soybeans are a major cash crop, but exports to China have crashed after China switched to sources in countries other than the United States. At the same time, its dairy farmers are being squeezed by falling milk prices and by surpluses of milk on the market.
Madison will likely get back on track, as entrepreneurs continue to be attracted to the presence of the University of Wisconsin, especially in the biotech, chemistry and computer science fields.
5/10
Wyoming
Population: 578,000
Unemployment rate: 3.7%
2019 job growth: 1.5% (4,300)
2020 job growth: 0.4% (1,200)
Hiring is on the upswing right now in Wyoming, but the state's heavy reliance on the ups and downs of the energy industry is creating longer-term uncertainty. Payrolls overall will increase by 1.5%, almost double 2018's modest 0.8% gain. Manufacturing, retail and warehousing have been on an upward path. The unemployment rate is the lowest it's been in 10 years.
The availability of health care is a rising concern, and Wyoming is one of few states where healthcare employment is shrinking. That's a problem for an aging population. Hiring in its leisure and hospitality sector, which includes hotels and tourism, remains on a steadily downward track.
But strength in job growth won't last. While oil prices were up earlier this year, they are dropping again. And the outlook is bleak for Wyoming's important Powder River Basin coal mining operations because of both environmental concerns about the effects of burning coal and reduced demand for it. There are now just three companies mining about 75% of the Basin's coal, and they will likely keep cutting back production or consolidate as customers disappear. That further complicates efforts to replace the approximately 20,000 energy-industry jobs that were lost in 2015 and 2016 following the collapse of oil prices in 2014. To date, only a fraction of those jobs have been recovered or replaced.
6/10
Alaska
Population: 737,000
Unemployment rate: 6.2%
2019 job growth: 1.1% (3,600)
2020 job growth: 0.3% (1,000)
Growth in Alaska has picked up along with oil prices. Expect job growth of 1.1% in 2019 after three straight years of declines. However, this growth is narrow, being limited for the moment to the energy industry, construction, and food services. The metro areas have yet to see much benefit, and the state's population is still declining as 11,000 residents moved south last year. Alaska's initial unemployment claims are low, and its August unemployment rate of 6.2% is the lowest it's been since 2007, but the rate remains the highest by far of any of the states.
Oil development continues on Alaska's North Slope. ConocoPhillips has three significant projects that are ongoing. Greater Mooses Tooth 1 (GMT1) started operating in October 2018, but is only at 25% capacity so far. Greater Mooses Tooth 2 (GMT2) is larger, and under construction with 700 workers, and is predicted to start producing in 2021. Willow is the largest of them all and will employ thousands in its construction. It will start producing in 2024. All three projects together have the capacity for 165,000 barrels of oil per day.
7/10
Oklahoma
Population: 3,943,000
Unemployment rate: 3.2%
2019 job growth: 0.5% (8,500)
2020 job growth: 0.3% (5,100)
Tougher times in the natural gas sector are weighing on Oklahoma. Low prices of natural gas and a recent decline in the price of oil have decreased total oil and gas drilling rigs to 66, down by 60 since last year. Oklahoma has a high energy-sector concentration like Texas, but its economy is influenced more by natural gas development, so it has reaped less benefit from the bounce in oil exploration that is driving growth in West Texas. Abundant supplies of natural gas exert more control over prices than is the case with oil, so the number of rigs drilling in Oklahoma is down more.
The state economy is healthy overall, but it will generate only about 0.5% more jobs this year, a step down from a 1.3% hiring increase in 2018. Most of the state's big employers are located in Oklahoma City, including Continental Resources and Chesapeake Energy. Chesapeake is sounding a cautious note for 2019, cutting back on its rig count in the field and paying down debt. But the state's economy is diversifying, attracting more high-tech companies, including Google which has a planned $600 million expansion under way. Amazon is hiring about 1,700 people for its warehousing operation located near Will Rogers World Airport in Oklahoma City. Amazon's choice of site reflects Oklahoma's ideal location near the center of the country for transportation and distribution. Amazon also intends to add a second warehousing and distribution center at Tulsa. The multiple expansion projects are keeping employment in construction trades on a strong upward trend.
8/10
Connecticut
Population: 3,573,000
Unemployment rate: 3.6%
2019 job growth: 0.4% (6,800)
2020 job growth: 0.2% (3,400)
Connecticut can look forward to a second year of economic growth after two years of economic contraction before 2018, but now is benefiting from healthy production lines at some of its big manufacturers of high-value-added products. Electric Boat, a subsidiary of General Dynamics, is spending $850 million over a period of years at its Groton shipyard to pick up the pace of submarine construction and will add thousands to its existing workforce.
High-tech industries are expanding as well, including Infosys, which has opened a $21 million technology hub in Hartford and has committed to creating at least 1,000 jobs over the next few years. Aerospace company Ensign-Beckford is expanding in Simsbury, creating 140 new jobs. Sema4 (genomics) is adding 300. Healthcare is also poised to grow, partly because Connecticut's relatively large aging population will drive demand for increased services. Housing demand has been soft in the central and western part of the state. It is expected to improve to some degree as more jobs generate higher incomes and buying potential, but the upside is limited because of the state's minimal population growth.
9/10
Louisiana
Population: 4,660,000
Unemployment rate: 4.3%
2019 job growth: 0.1% (2,000)
2020 job growth: 0.2% (4,000)
Job growth is good in New Orleans and Lafayette, but almost non-existent elsewhere in the state. Employment in Louisiana will rise by only about 0.1% this year, down from even last year's lackluster pace, as the pace of hiring moderates in sectors including health services and tourism. The oil sector has been in a slump for years. Construction employment is still falling, though there are a few projects getting under way that will improve prospects later this year. Federal regulators have approved the Calcasieu Pass LNG export facility and TransCameron Pipeline, which will create about 1,500 jobs during peak construction and 130 permanent jobs.
Louisiana also is affected by the Trump administration's tariffs against China and mounting trade tensions with Europe. The ports of New Orleans, South Louisiana and Baton Rouge handle a significant portion of total U.S. trade with the rest of the world, including 60% of grain exports from the Midwest.
Activity is picking up on industrial projects in the Baton Rouge area, including ongoing work by Shintech Inc. on a $1.5 billion project that includes an ethane cracker as well as Shell's planned $717 million alpha olefins plant in Geismar, which will boost job growth later this year and in 2020.
10/10
Michigan
Population: 9,996,000
Unemployment rate: 4.2%
2019 job growth: 0.4% (17,700)
2020 job growth: 0.2% (9,000)
Michigan will be the only Midwestern state to see slower job growth in 2019 than in 2018: 0.4%, down from 0.9%. The motor vehicle sector continues to be the prime driver for Michigan's economy, so the state's outlook closely tracks prospects for new-car sales, which are leveling off after several strong years. The slowdown in exports is also contributing to the modest growth.
Otherwise, the outlook remains positive for Michigan with Fiat Chrysler Automobiles planning to spend $4.5 billion to update several Detroit-area plants and retool an engine plant to make Jeeps, which will create about 6,500 jobs. General Motors, which took a beating from the Trump administration for closing a big plant in Lordstown, Ohio, is pumping $300 million into its Orion assembly plant in the Detroit suburbs to build a new electric car. Self-driving vehicle company Waymo is looking for a location in southeastern Michigan where it will make about a $13.6 million investment in a plant to transform vehicles into autonomous cars for Waymo's ride services business. All of the industrial activity is giving the state's construction and manufacturing sectors a lift, while retailer Amazon pushes forward with its rapid expansion which has included an announced $420 million investment in Michigan and addition of nearly 5,000 jobs over the past year and a half.
0
Staff Economist, The Kiplinger Letter
David is both staff economist and reporter for The Kiplinger Letter, overseeing Kiplinger forecasts for the U.S. and world economies. Previously, he was senior principal economist in the Center for Forecasting and Modeling at IHS/GlobalInsight, and an economist in the Chief Economist's Office of the U.S. Department of Commerce. David has co-written weekly reports on economic conditions since 1992, and has forecasted GDP and its components since 1995, beating the Blue Chip Indicators forecasts two-thirds of the time. David is a Certified Business Economist as recognized by the National Association for Business Economics. He has two master's degrees and is ABD in economics from the University of North Carolina at Chapel Hill.