10 States With the Fastest Rate of Job Growth, 2018
The U.S.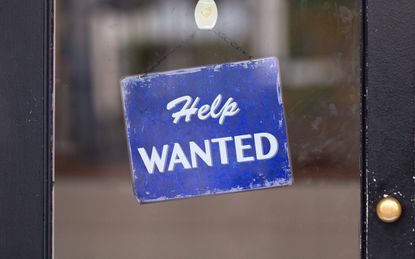 (Image credit: Getty Images)
The U.S. economy is humming along nicely. But how long can the good times continue?
Widespread growth spells even tighter labor markets, and that could start to crimp regional growth rates. Job openings have reached or are near record levels in all regions, and hiring is starting to slow because of the lack of qualified candidates. Certain metro areas have unemployment rates below 3%, including Denver; Madison, Wis.; Nashville, Tenn.; and the San Francisco Bay area. Look for hiring slowdowns to continue as more positions become unfillable.
Every year, The Kiplinger Letter forecasts economic growth in all 50 states. Check out the 10 states with the fastest projected rates of job growth this year.
Disclaimer
Intern Cece Biagini also contributed to this package.
1/10
10. Oregon
Population: 4,142,776
2018 job growth: 2.1%
2017 job growth: 2.2%
New jobs in 2018: 40,000
New jobs in 2017: 40,200
Unemployment rate by year-end 2018: 3.9%
Unemployment rate at year-end 2017: 4.1%
Labor markets are tight, and businesses are struggling to hire and keep workers, as Oregon's thriving economy generates rising demand for workers in fields as diverse as construction and healthcare. Oregon has a vibrant services sector that includes activities ranging from financial and professional services to a growing leisure and hospitality sector. Portland is a magnet city for young, highly trained workers drawn to its growing high-tech sector. Start-ups as well as established West Coast companies have been attracted for years now by Portland's relatively lower rents, and established industry giants like chip maker Intel continue to add to their workforces. As a result, construction is humming in the city's downtown core, not only for projects like the Portland Innovation Quadrant that is intended to become an employment hub for a STEM (Science, Tech, Engineering and Math) workforce, but also to build more housing to cope with the influx of new residents. However, zoning restrictions tend to be severe, creating housing shortages that are likely to be long-lasting.
2/10
9. North Carolina
Population: 10,273,419
2018 job growth: 2.3%
2017 job growth: 1.7%
New jobs in 2018: 102,500
New jobs in 2017: 74,100
Unemployment rate by year-end 2018: 4.1%
Unemployment rate at year-end 2017: 4.5%
The hotspots of North Carolina's growth are still the Charlotte and Raleigh-Durham areas, with job growth about 3%. Jobs are attracting migrants from in-state and out-of-state. Housing construction is still on a tear in these two metros, because of extremely low levels of inventory. Charlotte is a center for financial services (three new bank towers are being developed downtown) and health care, while 13% of Raleigh-Durham's jobs are in tech. The Triangle area (Raleigh-Durham-Chapel Hill), along with Fayetteville, is accounting for almost all of the state's growth in tech job openings, which just hit a new peak in June. This also indicates the shortage of skilled labor in the state. Professional and business services growth in Raleigh is also very strong, especially in the life sciences. Job growth in the rest of the state seems to be moderating, though unemployment rates are declining in most metros.
North Carolina's 3% corporate tax rate and business-friendly climate will continue to attract new business to the state.
3/10
8. Florida
Population: 20,984,400
2018 job growth: 2.3%
2017 job growth: 2.2%
New jobs in 2018: 193,400
New jobs in 2017: 181,500
Unemployment rate by year-end 2018: 3.7%
Unemployment rate at year-end 2017: 3.9%
Florida GDP is expected to grow about 3.8% in 2018 and 2019, well above the national average. Construction is booming: a new high-rise is going up in Miami, and many retail strips are being converted to upscale. Housing starts will rise 10% this year and 6% next year, with home prices continuing to rise 6% to 10% on high demand. Florida still faces an oversupply of luxury condos, but cheaper housing is tight in most areas of the state. The manufacturing sector is surging, along with much of the service sector. Workers are becoming scarcer, as unemployment rates are dropping fast in many metro areas. Residual effects of the Hurricane Irma evacuation are still keeping labor force growth low in the southwest and the southern Atlantic coast. Orlando continues to be the hottest growth area, with gains in tech, aerospace, and healthcare. Also, the resort beaches of the Panhandle are beginning to be discovered.
Domestic tourism to Florida is still setting records, but international tourism is down, especially to Miami. Latin American currencies have fallen in relation to the dollar this year. Overseas immigration to the state is also down.
The tax law change limiting the amount of property deductions may increase relocations to the Florida Atlantic coast from the Northeastern states. Any effect should be seen later this year and next.
4/10
7. Arizona
Population: 7,016,270
2018 job growth: 2.4%
2017 job growth: 2.4%
New jobs in 2018: 67,000
New jobs in 2017:65,200
Unemployment rate by year-end 2018: 4.5%
Unemployment rate at year-end 2017: 4.7%
Steady population growth for rapidly growing cities like Phoenix as well as expanding high-tech businesses, including Amazon's plans to create a new distribution center in Tucson employing 1,500 people, keep Arizona's economy on a solid growth trajectory. Its sunny climate is a magnet for retirees, who fuel growth in health care and other professional services while its relatively lower living costs are attractive for younger, educated workers from coastal cities like Los Angeles. Construction is under way on a $1.5 billion Intel semiconductor plant in Chandler that is to be completed in 2021, further contributing to the southwest region's reputation as a growing tech center. Arizona's more flexible regulatory environment is attractive to a wide variety of businesses from health care to banking. Payrolls went up significantly over the past year at defense contractors Raytheon and Orbital ATK as well as at UnitedHealthcare, Walgreen, Charles Schwab and Wells Fargo.
5/10
6. Colorado
Population: 5,607,154
2018 job growth: 2.7%
2017 job growth: 2.2%
New jobs in 2018: 70,900
New jobs in 2017: 56,100
Unemployment rate by year-end 2018: 2.6%
Unemployment rate at year-end 2017: 3.0%
The state's major urban centers, including Denver and its surrounding environs, are booming and helping generate development of professional and business services and leisure and hospitality businesses as well as an expanding high-tech sector. A 10,000-square-foot Microsoft Technology Center opened this year in Denver, catering to business professionals, while in neighboring Aurora Amazon has about 1,000 employees at work at its warehouse distribution facility. Google has about 500 employees at a recently opened campus in Boulder and intends to triple that number eventually. Colorado also is a major force in the aerospace industry, home to roughly 400 companies employing about 28,000 in the field. Two of the nation's top aerospace engineering programs are at the University of Colorado at Boulder and the Airforce Academy in Colorado Springs. That attracts talented employees in well-paying positions to the state to participate in an industry that prizes innovation. Tourists are drawn to Colorado year-round by its abundance of recreational activities, including more than two dozen ski resorts, and to visit the scenic Rocky Mountains.
6/10
5. Washington
Population: 7,405,743
2018 job growth: 2.8%
2017 job growth: 2.5%
New jobs in 2018: 92,100
New jobs in 2017: 82,000
Unemployment rate by year-end 2018: 4.6%
Unemployment rate at year-end 2017: 4.7%
A thriving high-tech industry in the Puget Sound area is generating thousands of jobs, part of an influx of skilled workers fleeing high costs in California's Silicon Valley. Microsoft is located in Redmond and Amazon in Seattle, creating demand for software engineers, developers and data scientists, while others like Facebook have satellite offices in Seattle. More tech workers are drawn to the start-ups that thrive in the shadow of the larger firms. The world's largest airplane maker, Boeing Co., is having a record year for deliveries and calling a halt to years of reductions in its workforce. There is a shadow across Washington's otherwise bright prospects, however, flowing from tensions that now characterize U.S. trade relations with China. Aside from the potential impact of tariffs on smaller commercial aircraft sales to China, there is a potential risk of disruption to sophisticated global supply chains that typically serve today's high tech and manufacturing sectors. A boom in apartment and housing construction in the Seattle area is driving construction activity but also is forcing up living costs, a deterrent for attracting talented young people.
7/10
4. Texas
Population: 28,304,596
2018 job growth: 2.9%
2017 job growth: 1.8%
New jobs in 2018: 351,300
New jobs in 2017: 211,400
Unemployment rate by year-end 2018: 3.9%
Unemployment rate at year-end 2017: 4.0%
Business of all types is booming throughout the state, particularly in oil and gas exploration where the number of rigs in the field is up 16% from a year ago to 532. When the oil patch is experiencing good times as it is now, hiring goes up in all the manufacturing enterprises that supply and support it. Texas entered 2018 with the fastest-growing economy in the country and will handily maintain its leading pace, especially with oil prices now pushing $70 in comparison with last year's comparable $50-a-barrel tally at mid-year. Crude oil prices have been rising steadily since mid-2017. Irving-based Exxon Mobil says it will triple its oil and gas production by 2025 in the Permian Basin shale formation that straddles Texas and New Mexico. There are a few dark clouds on the horizon. Texas already is a big exporting state, for energy and agricultural products among other things, and aims to boost its profile as a global player now that federal law permits export of crude oil. But there is anxiety about the Trump administration's willingness to impose tariffs on imports as well as its tactics in talks aimed at renegotiating treaties like the free-trade pact with Mexico and Canada. Another problem stemming from the surge in economic activity: Texas needs workers across a range of industries and is having difficulty attracting them, especially with low unemployment rates prevailing throughout the country. Construction is humming across the state with demand high for office space in centers like Dallas-Fort Worth and for new homes generally. Housing costs are rising, including in metro areas like San Antonio where service businesses like health care as well as military employers are expanding. Still, housing costs in the state remain below levels in coastal states or big Midwest cities.
8/10
3. Nevada
Population: 2,998,039
2018 job growth: 2.9%
2017 job growth: 3.3%
New jobs in 2018: 38,900
New jobs in 2017: 42,600
Unemployment rate by year-end 2018: 4.5%
Unemployment rate at year-end 2017: 4.9%
Nevada is a regional and national standout as a construction boom gathers steam in Las Vegas, and manufacturers, notably electric-car maker Tesla, ramp up operations at a multi-billion-dollar factory near Reno that is expected to provide up to 10,000 jobs when it is completed. Tesla is the biggest but far from the only clean-energy firm investing and creating jobs in Nevada. Panasonic is working with Tesla and has about 1,500 employees, while others like tech company Switch are planning massive solar farms in the sunny desert state. Ample construction jobs are open on Las Vegas' fabled strip where six new casino projects are under way that are expected to boost hotel room capacity by 10% upon completion in 2020. It's also becoming a sports center, attracting a professional hockey team and will become the new home of the Oakland Raiders football franchise in 2020. That's an extra boon when the gaming industry also is experiencing an upsurge of domestic and international tourists. Las Vegas' housing markets are strong, not at the boom levels they touched in the mid-2000s, but strengthening steadily and benefiting from a larger population of retirees and transplants from higher-cost neighboring states.
9/10
2. Utah
Population: 3,101,833
2018 job growth: 3.0%
2017 job growth: 2.9%
New jobs in 2018: 44,200
New jobs in 2017: 41,800
Unemployment rate by year-end 2018: 2.8%
Unemployment rate at year-end 2017: 3.2%
Growth is surging across a range of activities from high-tech development to tourism at a pace that may soon drive worry about the supply of workers and their ability to afford housing. Construction workers are in demand for projects including the $3-billion redevelopment of Salt Lake City International Airport, a $600 million state prison, an 855,000-square-foot Amazon distribution center along with another $1 billion of planned road construction and a start on $600 million in school building. Visitors to Utah ski resorts and national parks set records last year and hiring by travel and tourism providers is brisk. In addition, software giant Adobe is doubling down on its investment in Utah, building a $90-million center that will employ 1,000 high-skilled employees when it is completed in two years. Aside from the anticipated boost to wages and to state tax revenue that Adobe's expansion brings, it also is stimulating Utah's science, tech, engineering and math (STEM) knowledge base and providing a promise of expanded future high-tech development.
10/10
1. Idaho
Population: 1,716,943
2018 job growth: 3.0%
2017 job growth: 3.3%
New jobs in 2018: 21,300
New jobs in 2017: 22,700
Unemployment rate by year-end 2018: 2.7%
Unemployment rate at year-end 2017: 3.0%
The state's relatively small economy has bounced back strongly from the 2007-2009 recession, with Boise and areas around the southwest leading the charge. It is benefiting from an influx of population, including educated workers from Seattle and the San Francisco area in search of lower living costs but still with the opportunity to sign on with high-tech firms like Boise-based Micron. That's drawing in out-of-state investors, from Los Angeles, Chicago and Las Vegas among other places, and driving increased construction of homes as well as retail and industrial spaces. Business and professional services are growing and the rise in population is driving growth in government employment. Idaho is home to large staffs of federal employees for the U.S. Forest Service, Bureau of Labor Management, Bureau of Reclamation and for the Federal Bureau of Investigation in Pocatello. The state also is a draw for tourists attracted to its ski hills as well as its ample boating and fishing opportunities.