15 Satellite Cities Poised to Thrive in 2018
Job seekers often overlook the small and medium cities located near or in-between the big hubs.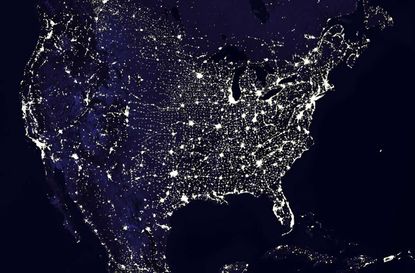 (Image credit: Getty Images)
Job seekers often overlook the small and medium cities located near or in-between the big hubs. These smaller "satellite" cities benefit from expanding regional business growth, while offering lower housing and commuter costs, putting less of a squeeze on employee salaries than more expensive, congested places a few hours away.
That can mean both abundant job opportunities and budget-friendly home prices for folks looking to relocate. Check out these 15 up-and-coming satellite cities where the job markets are hot but the cost of living won't eat all of your paycheck. All of these cities' job markets have been growing faster than the national average, most have lower jobless rates than the national average, and all are expected to continue to outperform economically this year.
Karla Rivera also contributed to this report.
Disclaimer
Unemployment rates as of December 2017. Population data is as of 2016.
1/15
Reno/Sparks, Nev.
Close by: Sacramento, Calif. (130 miles SW), San Francisco (220 miles SW)
Population: 343,600
Employment growth in 2017 (national avg. = 1.6%): 5.0%
Unemployment rate (national avg. = 4.1%): 3.7%
Median home price (national median = $247,000): $365,000 Reno / $330,000 Sparks / $290,000 Carson City
Near the California border and 20 miles from Lake Tahoe, Reno and Sparks benefit from tourism, hospitality and gambling. Business services, health care, construction and transportation are also major employers. The University of Nevada at Reno is the second-largest university in the state.
The area was jump-started economically when Tesla opened its gigafactory in January 2017, just a half-hour's drive east of Reno. This is the largest facility in the world for making battery cells to power electric autos. It already employs more than 1,000 people. Tesla says it plans to add 1,000 more employees in the near future, with a final goal of a 6,500-person workforce. The venture has attracted ancillary businesses such as Panasonic, which has plans to add 500 workers at its Reno operations. Other major employers include Renown Regional Medical Center, Peppermill Resort Spa Casino and International Game Technologies, a manufacturer of slot machines.
Housing in the Reno metro area has been getting pricier. A little less expensive but also growing fast is Carson City, the state capital, 32 miles to the south near Lake Tahoe.
2/15
St. George, Utah
Close by: Las Vegas (100 miles SW), Salt Lake City (300 miles NE)
Population: 82,318
Employment growth in 2017: 4.6%
Unemployment rate: 3.1%
Median home price: $270,000
St. George has thrived since 2012 because of its strong job growth, affordable living, warm weather and beautiful desert landscapes. Three of its biggest employers are SkyWest Airlines, Dixie Regional Medical Center and Dixie State University. Retirees wary of Vegas find the warm winters in the Utah desert to their liking here. One of the most scenic natural wonders in the country, Zion National Park, is just a 45-minute drive to the east. St. George locals can take a short afternoon trip to go rock climbing, hiking, mountain biking, swimming, boat riding, camping and much more.
3/15
Provo/Orem, Utah
Close by: Salt Lake City (45 miles N)
Population: 214,367
Employment growth in 2017: 4.3%
Unemployment rate: 2.9%
Median home price: $250,000
The Provo/Orem metropolitan area has scenic breathtaking views, excellent health-care services, affordable housing, high-quality education, museums and cultural opportunities. It also attracts businesses with its low tax rates. Educational services are the top source of jobs. Provo is home to Brigham Young University and Orem home to Utah Valley University, the largest university in Utah. Other major drivers of job growth are health care, technology and service firms such as Utah Valley Regional Medical Center, Adobe Systems Inc., IM Flash Technologies, Nestle, and Vivint, a smart-home services company. Provo also has the Peaks Ice Arena, an indoor ice hockey and figure skating arena that was used in the 2002 Winter Olympics, and hosts America's Freedom festivities, one of the largest patriotic celebrations in the nation.
4/15
Murfreesboro, Tenn.
Close by: Nashville (35 miles NW)
Population: 131,947
Employment growth in 2017: 4.2%
Unemployment rate: 2.3%
Median home price: $250,000
Murfreesboro sits on the edge of the fast-growing Nashville metro region, which is experiencing 4% employment growth as a whole as tech companies have recently discovered the amenities of the area. Murfreesboro is home to the largest undergraduate campus in Tennessee, Middle Tennessee State University. It has two large hospitals, St. Thomas Rutherford Hospital and Alvin C. York Veterans Administration Medical Center. Major employers include an Amazon distribution center, State Farm Insurance, Schwan Cosmetics, Ingram Book Company, Verizon Wireless and General Mills. A large Nissan plant is in nearby Smyrna.
5/15
Boise, Idaho
Close by: Nothing really, but a satellite city nonetheless
Population: 223,154
Employment growth in 2017: 4.1%
Unemployment rate: 2.8%
Median home price: $280,000
Located in the southwest corner of the Gem State, Boise benefits as a less-expensive regional alternative to Seattle, Portland and Salt Lake City, all a six- to eight-hour drive away (but hey, this is the West, where folks are used to driving long distances). Boise is the state capital, largest city in the state and home of Boise State University, with its iconic blue-turfed football stadium. Boise is thriving because of its job opportunities, affordable living and strong college presence. It's one of the least-expensive large metros in the wide-open spaces of the West. Local industries that are hiring briskly include health care, construction, manufacturing and finance. Boise is big on both agribusiness and semiconductors and has many tech start-ups. Clearwater Analytics, a local start-up, now has a 10-story building downtown. The great outdoors is always close by with the Rocky Mountains and ski resorts. Other big employers include St. Luke's health systems, Micron Technology, Saint Alphonsus Regional Medical Center, Hewlett-Packard and the state government.
6/15
Spartanburg, S.C.
Close by: Greenville (30 miles SW), Charlotte (80 miles NE)
Population: 37,876
Employment growth in 2017: 4.1%
Unemployment rate: 4.0%
Median home price: $155,000
Spartanburg's manufacturers are booming. The BMW assembly plant in nearby Greer, S.C., employs 8,800 workers. There are thousands more at Michelin tires, Milliken textiles, and Draexlmaier Automotive. There are more than 100 automotive suppliers in the region. The University of South Carolina Upstate is here, along with the Carolina Panthers training camp at Wofford College.
7/15
Bend/Redmond, Ore.
Close by: Portland (170 miles NW)
Population: 120,444
Employment growth in 2017: 3.8%
Unemployment rate: 4.2%
Median home price: $425,000 Bend / $300,000 Redmond
On the east-facing slopes of the Cascade Mountains, these twin cities have enjoyed robust job growth four years running. Bend has become a magnet for tech start-ups and tech telecommuters who want to enjoy close proximity to the Cascades. Hence, housing in Bend has become pricey, but is less expensive in some of the surrounding towns, such as Redmond.
Also because of the mountains, the tourism and hospitality industry is an integral part of this region's economy. This part of the region has the largest concentration of destination resorts in the Pacific Northwest. Retirees like the outdoor activities (the east side of the Cascades gets more sunny days than the west side). Major employers include St. Charles Medical Center; Keith Manufacturing, makers of storage and conveying systems; and Sunriver Resort, an upscale vacation destination.
8/15
Gainesville, Ga.
Close by: Atlanta (55 miles SW)
Population: 40,000
Employment growth in 2017: 3.5%
Unemployment rate: 3.5%
Median home price: $270,000
Northeast of Atlanta, Gainesville and its environs are characterized by a great diversity of businesses. It boasts the best heart hospital in the state at the Northeast Georgia Medical Center. Nearby is the headquarters and training facility of the Atlanta Falcons. Gainesville sits on the shores of Lake Lanier, which has a world-class resort, and has seen the development of many lakeside retirement communities.
Once known mostly for its six poultry processing plants, Gainesville has broadened its manufacturing base to include Kubota tractors, Cottrell car hauler frames, ZF wind turbine components, King's Hawaiian bakery, Mars-Wrigley and Gold Creek foods, and others. The University of North Georgia's Gainesville campus and the new Lanier Technical College will serve about 13,000 students.
9/15
Ft. Collins/Greeley, Colo.
Close by: Denver (65 miles S)
Population: 268,197
Employment growth in 2017: 3.6%
Unemployment rate: 2.6%
Median home price: $390,000 Ft. Collins / $280,000 Greeley
North of Denver, this metropolitan area, backed by the Rocky Mountains and dotted by recreational lakes, is seeing strong employment growth in manufacturing and higher education. Energy production is big in Greeley, with a rebounding oil and gas sector, and windmill farms. Major colleges are Colorado State University in Ft. Collins and University of Northern Colorado in Greeley. Other big employers include Banner Health, Northern Colorado Medical Center, Advanced Energy Industries, First National Bank and JBS USA & Affiliates, a meat processor company. Fort Collins is also home to one of Colorado's fastest-growing pharmaceutical companies, Tolmar.
10/15
Olympia, Wash.
Close by: Seattle (60 miles NW)
Population: 52,160
Employment growth in 2017: 3.4%
Unemployment rate: 5.0%
Median home price: $325,000
As the state capital of Washington, the state government continues to be the keystone of Olympia's economy. But as a small town with a waterfront on the Puget Sound, it is also all about small business and recreation. It and surrounding Thurston County are known for their craft breweries, distilleries, and coffee roasters, and all with tasting rooms. Its Mud Bay Pet Food is a pioneer in natural pet food, with stores all over the Northwest. Olympia has one of the busiest farmers' market in the state.
As the region's health-care hub, other major employers include Providence St. Peter Hospital, Kaiser Permanente Medical Center and Capital Medical Center. A number of banks and large credit unions are headquartered in Olympia, which also boasts a deep-water port for international trade and nearby higher education including Evergreen State College and Saint Martin's University.
11/15
Auburn/Opelika, Ala.
Close by: Columbus, GA (35 miles E); Montgomery, AL (55 miles SW); Atlanta (110 miles NE)
Population: 63,118
Employment growth in 2017: 3.4%
Unemployment rate: 2.9%
Median home price: $255,000
Home of Auburn University, this is Alabama's fastest-growing metropolitan area. Its college-town atmosphere (evident by the paper streamers that adorn trees after football wins), affordable housing and a business sector enhanced by university connections is proving attractive. Auburn is home to four technology and industrial parks with 68 companies and more than 5,000 employees. Some large businesses are Masterbrand Cabinets, Briggs and Stratton (engines) and a Walmart regional distribution center.
12/15
Lake Havasu City, Ariz.
Close by: Las Vegas (155 miles NW), Phoenix (190 miles SE)
Population: 53,743
Employment growth in 2017: 3.1%
Unemployment rate: 5.8%
Median home price: $260,000
Primarily a resort and retirement community, Lake Havasu City is home to the historic London Bridge (dismantled in London and remade here) and lies along the border between California and Arizona.
The city is known for its 30-mile-long lake on the Colorado River that provides various recreational activities like boating, fishing, swimming, scuba diving, paddle boating, wakeboarding and water skiing. It hosts the Havasu Hot Air Balloon Festival, which attracts balloonists from around the world. Some of Lake Havasu City's major employers include Sterilite manufacturing, Havasu Regional Medical Center, the London Bridge resort, and the planned Havasu Riviera resort.
13/15
Athens, Ga.
Close by: Atlanta (75 miles W)
Population: 123,371
Employment growth in 2017: 3.1%
Unemployment rate: 4.0%
Median home price: $170,000
The Athens area (Clarke County and Oconee County) is heating up as an alternative to big-city Atlanta, with the University of Georgia serving as both an incubator and hub of business development. Professional and business services and the hospitality industry are major drivers of job growth.
Retirees, especially, are attracted to the educational pursuits and sports attractions that come with a college town, as well as major health care facilities. Other big employers include Athens Regional Medical Center, Caterpillar and Pilgrim's Pride, which operates a local food processing plant.
14/15
College Station/Bryan, Texas
Close by: Houston (100 miles SE), Austin (110 miles W), Dallas (180 miles N)
Population: 195,401
Employment growth in 2017: 2.4%
Unemployment rate: 2.7%
Median home price: $225,000
Located virtually equidistant from Houston and Austin, College Station is home to Texas A&M University. It and neighboring Bryan are following the path of Austin (the Lone Star State's capital, with its University of Texas campus) as the next up-and-coming regional center. Texas A&M has expanded enrollment from 40,000 to 68,625 in the past five years.
Having a thriving university results in strong growth in jobs in professional and business services, health care, retail, hospitality and other services. The rate of job growth will accelerate in 2018. Texas A&M University is developing a 30-acre data center that could be among the world's largest. The A&M Health Science Center and the veterinary school sponsor a facility for manufacturing vaccines, including 1 million inoculation doses for the avian flu. A bio corridor is developing around this and a GlaxoSmithKline facility. Reynolds & Reynolds software is here. Sanderson Farms, one of the largest chicken suppliers in the United States, has a major processing facility just outside Bryan
15/15
Lakeland/Winter Haven, Florida
Close by: Tampa (35 miles W), Orlando (55 miles NE)
Population: 145,373
Employment growth in 2017: 2.2%
Unemployment rate: 4.1%
Median home price: $185,000 Lakeland / $165,000 Winter Haven
The rate of job growth will pick up even more in 2018 in these two cities sandwiched between two of Florida's hottest growth areas, Orlando and Tampa. Lakeland is known for its downtown Munn Park Historic District with an old-town feel and antique shops. Some of its major employers are the headquarters of Publix grocery stores, Lakeland Regional Healthcare, GEICO, Watson Clinic, and two major call centers
Winter Haven offers recreation on its various lakes and waterparks. Other big employers include LEGOLAND, Winter Haven Hospital and Circle B Bar Reserve, which features trails and alligator wetlands. These metropolitan areas are thriving because of family-friendly vacation destinations, affordable housing, warm weather, tourist attractions, strong business investment, and construction-related growth.

Staff Economist, The Kiplinger Letter
David is both staff economist and reporter for The Kiplinger Letter, overseeing Kiplinger forecasts for the U.S. and world economies. Previously, he was senior principal economist in the Center for Forecasting and Modeling at IHS/GlobalInsight, and an economist in the Chief Economist's Office of the U.S. Department of Commerce. David has co-written weekly reports on economic conditions since 1992, and has forecasted GDP and its components since 1995, beating the Blue Chip Indicators forecasts two-thirds of the time. David is a Certified Business Economist as recognized by the National Association for Business Economics. He has two master's degrees and is ABD in economics from the University of North Carolina at Chapel Hill.