12 Things to Be Thankful for in 2019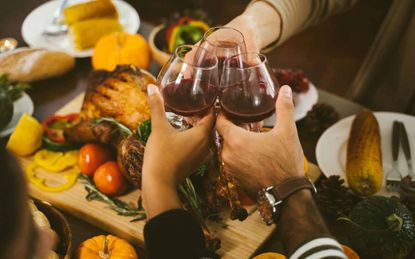 (Image credit: Getty Images)
If you're a glass-half-empty kind of person, there are plenty of dispiriting headlines these days that could ruin your holiday cheer.
Here at Kiplinger, we're more optimistic. We'd prefer to raise that half-full glass and make a toast to any of a number of important things going right in the world today. We've rounded up 12 developments, economic and otherwise, that reveal brighter days ahead in 2020. Take a look.
1/12
Cleaner Air
The nation's air is getting cleaner as pollution drops and clean energy rises. Emissions of sulfur dioxide and nitrogen oxide have plunged 88% and 76%, respectively, since their 1997 peaks. Mercury and particulate emissions are down, too.
Coal simply can't compete with cheaper natural gas and renewables. Coal-fired plants keep closing, despite President Trump's easing regulations on the industry. Coal accounted for more than 50% of U.S. electricity in 1997. Now it's less than 30%. The trend won't abate, and it helps make folks healthier, especially in coal-reliant areas.
2/12
Low Unemployment
The unemployment rate sits at 3.6%, near its lowest level since 1969. Job openings continue to exceed new hires. The short-term unemployment rate (which tracks folks who have been unemployed for less than six months) is close to its lowest level since the Korean War in 1953. The share of prime-age workers (ages 25 to 54) who are employed is the highest since 2010.
Monthly job growth in 2020 is likely to average 150,000 jobs per month, down from 170,000 in 2019 and 223,000 in 2018. Partly, that is because there are fewer available workers to hire, given the low unemployment rate.
3/12
Bigger Paychecks in 2020
2020 is shaping up to be another good year for workers' pay increases. Expect wages to rise 3.4% for nonsupervisory workers, the same as in 2019. The low unemployment rate and the struggle to find enough labor means employers have no choice but to sweeten pay offers.
Expect regional wage trends to continue, with the biggest gains on the coasts and in the Mountain West, averaging 3.5% to 4.5%. In the central part of the U.S., 3%. Big rises in home prices in the former regions put pressure on employers to pay more. Skilled and unskilled workers alike are benefiting from the trend. For both, wages are rising at about the same rate when measured in percentage terms.
4/12
Better Workplace Benefits, Too
Employers are boosting benefits packages to attract and retain top talent. Many additions specifically target younger employees. For instance, 30% of employers offered paid paternity leave this year, up from 21% in 2016. That's comparable to the 34% who offered paid maternity leave, up from 26% in 2016. Employers also are adding private lactation rooms for new mothers, as well as consulting and education. And they're offering more student loan assistance, which is catching on even though such payments constitute taxable income for employees and can't be deducted by their employers.
Despite escalating costs, don't expect employers to cut health care benefits anytime soon. Most aim to at least maintain current levels of coverage. Other services, such as telemedicine and premium wellness programs, are becoming commonplace.
5/12
New Rights and Better Rewards for Fliers
Good news for air travelers: Your frequent flyer miles likely won't expire now that most of the domestic carriers have dropped expiration dates because of customer complaints. Southwest and United just joined Delta Air Lines and JetBlue in making miles good for life. Traditionally, airlines let them expire after a year or two to save on the cost of free or discounted fares. But that policy angered consumers and made it harder to keep them coming back for future trips.
And travel delays and other mishaps will become less aggravating for fliers in Canada and the European Union, thanks to new rules, and the changes could compel the U.S. to provide more protection for airline travelers. This summer, the Canadian Transportation Agency issued new rules designed to compensate passengers who are bumped or whose flights are delayed. The first phase requires airlines to give compensation of up to $2,400 to passengers who are denied boarding or up to $2,100 if their luggage is lost or damaged. The second phase, which takes effect December 15, requires airlines to provide compensation of up to $1,000 for passengers delayed for more than three hours. Separately, the EU ruled last summer that its flight delay compensation rules— which are similar to those adopted in Canada—extend to connecting flights on the same reservation, including flights on non-EU airlines.
"Hopefully, this will add a bit of pressure on the U.S., the only major developed country that doesn't have strong passenger rights," says Christian Nielsen, of AirHelp, a company that files compensation claims.
6/12
Citrus Crops on the Rebound
Some rare good news in the farm sector: This year's citrus crop looks better than those of recent years. Orange growers continue to recover from 2017, when Hurricane Irma devastated many groves in Florida. This year's Florida orange harvest should grow about 3% from last year, with production of all varieties up at least a bit. Texas is in for an 8% gain.
Alas, California orange growers face a modest decline from last year, but California grapefruit will leap by 31%, with smaller gains on tap for Florida growers.
7/12
A Record-Setting Stock Market
In 2019, the bull market recovered, sending the stock market to new highs while returning an incredible 23% by the end of October (as measured by Standard & Poor's 500-stock index).
The stock market has defied the odds by continuing to rise well into its 11th year, despite softening earnings growth, recession fears and a huge cloud of tariff-induced uncertainty. Some of those odds will shift a bit more in the bull's favor in 2020 as central bank stimulus works through the economy, earnings growth picks up, and investors regain an appetite for risk while at least a partial trade deal with China seems doable.
Kiplinger's Personal Finance magazine forecasts the S&P 500 to reach a level somewhere between 3200 and 3300 in 2020. The conservative, low end of the range implies a price gain of just over 5%, and, adding dividends, a total return of just over 7%.
8/12
Wireless Breakthroughs
A major upgrade to Wi-Fi will start hitting the market in full force next year. Known as Wi-Fi 6, the new tech brings faster speeds and more capacity to connect far more devices, plus reduced data delays for gaming, video chats, etc. Offices, convention centers, stadiums and similar venues will see big benefits, since a key quality is better performance in congested areas with lots of web surfers.
Another wave of breakthrough wireless technology is on the horizon. Airwaves will be used to "see" in the dark, spot explosives and much more, now that the Federal Communications Commission has opened a new chunk to researchers. Expect new applications in five to seven years, and commercialization within 10 years. Among the possibilities: Wireless signals that sense and detect air quality for personal health monitoring. Ultraprecise gesture sensing for touchless phones. Controlling drone swarms with artificial intelligence. Phone cameras with night vision. High-definition video resolution radar. Tracking location to within one centimeter.
9/12
Beer and Football
It's getting easier to grab a beer at college football games. A growing tally of colleges and athletic conferences are allowing alcohol sales at stadiums. The powerhouse Southeastern Conference lifted its ban on alcohol, for example. The North Carolina legislature this year OK'd alcohol at state university athletic events. Some schools are hoping beer can raise attendance, which has been down at college football games in recent years. It can also boost revenue.
Another factor: Selling alcohol can curb binge drinking, since it cuts back on pregame excess.
10/12
Investing With a Conscience
More investors are hoping to profit personally while doing good for others. Niche exchange-traded funds that invest in companies based on criteria related to environmental, social or governance standards are drawing more cash. So-called ESG funds have attracted $8.4 billion in assets -- a tiny 0.2% of all assets held by ETFs, but a sizable gain from where the ESG sector was a few years ago. More than $4 billion flowed into the category in the first quarter of 2019 alone.
Fund managers, including Vanguard and Goldman Sachs, have jumped on board. Falling fund costs hold the key to attracting more buyers. BlackRock and Vanguard are among the fund sponsors that have been cutting expense ratios for ESG ETFs, which historically have been costlier to run than conventional ETFs.
11/12
A More Taxpayer-Friendly IRS
The Taxpayer First Act, signed into law in 2019, is the result of some rare bipartisan cooperation in Congress. Among other benefits to American taxpayers, the law will improve customer service, reduce identity theft, curb the use of private tax collectors, and make it easier to settle outstanding debts.
For a full list of IRS reforms, see 12 Ways the IRS Will Be More Taxpayer-Friendly.
12/12
An Easier 1040 Form for Older Americans
In 2019, the IRS rolled out a new Form 1040 tailored to taxpayers 65 and older, who will be able to use the form to file their 2019 tax returns next April.
The form is based off the regular 1040, and the IRS says it uses all the same schedules, instructions and attachments. Older taxpayers who use tax software to file are unlikely to even notice.
But for taxpayers who still file by paper, the new form will be modified for aging eyes. The font is bigger to make the text easier to read. The shading in boxes on the regular 1040 has been removed to improve the contrast and increase legibility.
A key feature of the new form is a standard deduction chart. The form lists the standard deduction amounts, including the extra standard deduction amount that taxpayers age 65 and older qualify for "so seniors don't have to hunt for it," says Darren Hamilton, an official in the agency's forms and publications division. The chart makes it simpler for seniors to take advantage of the full standard deduction for which they are eligible, particularly for those who may not even be aware of the extra amount for which they qualify.
The form has lines for specific retirement income streams, such as Social Security benefits, IRA distributions, and pensions and annuities. "AARP supported the development of the simpler 1040 SR tax form since most seniors could not use the 1040 EZ due to their different sources of income," says David Certner, AARP legislative counsel.