8 Jobs That Pay Women More Than Men
The gender wage gap is alive and well in America.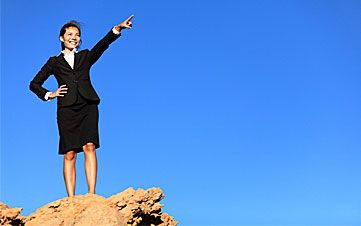 (Image credit: Thinkstock)
The gender wage gap is alive and well in America. Despite numerous strides in the workplace, women make just 81 cents for every dollar pocketed by men, according to the U.S. Bureau of Labor Statistics. In fact, when BLS compared the median weekly pay of full-time workers by sex, women outearned men in only two occupations: social services counselor and health technician.
But all hope is not lost for working women in search of bigger paychecks. We asked PayScale, a compensation research firm, to scour the data it has collected over the past year to unearth fields that tend to pay female workers more than comparable male workers in similar circumstances. After cross-checking the jobs on PayScale's list against other government labor data, we homed in on eight promising careers that pay women more than men.
Rather than compare all male workers against all female workers in a given occupation, as the BLS does, PayScale made apples-to-apples comparisons between male and female workers in the same jobs with similar traits such as experience, location and education. While this doesn't guarantee that all women who enter these fields will earn more than men, it does pinpoint occupations that tend to compensate women better than comparable male colleagues.
There's no single reason why women in these eight particular jobs are better paid than men. Caren Goldberg, a management professor at American University who specializes in workplace discrimination and diversity, suggests that in male-dominated jobs, the few women present may be viewed as exceptional because they are succeeding in what are considered traditionally male roles. On the other hand, men in female-dominated professions may earn less because of negative biases about their capabilities.
Take a look at these eight wage-gap-defying careers for women.
1/9
Stockbroker
Median annual pay for women: $52,900
Women outearn men by: 8.9%
Total number of workers: 280,000
Share of workers who are women: 27.9%
Women can have a bear of a time getting ahead on Wall Street. A 2012 study by Janice Fanning Madden, a Wharton School professor who analyzes labor markets, showed that female stockbrokers as a whole earn less than their male counterparts. According to the BLS, men who work as stockbrokers have median weekly earnings about 31% higher than those of women stockbrokers.
But not so fast. While part of this disparity can be explained by the fact that women more often work at smaller financial firms, where earnings are lower, Madden also found that women were typically assigned less lucrative accounts. Given the same types of clients, however, Madden found that women sell at least as well as their male peers, if not better. PayScale data corroborate this finding. When put in the same positions at the same types of firms, female stockbrokers tend to earn more than men.
To land an entry-level position as a stockbroker, you need a bachelor's degree in a field such as business or finance. A master's in business administration will help you climb the corporate ladder. You'll also need to pass a series of exams and obtain different licenses in order to sell various investment products.
2/9
Police Detective
Median annual pay for women: $61,000
Women outearn men by: 10.0%
Total number of workers: 160,000
Share of workers who are women: 24.8%
They're called the "boys in blue" for a reason — not many women join the detective ranks. The share of women in this position is actually the lowest of all the jobs on this list. And the overall representation of women in law enforcement is persistently low. But according to Eleanor Smeal, president of the Feminist Majority Foundation, a group that advocates for women's equality, once you're in, the wage gap isn't a big issue. "The obvious problem is admission," she says, "and recognition by society that law enforcement would be better with more women."
The National Center for Women and Policing, an office of the Feminist Majority Foundation, contends that women offer a unique and desirable approach to law enforcement. Women tend to defuse problem situations more quickly and with communication as opposed to force. They are less likely to get complaints of brutality and save agencies the costs of dealing with those accusations. And they are apt to more effectively handle domestic violence cases, which account for nearly one-quarter of all violent crimes.
To get started in law enforcement, you need to be 21 years old with at least a high school diploma or the equivalent. Many agencies prefer candidates who have some college coursework or a degree. You'll also likely need to graduate from a training academy and pass physical and written exams. You'll have to start as an officer and be promoted to detective.
3/9
Model
Median annual pay for women: $21,300
Women outearn men by: 28.4%
Total number of workers: 65,000
Share of workers who are women: 83.4%
Models need no formal education, but they will have to meet employers' physical requirements, such as a specified weight, height or clothing size. You can attend modeling school for some training in posing, walking and applying makeup. And you'll find more opportunities in this field in large cities, especially New York and Los Angeles.
The pay gap between female and male models is the largest identified on PayScale's list of jobs that compensate women better than men. But before you go rushing for the catwalk, understand that few models ever make it to Tyra Banks or Heidi Klum levels of success. Many models work part-time on unglamorous assignments, from posing for catalog shoots to helping fashion designers fit clothes. Schedules can be unpredictable and careers short.
4/9
Media Relations Specialist
Median annual pay for women: $43,800
Women outearn men by: 11.2%
Total number of workers: 155,000
Share of workers who are women: 58.2%
Help develop and represent your company's brand by writing press releases and speeches, communicating with the public and press, and arranging interviews for executives. You should have strong writing and speaking skills, and an outgoing personality wouldn't hurt. You'll typically need a bachelor's degree to enter this field — usually in communications, journalism, English or business. The Public Relations Society of America can offer additional training and certification, as well as ample networking opportunities.
For women-centric PR guidance, check out Women In PR, which hosts live events and online workshops and provides job and client databases. Also, look for local support through organizations such as Washington Women in Public Relations in the D.C. metro area and New York Women in Communications in the Big Apple.
5/9
Dental Hygienist
Median annual pay for women: $62,300
Women outearn men by: 2.3%
Total number of workers: 163,000
Share of workers who are women: 99.3%
Smile big for this female-dominated field. Not only do women in this position earn more than their few male peers, they can also look forward to a prosperous, long-term career: Dental hygienist jobs ranked among our best jobs for the future; the BLS projects that demand for these professionals will increase by 37.7% by 2020.
As a dental hygienist, you'll clean teeth, take x-rays and educate patients on proper care. You usually need a two-year associate's degree in dental hygiene, which requires you to study anatomy, physiology, nutrition, radiography and periodontology. You also need a license to practice, for which requirements vary by state. You can find more information about programs and licensure from the American Dental Hygienists' Association.
6/9
Senior Merchandiser
Median annual pay for women: $65,800
Women outearn men by: 21.9%
Total number of workers: 198,000
Share of workers who are women: 55.2%
You go shopping at stores, but a senior merchandiser goes shopping for stores. Employed in a variety of industries, workers in this profession select and order products ranging from clothing to jewelry to food, depending on the business. Merchandisers must ensure that the inventory reflects the brand well and that the company gets the best possible deal. Merchandisers may also manage the sales and distribution of merchandise, and teach the sales staff about the products.
To start out as an entry-level merchandiser, you might be able to get by with a high school diploma or the equivalent. But large stores may favor candidates with a bachelor's degree and coursework in business or accounting. And you'll need that sheepskin, plus at least five years of work experience, to climb to the senior ranks. You might also seek certifications from professional associations to further distinguish yourself. For example, the American Purchasing Society offers the Certified Purchasing Professional and Certified Professional Purchasing Manager certifications.
7/9
Tech Support Engineer
Median annual pay for women: $55,500
Women outearn men by: 4.4%
Total number of workers: 476,000
Share of workers who are women: 27.1%
With the exception of the likes of Facebook's Sheryl Sandberg and Yahoo's Marissa Mayer, women are not often spotted in the high-level tech roles that command the fattest paychecks. That's one explanation for the overall gender wage gap. According to technology career site Dice.com, the average annual income for male tech workers is $95,929, while women earn $87,527. However, when comparing men and women with equal education, experience and titles, Dice.com found that tech workers were paid more evenly, regardless of gender. As tech support engineers, specifically, women actually tend to earn more than men, according to PayScale.
In this job, you'll install and troubleshoot all the hardware, software, printers and other tech around the workplace — which might not be just in the tech industry, but also in financial services, health care and other fields. You may also be responsible for ordering and keeping inventory of such products. To start, you'll likely need a bachelor's degree — in computer science or engineering for more technical jobs, though an associate's degree or postsecondary classes may be enough for some employers. To keep up with advances in technology, you'll need to continue training throughout your career.
8/9
Sales and Marketing Analyst
Median annual pay for women: $44,200
Women outearn men by: 5.7%
Total number of workers: 219,000
Share of workers who are women: 54.2%
Most entry-level positions require at least a bachelor's degree, but a higher degree will help you climb to the top rungs of the corporate ladder. You should also have strong math and analytical skills. Coursework in statistics and business administration, as well as communications and sociology, will give you an advantage. You can also obtain certification in this field; see the Marketing Research Association for more information.
As a sales and marketing analyst, you bridge the gap between the customer and your employer. You work on figuring out the best ways to sell your company's products and services and measure the success of marketing campaigns. You monitor and forecast sales trends and translate the data into easy-to-digest reports and presentations.
9/9
Online Editor, Kiplinger.com
Rapacon joined Kiplinger in October 2007 as a reporter with Kiplinger's Personal Finance magazine and became an online editor for Kiplinger.com in June 2010. She previously served as editor of the "Starting Out" column, focusing on personal finance advice for people in their twenties and thirties.
Before joining Kiplinger, Rapacon worked as a senior research associate at b2b publishing house Judy Diamond Associates. She holds a B.A. degree in English from the George Washington University.