Fast-Growing Small Businesses Led by Women
The number of small businesses owned by women is growing 50% faster than the total number of small businesses, according to a small business monitoring report from American Express.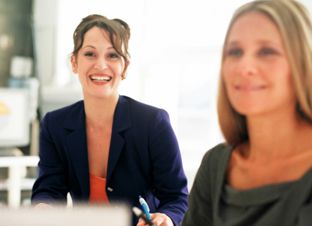 (Image credit: Thinkstock)
The number of small businesses owned by women is growing 50% faster than the total number of small businesses, according to a small business monitoring report from American Express. And by 2018, one-third of new U.S. jobs will be generated by female-owned companies, compared with 16% now, based on projections by The Guardian Life Small Business Research Institute.
The shift has implications for employees, customers and competitors. Typically, women business owners tend to seek new ways to stand out from the competition, while networking more than their male counterparts with other small business owners. Women entrepreneurs are also more likely to seek help from the Small Business Administration and other sources -- public or private.
Fewer businesses owned by women top $1 million in revenues, though, largely because women are typically cautious about expanding their companies too quickly. They're more averse than men to being overextended, often taking a more-measured approach to financial dealings, including negotiations and transactions with financial institutions, according to Kelly Scanlon, president of Thinking Bigger Business Media, a publication for small businesses, and national chair of the board of the National Association of Women Business Owners.
Here are the top six fields in which women-owned businesses are sprouting the fastest:
1/8
Construction
Though still a sliver of this industry, women-owned businesses have seen a 40%-plus increase since 2002, according to the American Express report. Women-owned firms -- now 8% of the total -- account for over 500,000 construction jobs.
Why construction? For MySmartPlans' owner Shelley Armato, the idea for her project management firm stemmed from her husband's career in construction. Seeing the need for better coordination of communication at job sites, she created her Missouri-based company to help project managers centralize relevant information. E-mails, pictures, contract proposals and much more are posted to a dashboard accessible by all the parties involved, thus streamlining communications.
Her advice to women mulling their own business? "Ask questions," she says. "Your success depends on how big you're willing to ask."
2/8
Transportation and Warehousing
The number of women-owned firms that manage shipping, storage, sorting and packaging, and inventory operations has seen a 35% jump since 2002.
Tracy Thomas started her California-based business, Bulk or Liquid Transport, in 2006 with her husband.
The company transports liquid sweeteners such as fructose and sucrose to large food processors. Its fleet of tankers has grown by over 30% since opening its doors, and Thomas is busy with expansion plans that include new software and other improvements to expedite deliveries. She's also looking to expand into delivering goods besides sweeteners.
Preparing to assume her role as chief executive officer took a lot of work, Thomas notes. "I played out all of the possible scenarios -- what could or might happen -- and knew what I would do or where I would go," she says, adding that, after all, "you control the destiny of your company."
3/8
Waste and Environmental Services
Traditionally a male-dominated industry, the business of handling waste and providing environmental services to residential and commercial sites has seen a near-50% jump in women business owners since 2002. They now account for more than $70 billion in revenue a year.
Stephanie Isaacson, president and co-founder of New Horizons Enterprises, a Missouri-based environmental consultancy firm, grew her start-up to a firm employing 30 in just three years, gaining federal contracts along the way. New Horizons offers help and advice to companies on everything from mold inspection to removal of hazardous waste and lead based paint. The firm also provides training and guidance on complying with Occupational Safety and Health Administration regulations.
Her greatest challenge: Finding and retaining good help. "Investing in employees is huge," she says. "Once we hire the right person, we offer them leadership training and make them feel like they are part of a team."
4/8
Information Technology
Women-run businesses in this industry have grown by almost 26% since 2002. About a quarter of all info tech firms are now run by women. One such company is Sphere3, of Kansas, founded by Kourtney Govro. The 3-year-old firm develops software solutions to help hospitals and other health care organizations manage health care and finances more efficiently.
Govro, who plans to hire more workers this year, says careful planning is essential to getting a business off the ground. "Make sure the finance part of your plan is tight. Use resources at local colleges. Take your plan to people you know and trust," she adds.
5/8
Real Estate
Though the idea of women in real estate isn't particularly new, note that more and more women are moving from selling residential real estate to owning residential as well as commercial real estate firms. The Great Recession played a key role in enticing more women to expand from residential to commercial real estate.
For example, with profits from home sales receding during the downturn, Terrie O'Connor, owner of Terrie O'Connor Realtors in New Jersey, turned to the commercial side of the industry to bolster revenues. She says it's important to keep looking for new opportunities to keep business humming.
The number of women-owned companies in real estate is up 37.6% since 2002 and now comprises more than one-quarter of all real estate firms.
6/8
Educational Services
Women run about half of all firms that specialize in private tutoring, college counseling and test preparation, following a 4% jump in women business ownership during the past nine years.
Cathy Hull parlayed a background in education and business into ownership of four Sylvan Learning Centers in upstate New York. She says the tutoring franchise is a good way to combine her twin interests.
"Regardless of what industry you go into, it is important to have a handle on what it means to own a business. It is different than knowing you will have a paycheck. You are personally responsible for making it work," Hull says. She emphasizes that seeking support through local business-owner groups is crucial to being successful.
7/8
Helpful Resources for Women Business Owners
Looking for help? Try the sites:
The Small Business Administration.
It's launching a federal contract program aimed at helping women business owners gain government contracts. The first contracts will be awarded in the fourth quarter of this year.
The deadline for applications is in September and eligibility requirements vary from industry to industry.
Visit www.sba.gov/content/contracting-opportunities-women-owned-small-businesses for program details.
The SBA is also renewing an existing loan program that's expected to generate about 40 loans to women entrepreneurs, primarily in the fields of finance, marketing and management.
SCORE, a nonprofit association that provides mentoring services to small businesses, is expanding its program for women business owners. Among other things, it will focus on pairing established small business owners with ones just starting out. For more information on SCORE's mentoring programs, go to www.score.org/mentors.
The National Association of Women Business Owners. The group is teaming up with the University of California, Los Angeles, to provide a nuts and bolts management course to women business owners, offering advice on growing a firm, loans and networking. Look for the program to expand nationwide this year. Learn more about NAWBO at nawbo.org.
Women Presidents' Organization. This alliance for women business owners offers business development resources and support for its members. For more information on joining WPO, go to www.womenpresidentsorg.com.
8/8