12 States That Tax Social Security Benefits
You may have dreamed of a tax-free retirement, but if you live in one of the states that tax social security, your benefits could take a hit.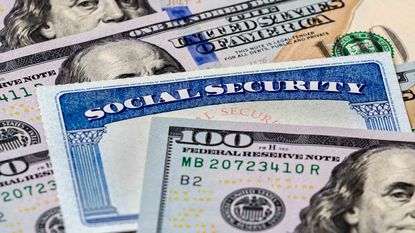 (Image credit: Getty Images)
Are Social Security benefits taxable? You can bet your bottom dollar they are – at least by the federal government, which taxes up to 85% of your benefits, depending on your income. But do states tax Social Security? Unfortunately, a dozen states can tack on additional taxes of their own.
States have different ways of taxing Social Security, too. It can be age-based, such as in Colorado where people under 65 may owe taxes on Social Security benefits but older people generally don't. But other states tax Social Security benefits only if income exceeds a specified threshold amount. For example, Missouri taxes Social Security benefits only if your income tops $85,000, or $100,000 for married couples. Then there's Utah, which includes Social Security benefits in taxable income, but allows a tax credit for a portion of the benefits subject to tax. Other states have different methods of taxing your Social Security check.
Also remember that a tax on Social Security doesn't necessarily mean a state is unsuitable for retirement. Colorado, one of the states that taxes at least some Social Security benefits, actually ranks as one of the 10 most tax-friendly state for retirees. That's why it's best to weigh all state taxes when researching the best places to retire. And our list of the 12 states that tax Social Security benefits will help you do just that. For each state, we provide information on the state's sales tax, property tax, and any death taxes. We've also included a link to the state's page in our State-by-State Guide to Taxes on Retirees (opens in new tab), where you can find additional information about taxes on seniors.
The state-by-state guide to taxes on retirees (opens in new tab) is updated annually based on information from state tax departments, the Tax Foundation, and the U.S. Census Bureau. Income tax rates and related thresholds are for the 2022 tax year unless otherwise noted.
Senior Tax Editor, Kiplinger.com
Rocky is a Senior Tax Editor for Kiplinger with more than 20 years of experience covering federal and state tax developments. Before coming to Kiplinger, he worked for Wolters Kluwer Tax & Accounting and Kleinrock Publishing, where he provided breaking news and guidance for CPAs, tax attorneys, and other tax professionals. He has also been quoted as an expert by USA Today, Forbes, U.S. News & World Report, Reuters, Accounting Today, and other media outlets. Rocky has a law degree from the University of Connecticut and a B.A. in History from Salisbury University.