Turn Your Retirement Puzzle into a Plan
Here are six ways to help lock the pieces in place.
(Image credit: Getty Images)
I recently received a 1,000-piece jigsaw puzzle as a gift that features a lovely Colorado mountain trail disappearing into the blue sky horizon. The puzzle itself instantly rekindled memories of childhood with my father. Because he had a lifelong passion for puzzles, I grew up in a house where scattered jigsaw pieces would cover the dining room table like a cardboard construction zone. While my father always loved the process of assembling the pieces, I've long been the type to enjoy just admiring the picture on the box. The rest always seemed a little too messy to me.
The way I feel about puzzles is how many people consider retirement planning. Their ideal picture of retirement would look wonderful on a puzzle box, but the process of piecing it together seems overwhelming. Of course, one can keep visualizing, but eventually it's necessary to dump out all the pieces and make them fit together.
If you are considering taking this important step, you have nothing to fear. Here are six key pieces to put at the top of your retirement planning pile that can help you enjoy the kind of financial future you envision.
Subscribe to Kiplinger's Personal Finance
Be a smarter, better informed investor.
Save up to 74%
Sign up for Kiplinger's Free E-Newsletters
Profit and prosper with the best of expert advice on investing, taxes, retirement, personal finance and more - straight to your e-mail.
Profit and prosper with the best of expert advice - straight to your e-mail.
Piece No. 1: Put your plan in writing
Perhaps the most important piece is your plan. After all, when you put your plan in writing, you have a tangible record of the path ahead. According to a recent survey, 73% of financial professionals say providing written plans is very important in building trust with their clients, and two out of three consumers find such written plans effective in accounting for their risk preferences, their investment plan and how to fund financial goals.
From monitoring financial benchmarks to managing through market declines, a written plan is a record of commitment that will help keep you on track and grounded through highs and lows.
Piece No. 2: Know your biological age
The good news is you may be younger than you think. The bad news is you may be younger than you think. A growing body of evidence suggests that an individual's actual age can be measured more accurately using telomeres, which are protective caps at both ends of your chromosomes. Your biological age can diverge by as much as 10-20 years from your chronological age, which can affect your retirement planning.
Commercial tests for determining one's biological age measure telomeres using a blood a sample that is compared with samples from other members of the same age group. However, there are also numerous calculators and questionnaires available online that can provide biological age estimates based on several factors, including diet and lifestyle.
Longer life expectancies are one of the key factors that have helped transform traditional retirement planning. With today's longer life spans, you may need to plan for more years. And more puzzles.
Piece No. 3: Protect your assets
If the thought of running out of money keeps you up at night, finding reliable sources of retirement income that suit your needs and risk tolerance can help. Many retirees are losing sleep over everyday expenses and health care. In one recent study, a whopping 87% of respondents said their No. 1 fear of retirement is having a lack of income.
Social Security, a pension or certain types of annuities can contribute to the guaranteed income component of a well-balanced portfolio. Dependable income also can help you understand how much you can afford to spend and help you feel more at ease about spending in general. And it can help protect you against adverse consequences, such as market downturns.
Piece No. 4: Prepare for health scares
In a survey of more than 1,000 people ages 50-70 with investable assets of at least $200,000, just half of retirees and 36% of pre-retirees reported having a strategy on how to handle health care and long-term care expenses in retirement. There's good reason for having such a plan, because the financial burden of these costs can be significant. It's worth noting that in the same survey, 28% of participants said the COVID-19 pandemic has led them to re-evaluate how they plan for long-term care.
For those who don't have a health care strategy, a good place to start could be by addressing the potential cost of long-term care in the future with insurance coverage. And if Medicare weren't already puzzling enough, income withdrawals from your assets can affect your Medicare premiums, so work closely with a financial professional and tax expert to manage your distributions. Of course, good health care starts with great self-care, so stay focused on what's in your control — maintain a healthy diet, exercise more and limit stress.
Piece No. 5: Put your income on autopilot
Many of us view the money we have accumulated as "untouchable," when it was actually designed to be spent in retirement. And while the desire to avoid overspending is admirable in the discipline it shows, it means you could be missing out on all the fulfillment you deserve in life after you leave the workforce. To help avoid this, one option for spending more comfortably in retirement is automation.
Automation is an effective method of saving and investing to accumulate assets. For example, you may automatically contribute to your 401(k) or other retirement funds. But what about using the power of automation in retirement for distribution? Consider converting some of your assets to a steady stream of income, and automatically activating a withdrawal plan that can help fuel your retirement possibly without the worry of running on empty.
Piece No. 6: Follow your path with a professional
Just as important as your plan is the financial professional who will help you execute it and lock all these pieces together. We all have a puzzle box vision of what our retirement might be, but we can't just admire this picture without putting in some effort first. This planning process is what brings the picture to life, right down to the last missing piece that may have fallen on the floor. It's time to open the box and sort through the pile — assembly is required.
Disclaimer
Jackson, its distributors, and their respective representatives do not provide tax, accounting, or legal advice. Any tax statements contained herein were not intended or written to be used and cannot be used for the purpose of avoiding U.S. federal, state, or local tax penalties. Tax laws are complicated and subject to change. Tax results may depend on each taxpayer's individual set of facts and circumstances. You should rely on your own independent advisors as to any tax, accounting, or legal statements made herein. Jackson is the marketing name for Jackson Financial, Inc., Jackson National Life Insurance Company (Home Office: Lansing, Michigan) and Jackson National Life Insurance Company of New York (Home Office: Purchase, New York). Jackson National Life Distributors LLC.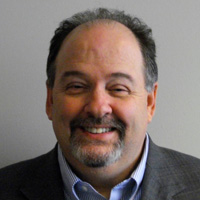 Phil Wright is Vice President of Marketing Communications at Jackson National Life Distributors LLC (JNLD) and an award-winning financial writer. He started with the company in 1994 and focuses on the development and creation of marketing business content. He is a Registered Principal and Certified Fund Specialist (CFS®).