A Government Shutdown Could Disrupt Your Travel Plans — Eventually
A government shutdown could disrupt travel plans in a few ways, especially if it goes on for a long time.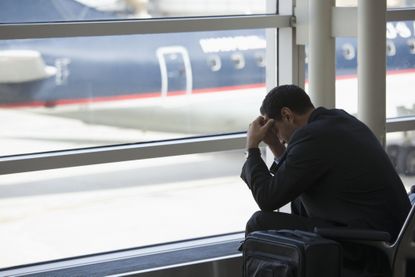 (Image credit: Getty Images)
A new government shutdown deadline is nearing this week. If that has you worried that a potential government shutdown could disrupt travel plans this winter, in one of the many ways a government shutdown could affect you, don't stress out too much — at least, not yet.
"We in TSA are an essential agency, so about 95% of our employees will work irregardless of a shutdown, and they will get paid at the end of a shutdown," TSA administrator David Pekoske told Today on Monday. "But the longer a shutdown goes, the more impact it has on anybody, because your family cash flow isn't there — you don't get paid until the shutdown is over."
The big hassles for travelers, history shows, tend to occur the longer a shutdown drags on. That's when worker shortages caused by unpaid government employees calling out sick and related disruptions start to cause major travel headaches, something Pekoske said he's "very concerned" about.
Subscribe to Kiplinger's Personal Finance
Be a smarter, better informed investor.
Save up to 74%
Sign up for Kiplinger's Free E-Newsletters
Profit and prosper with the best of expert advice on investing, taxes, retirement, personal finance and more - straight to your e-mail.
Profit and prosper with the best of expert advice - straight to your e-mail.
"The longer it lasts the greater the impact it is going to have on the travel and tourism industry," said Siye Desta, equity research analyst at Wall Street firm CFRA. "There's definitely the potential for travel disruptions."
What happens to travel in a long government shutdown
A government shutdown, of course, doesn't mean every federal employee is sent home without pay until Congress strikes a new budget deal.
The good news for travelers? Government workers critical to the travel industry, such as airport security agents, air traffic controllers and custom officials, are deemed "essential workers," and, as a result, must still report to work even though their paycheck is put on hold.
The real pressure point for air travelers during a government shutdown occurs when frustrated federal employees tire of not receiving a paycheck (despite knowing they'll get back pay) and start calling out sick in large numbers like they did during the 35-day government shutdown in late 2018 and early 2019.
It's the shortage of TSA security agents and air traffic controllers that causes lines at airports to grow longer, passenger wait times to stretch out to hours, and travelers to start really feeling the impact and suffer major inconveniences. "That leads to delays," said David Slotnick, senior aviation business reporter at The Points Guy. "It's much ado about nothing in the early stages."
Although, the early stages of this particular shutdown, should it happen this week, would include the busy travel season around Thanksgiving. The TSA said on Monday they expect "this holiday travel season to be the busiest ever," with an estimate of 30 million passengers to be screened from November 17 through the 28.
A government shutdown would halt funding to the Federal Aviation Administration (FAA), Transportation Security Administration (TSA) and Customs and Border Protection. The government closing for business would also cause a hit to the U.S. travel economy, with estimated losses of as much as $140 million per day, according to the U.S. Travel Association.
A government shutdown, the association says, could result in the closing of national parks, federally owned museums and attractions, as well as cause more flight delays, longer screening lines, and longer-term setbacks to air travel modernizations. Transportation Secretary Pete Buttigieg said a shutdown would halt training of employees, including air traffic controllers.
Takeaways of a government shutdown's impact on travel
Travelers wondering how their trips may be impacted if the government shuts down should look at what happened during the longest-ever government shutdown in 2018 and 2019 as a roadmap, says Slotnick.
Here are some takeaways:
Duration of the shutdown matters. In the last shutdown, news reports of hour-plus-long lines at airports, fight delays, and the closing of some terminals at major airports such as Miami International Airport didn't occur until mid-January 2019, or roughly three weeks into the shutdown.
The staff shortages at airports caused by government workers calling out sick tended to pick up when these federal employees missed their first or second paycheck and started to feel the financial squeeze.
Federal parks and museums felt the pain. The level of disruption you can expect has a lot to do with "where you're going and what you're going to do," said Sarah Kopit, editor-in-chief at Skift, a travel news, information and intelligence website.
While the early days of a government shutdown might not cause air travelers much inconvenience since essential workers are on the job, the same can't be said for visitors to national parks, museums and monuments, whose workers are not deemed essential.
In 2018-19, many of these federal tourist attractions furloughed workers and were either closed or operated with skeleton staffs that resulted in subpar conditions, such as overflowing toilets and garbage cans. "Many of these places might be open, but it doesn't mean it will be pleasant to be there," said Kopit.
Check your documents. Getting a passport might also take longer due to staffing shortages, according to the U.S. Travel Association. It's possible that passport offices located inside federal buildings could close, too, says CFRA's Desta.
If there's a silver-lining to a possible government shutdown, it is that the prime summer travel season is over, and the holiday travel rush is a few months away. "That could minimize the impact," said Kopit.
Most experts say a government shutdown isn't a reason for travelers to cancel their trips, unless, of course, a national park you planned on visiting is closed. But what travel experts do recommend is doing your homework before you head to the airport, hop on a train or jump in the car to set off on a trip.
"Call ahead, do your research, and see what's open and what's not," said Kopit. "Make sure you can get to where you're going. And then make an informed decision as to whether it's worth it (to go)."
And, if you do decide to travel during a government shutdown, leave extra time in the event there are delays at the airport.
Related Content