How Medicare Would Be Affected By A Government Shutdown
The shutdown clock is ticking, and how Medicare would be affected by a government shutdown is vital information to many.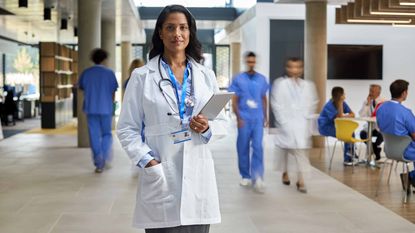 (Image credit: Getty Images)
The clock is ticking for lawmakers to lay down their swords and come to agreement on funding the federal government to avert a shutdown on Oct. 1. If they fail, a government shutdown could affect you as many agencies, departments and services would be interrupted until the government reopens, leaving many to wonder how Medicare would be affected by a government shutdown.
However, some agencies — including the Centers for Medicare and Medicaid (CMS) — would continue to provide essential services, albeit with a reduced staff. That means that in the event of a funding lapse, Medicare, as well as Medicaid programs and services, including Medicare's open enrollment, which will begin on Oct. 15. would continue, according to the latest CMS contingency plan.
The government categorizes Medicare and Medicaid as well as Social Security as mandatory programs that are funded by existing laws, and so they do not require an annual vote by Congress to keep running. This is separate from the many other agencies and departments that are currently at risk of being shut down if Congress fails to pass 12 appropriations bills that would keep them funded.
Subscribe to Kiplinger's Personal Finance
Be a smarter, better informed investor.
Save up to 74%
Sign up for Kiplinger's Free E-Newsletters
Profit and prosper with the best of expert advice on investing, taxes, retirement, personal finance and more - straight to your e-mail.
Profit and prosper with the best of expert advice - straight to your e-mail.
The upshot it that, under CMS, you would continue to receive Medicare even if a shutdown occurs. Social Security checks, too, would not be affected by a government shutdown.
According to the Health and Human Services' (HHS) Sept. 21 contingency plan, Medicaid has sufficient funding for the first quarter of FY 2024.
Other CMS programs that would continue include the Health Care Fraud and Abuse Control and the Center for Medicare & Medicaid Innovation services. CMS would also maintain the necessary staff to continue making payments to states that administer Children's Health Insurance Program (CHIP) coverage.
CMS would furlough about 51% of staff
But about 51% of CMS staff would be furloughed and certain services would be paused during a shutdown.
Thus, in addition to potentially longer wait times to speak with a CMS representative during a shutdown, you would need to wait till the government reopens to replace your Medicare card. The Social Security Administration, which administers Medicare cards, said it would continue certain activities — including those related to timely payments of benefits — but that it would pause the replacement of Medicare cards among other services.
At HHS overall, about 42% of staff would be furloughed, but those working on specific operations that have substantial direct-service components would be retained. This would include a limited number of employees to support funded activities, such as Medicare, Medicaid and other mandatory health program payments, HHS said.
The agency also said it would continue certain COVID-19 activities including response, research, as well as vaccine and therapeutic development by using funding from previous years under emergency supplemental appropriations bills.
Other activities that would continue include the National Institutes of Health Clinical Center's patient care and admittance of new patients if medically necessary, as well as the Food and Drug Administration's maintenance of core emergency functions such as monitoring for and responding to foodborne illness and flu outbreaks, HHS said.
Agencies are required to provide contingency plans in case of a federal shutdown to the Office of Management and Budget but many are either still in the process of updating those plans or have not yet publicly shared them. Kiplinger is keeping an eye out for these updates, so stay tuned as new information becomes available.
RELATED CONTENT
Esther D'Amico is Kiplinger's senior news editor. A long-time regulatory journalist, Esther has covered a range of industries including antitrust and congressional affairs, infrastructure, transportation, climate change and the industrial chemicals sector. She holds a bachelor's degree in journalism and in English.