Best Places to Visit Where the Dollar Is Strong
From the Americas and Europe to Africa and Asia, we list the 10 best places to travel to where the U.S. dollar is the strongest.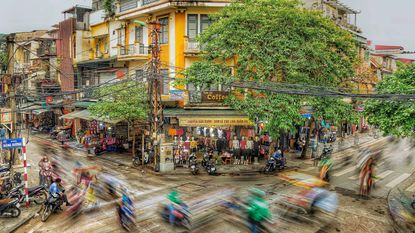 (Image credit: Getty)
You might think that foreign travel has to be expensive, but this isn't the case for every destination. With inflation hiking prices all around the world, there are still places where your dollar will stretch enough to make it a dream vacation destination. You can hike around World Heritage sites or relax on the best beaches but it will cost you less than at other popular travel hotspots.
Our ranking is based on how each currency is currently performing against the dollar (at the time of writing). If you want to find out which are the cheapest cities in the world to travel to, we've got the details to help you decide where to head next.
Data sources include: The Federal Reserve, Oanda FX Date Services, Reuters, and Numbeo's cost of living database
1/10
10. Peru
Peru/Peruvian Sol
With roughly 4.5 million visitors a year, Peru has plenty to boast about. This South American country offers tons to do — there's exploring the 15th-century Inca citadel of Machu Picchu, the Maras salt flats, the Amazon river, and the beach-strewn coasts. Even with a tourism boom, your dollar will go far here against the Peruvian sol.
1 USD will get you almost 4 PEN.
2/10
9. Mexico
Mexico/Mexican Peso
The Mexican Peso is the strongest it has been in five years. Even with this impressive growth, your dollar still has an advantage here. A meal in Mexico could cost you just $5. If you include a beer, you'll pay around $6.50.
1 USD equates to 18 MXN.
3/10
8. South Africa
South Africa/South African Rand
Have you always wanted to go on a Safari? This dream may not be out of reach. South Africa is the host to one of the world's most famous safari destinations — the Kruger National Park — and has a thriving safari industry. Some safaris can be booked for as little as $130 a night. If you're not a safari enthusiast, don't worry, South Africa also offers climbing, hiking and adventure on the Western Cape's Garden Route, world-renowned vineyards Stellenbosch and Franschhoek, as well as cities like Cape Town and plenty of sun-kissed beaches.
1 USD equals 19 ZAR.
4/10
7. South Korea
South Korea/South Korean Won
Between its vast and affordable transit system, wide range of dining options, and abundance of low-cost activities and attractions, South Korea can prove a relatively inexpensive travel destination.
The Discover Seoul Pass (ranging from ₩39,900 for one day to ₩70,000 for three days) offers more than 200 deals, including admission to Gyeongbokgung Palace built six centuries ago by the Chosun dynasty. Located on the grounds are the National Museum of Korea and the National Folk Museum. You also get free use of the city's public bicycles and a free ride on the AREX train system that can get you from Seoul Station to Incheon International Airport.
Now is one of the best times to visit.
1 USD equates to 1,357 KRW. All you'll have to worry about is the airfare.
5/10
6. Japan
Japan/Japanese Yen
Traveling to Japan may seem unattainable for most Americans due to the high airfare prices. But many don't realize that lodging, the cost of food, and the yen all highly favor anyone with the U.S. dollar.
1 USD equates to 149 JPY.
6/10
5. Argentina
Argentina/Argentine Peso
Argentina's inflation rate is the highest since the 1990s, hitting 124% in September. And because of this, foreign travel to the country has increased. In January 2023, foreign tourists spent $164 million — five times more than in 2022. Argentina is now the most visited country in South America with approximately seven million tourists per year. From the cosmopolitan streets of the "Paris of South America (Buenos Aires)" to the unique biodiversity of Patagonia, you can't miss out when traveling here.
1 USD gives you 349 ARS.
7/10
4. Hungary
Hungary/Hungarian Forint
Whether you're trying Hungarian goulash (the national dish), taking a river cruise along the Danube or listening to a traditional folk band in Budapest, the costs of dining out, transportation, and entertainment in this eastern European country are all significantly lower than their counterparts in the west. When added up, these three activities will cost you on average just $16 per day.
1 USD in Hungary gets you 359 HUF.
8/10
3. Chile
Chile/Chilean Peso
Airfare, tourism, and the Chilean Peso's value have dropped drastically in recent years. A study carried out by Macrotrends found that Chile's tourism is down by more than 60%. But, with this decline comes opportunity. From good food and wine to outdoor adventures and the bustling metropolis of Santiago, there is plenty to do here, and as always, great prices.
1 USD equates to 929 CLP.
9/10
2. Colombia
Colombia/Colombian Peso
For years Colombia was known solely for its drug cartels and armed conflicts. Now, the country is starting to shine in a new light. With immaculate beaches and luscious jungles, Colombia offers a little bit of everything. Here you can buy a meal for just $3.00.
1 USD in Colombian equates to 4,206 COP.
10/10
1. Vietnam
Vietnam/Vietnamese Dong
Vietnam is one of the most culturally rich countries in the world. You could find yourself one morning soaking up the city sites with a cup of the famous Vietnamese coffee and a delicious baguette and in the afternoon visiting war history museums or one of the eight UNESCO World Heritage sites in Vietnam.
1 USD equates to 24,560 VND.
---
Related articles
Digital Producer, Kiplinger.com
Quincy is the digital producer at Kiplinger. He joined Kiplinger in May 2021. Before, he worked at Agora Financial - Paradigm Press and was a contributing writer for several other online media publications.
In his current role at Kiplinger, Quincy produces several newsletters, including Kiplinger Today, Investing Weekly, Tax Tips, Kiplinger's Special Report, and Closing Bell. At the same time, he writes numerous articles every month.
When he's not working, he's taking his dogs for a walk or fishing.