The Finances of Homeschooling Your Kids: What It Costs, Tax Breaks, More
If you're contemplating homeschooling your children, consider all the ways your expenses can add up -- and the special savings vehicles and cost-cutting tips to help offset them.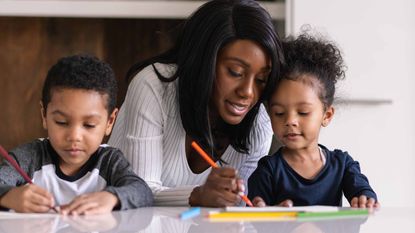 (Image credit: Getty Images)
A fresh surge in COVID-19 cases across the country as we head into 2021 has many states rolling out new restrictions on public and private gatherings, as well as strictly enforcing the wearing of face masks. President-elect Joe Biden even announced during a CNN interview that he plans to urge Americans to wear masks during his first 100 days in office.
Will parents want to continue sending their children into schools that remain open? Is distance learning working for your kids in districts that offer or mandate that approach? Throughout the holiday break, many parents will be exploring a variety of options -- from homeschooling their kids themselves to forming small co-ops with similar families and hiring a private tutor -- to educate their children during these challenging times.
Homeschooling is neither cheap nor easy. The average cost of homeschooling ranges from $700 to $1,800 per child per school year, according to Time4Learning.com, an online resource for homeschool families. This includes the cost of the curriculum, school supplies, field trips and extracurricular activities.
Traditionally, families with two working parents that decide to transition to homeschooling will need to determine which parent is better suited to switch from the 9-to-5 office life to being a stay-at-home parent. Some factors to consider include: Who is the higher earner? Whose job offers the better health benefits for the entire family? Which parent actually wants to take on this huge responsibility -- and will be good at it?
Parents who can't afford to homeschool full-time but want to play a role in their kids' education during evenings or weekends can turn to online support groups for families in similar financial situations to share lesson plans, ideas for low-cost extracurricular activities and other educational resources, recommends Waetie Sanaa Cooper Burnette, a Weymouth, Mass.-based independent homeschool coach and founder of BurstOfLightCoaching.com.
As you weigh the pros and cons of homeschooling for your family, here are 10 things that may affect your budget -- from surprising costs to potential tax breaks. Take a look.
1/10
Homeschoolers Who Own Their Homes Still Have to Pay School Taxes
A substantial portion of funding for public school systems comes from local property taxes charged to homeowners. Unfortunately, just because you've decided to remove your child from the public school system doesn't mean you're off the hook for school taxes for your local school district.
This has long been a point of contention in the homeschool community. You'll find complaints from parents in various online forums about how those who rent their homes and send their kids to public schools don't have to pay school taxes, while homeschoolers who have no affiliation with their neighborhood public schools are still obligated to pay them.
2/10
There Are No Federal Tax Breaks for Homeschool Expenses
Homeschooling expenses aren't eligible for any federal tax breaks. But there are a handful of states that offer tax breaks for homeschool households:
3/10
One of the Biggest Homeschool Expenses: The Curriculum
Many parents are attracted to homeschooling because it allows them to craft a personalized education plan that fits their son's or daughter's needs. "I get to choose when, where and how [my children] do school," says Lenae Litzinger, a Gainesville, Va.-based mom of three who homeschools and also teaches art classes to other homeschool students. "Sometimes we need a change of scenery, so we'll pack up and take our books to the park or library."
Homeschool parents generally follow age-appropriate curricula. (Your state may have specific guidelines you need to follow.) This is a detailed outline (usually in book form) of educational strategies to help guide the teaching process. This includes cognitive development activities, social skill recommendations, as well as lesson plan ideas with corresponding activities. You'll want to familiarize yourself with your child's learning style to buy a course of study that suits his or her particular needs. The National Home School Association provides a rundown of how to best assess your child's learning style on their web site.
You can purchase a curriculum from publishers such as BookShark or Moving With Math for pre-kindergarten through 12th grade. For example, a 36-week all-subject curriculum package for ages 5-7 (includes reading, history, language arts, handwriting, math and science lessons) costs $710 on BookShark.com. A literacy-based math curriculum for first graders is available for $660 on MovingWithMath.com.
Just as college students save big by buying used textbooks, consider buying a gently-used curriculum plan for a fraction of what you'd pay if buying new, says Linsey Knerl, a Tekamah, Neb.-based mom of six who along with her husband has homeschooled all of her children for the past 15 years. Connect with other homeschool parents in your area via Facebook groups or neighborhood listservs. If you prefer to buy new, some homeschool publishers host sales throughout the year -- say, during the winter holiday season. "We buy our live classes [for example, an online foreign language course that requires a live teacher who's fluent in speaking and writing it] during Black Friday to save hundreds on the normal price or take advantage of 'buy one, get one' [deals]," Knerl adds.
There are also free options. KhanAcademy.org, which is available at no cost but encourages monetary donations, offers online classes for all grade levels including advanced placement courses for high-schoolers. At CoreKnowledge.org, parents can download free resources for children in pre-kindergarten through 8th grade.
4/10
Budget for School Supplies, Textbooks and Other Necessities
Stocking up on school supplies -- notebooks, pencils, binders and more -- is an annual ritual for parents who send their children off to class in the fall. Homeschool parents, however, must foot the bill for so much more -- including textbooks and software. If you're considering homeschooling your kids but don't have high-speed internet access or word processing software on your home computer, be prepared to pay for some of these things -- especially now when many public libraries remain closed. Comcast's Xfinity internet plans start at $39.99 per month. A one-time purchase of Microsoft Office Home & Student 2019, which includes the Word, Excel and Powerpoint programs, costs $99.99.
The annual pricetag for school supplies grows as your children age, suggests Latonya Moore, a Murfreesboro, Tenn.-based mother of two and founder of the homeschool blog JoyInTheOrdinary.com. Pre-kindergarten and early elementary school age children don't need much in terms of school supplies compared to junior high and high school students. Moore, who has homeschooled her daughters since 2009, says she and her husband spend about $600 annually on textbooks alone for their children in middle-school and high school.
5/10
Field Trips Can Be Frugal and Fun
Most public school systems offer various field trips throughout the school year to places such as the local zoo or aquarium, art and history museums and others. By taking the learning experience outside of the classroom, students are exposed to educational and cultural experiences that help to further develop academic growth. Many of these excursions are free for public school students.
As a homeschooler, you'll eventually want to expand your child's learning environment outside of your household. If you're planning to make field trips a regular part of the learning experience, be prepared to cover travel expenses, meals/snacks (if you need to eat while out) and any costs related to the event you'll be attending. You don't have to spend a small fortune, either, to have a good time. JoyInTheOrdinary.com's Moore says she takes advantage of field trips designed for homeschool families to help keep costs down. For example, the Hands-On Science Center in Tullahoma, Tenn., welcomes homeschool families with students age 6 and over on Thursdays ($12 per student for members, $14 per student for non-members) to participate in hands-on experiments and tour their science-themed museum exhibits.
If you'd rather not risk potential exposure to the virus for your family, some venues are offering virtual tours and workshops at no cost. For example, the National Children's Museum, which is based in Washington, D.C., has been offering free virtual "field trips" for children in pre-kindergarten through fifth grade. A recent session included weather-themed activities including having kids go outside for a few minutes to observe and document cloud conditions.
6/10
Set a Budget for Extracurricular Activities
One of the most common stereotypes about homeschooled children is that they'll lack socialization skills compared to students who attend traditional schools. "With so many activities, groups and clubs available, there really is no reason for this to be an assumption," Linsey Knerl says.
To ensure your kids are socializing with others their own age, consider enrolling them in extracurricular activities -- for instance, team sports or, say, a theater workshop for teens. Of course, there are fees associated with many of these types of activities.
Don't overlook free volunteer opportunities that can help your child develop socially and culturally. For example, Habitat for Humanity offers volunteer opportunities for children as young as 5 as part of its youth program. The American Red Cross has a volunteer program for teens that allows them to take part in service projects in their own communities. Teenagers 16 and over can volunteer at their local Animal Humane Society location or at one of their hosted events.
7/10
Save Big on Child Care Costs
Homeschooling removes a huge financial burden for many families, especially those with multiple children. While homeschooling, at least one parent is home full-time during the day to teach their children and transport them to various activities -- while also perhaps providing care for younger children. This eliminates the need for professional daycare and afterschool care during the week.
It's no secret that child care costs are expensive in many areas. On average, married couples spend 11% of their income on child care costs, according to Child Care Aware's 2019 report The U.S. and the High Price of Child Care: An Examination of a Broken System.
To help put that into perspective, a family with a household income that matches the U.S. national median of $61,937 will spend $6,813 annually on child care expenses for one child. If you have multiple children or live in a major city, that amount can quickly skyrocket.
8/10
You May Need to Hire a Tutor
For whatever reason, perhaps you've realized you're not the right person to lead teaching at your child's homeschool. Or maybe your child needs some extra coaching in a subject you're not well-versed in. You may decide that you'll need a tutor to impart critical knowledge to your child.
Depending on the subject matter and the volume of kids, tutors may charge $10 to $80 an hour. Seek out recommendations from other local homeschooling parents, or turn to tutoring web sites such as Wyzant and Tutor.com to find the best help.
9/10
Team Up With Other Parents to Split Homeschooling Costs
Parents who are unable to run a homeschool by themselves are setting up small homeschool co-ops with other families abandoning traditional schools.
How it works: Three or so families with children of the same age agree to split the costs or burdens of teaching their kids collectively. The participating families divvy up hosting duties from week-to-week and set guidelines for movement outside of the pod that everyone (including any tutors) must follow to limit exposure to the coronavirus.
"Teachers who are working with learning pods during the pandemic are charging anywhere from $45 to $80 an hour," says Mariana Parodi McCormick, founder of Parodi Educational Consulting, a Bethesda, Md.-based independent education consultancy for families.
10/10
You Might Be Able to Use a Coverdell Education Savings Account
Parents with a modified adjusted gross income that's less than $220,000 (if filing a joint federal tax return) can set up a Coverdell Education Savings Account (ESA) in their child's name and make tax-free withdrawals to help cover elementary and secondary school expenses. The Coverdell ESA is a trust or custodial account offered by the federal government and is similar to a 529 college savings plan.
You can set them up for your child or children under 18 at any participating bank, mutual fund company or brokerage firm. Anyone -- such as relatives, as long as their income doesn't exceed $110,000 -- can contribute to the accounts, but the total amount for each child cannot exceed $2,000 a year. As with 529 savings plans, you don't get a federal tax deduction on contributions to Coverdells, but your money can be invested and grows tax-free, and you avoid tax on the earnings if you withdraw the money for qualified educational expenses. Coverdells cover a broad range of expenses, including private elementary and high school tuition. If you don't use the money for qualified expenses, or if you don't tap the account by the time the child turns 30, you must pay tax and a 10% penalty on the earnings.
Parents who homeschool their kids may be able to reap the benefits of a Coverdell ESA if they meet certain requirements that qualify their homeschool as an elementary or secondary school. For example, in Maryland, for a homeschool to qualify as a state-approved school, it has to be registered with the state-approved school umbrella program, according to the Home School Legal Defense Association (HSLDA). As part of this program, your local public elementary or secondary school must assign a school-based teacher to assist the homeschool, issue progress reports, mark papers and grade tests. Check out the HSLDA's Homeschool Laws By State tool, which lists homeschool requirements for all 50 states and the District of Columbia. Also, check your state government's website for further clarification on local homeschool guidelines.
If your homeschool doesn't qualify for a federal Coverdell ESA, find out if you're eligible for an ESA offered by the state in which you live. Just like a Coverdell, these tax-advantaged accounts can be used to pay for homeschool-related expenses. Currently, just five states offer ESAs to homeschool families and most come with restrictions:

Browne Taylor joined Kiplinger in 2011 and was a channel editor for Kiplinger.com covering living and family finance topics. She previously worked at the Washington Post as a Web producer in the Style section and prior to that covered the Jobs, Cars and Real Estate sections. She earned a BA in journalism from Howard University in Washington, D.C. She is Director of Member Services, at the National Association of Home Builders.