Do You Need Life Insurance When You're Young?
As millennials have families and take on financial obligations, we need life insurance to protect those we may leave behind.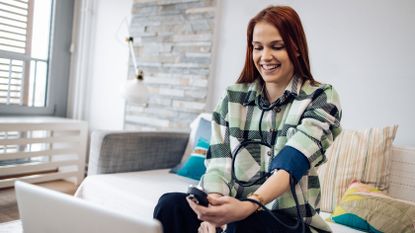 (Image credit: Getty Images)
The life insurance industry has been marketing its products to millennials in a big way, and a lot of us are receptive. In addition to the number of COVID-19 deaths over the past year, many of us have lost friends to illness or accidents, and some of them left small children behind. How­ever, if you're like me—single, with no dependents—you may be wondering whether it's worth the cost.
What to buy. Life insurance falls into two major categories: term and whole life. A term life policy provides benefits for a certain amount of time, usually in increments of 10, 20 or 30 years. Whole life, or permanent life insurance, covers you for life (or as long as you pay the premiums) and has an investing component.
Although term in­surance has no cash value—your heirs won't receive any benefits un­less you die before the term expires—it's con­siderably cheaper than whole life insurance. For that reason, Kiplinger's generally recommends buying term life insur­ance and using other vehicles for your investments, such as low-cost mutual funds or exchange-traded funds. Byron Udell, founder of AccuQuote.com (opens in new tab), a life insurance marketplace, says a nonsmoking 28-year-old woman can expect to pay about $16 a month for a 20-year policy worth $500,000 (women typically pay less in premiums than men). She could increase the coverage to $1 million for about $25 a month, Udell says.
Subscribe to Kiplinger's Personal Finance
Be a smarter, better informed investor.
Save up to 74%
Sign up for Kiplinger's Free E-Newsletters
Profit and prosper with the best of expert advice on investing, taxes, retirement, personal finance and more - straight to your e-mail.
Profit and prosper with the best of expert advice - straight to your e-mail.
If you have young children, a term life insurance policy is a no-brainer, particularly if you're the main bread­winner in your household. Even if you don't have children, there may be others who are dependent on your income. For example, if you're pro­viding financial support for a parent or sibling, a term policy will protect them if something happens to you.
If you're single with no dependents but own your home, you may want to buy a policy to keep it in the family. That's what Brittney Burgett, head of communications at Bestow, an online term life insurance provider, did when she purchased her home in Tampa.
"I didn't want my mom to worry about what to do with the house if something were to happen to me," she says, "so I purchased a policy that would more than cover the mortgage and made her the beneficiary." Burgett has a 30-year, $500,000 term policy that costs less than $30 a month.
How to buy. If you're working, your employee benefits may include a term life insurance policy. However, if you leave your job, your policy may no longer be valid. Plus, the coverage may fall short of what you need. Work­place policies typically base the death bene­fit on a flat amount or an amount based on one to two times your annual in­come. If you have dependents, some experts suggest you get a policy that's at least 10 times your annual income.
To figure out how much life in­surance you need, tally up your ex­penses and liabilities, such as your mortgage and car payments, and look for a policy that will come close to covering those expenses. If you think that's not enough, you can add more coverage for a modest amount.
You can compare premiums at web­sites such as AccuQuote.com and Policygenius.com (opens in new tab). You may also want to work with an in­dependent insurance agent who can explain your options. You can find an agent at TrustedChoice.com (opens in new tab).
Most insurance com­panies won't require you to take a health exam to qualify for a policy, Udell says. How­ever, when you apply, you'll be asked a slew of questions, including whether you're a smoker and details about your family's medical history.
For now, I'm satisfied with my life insurance coverage through work. But if my single status changes, I'll consider getting additional coverage. I wouldn't want to leave my partner in any financial distress.
Staff Writer, Kiplinger's Personal Finance
Rivan joined Kiplinger on Leap Day 2016 as a reporter for Kiplinger's Personal Finance magazine. She's now a staff writer for the magazine and helps produce content for Kiplinger.com. A Michigan native, she graduated from the University of Michigan in 2014 and from there freelanced as a local copy editor and proofreader, and served as a research assistant to a local Detroit journalist. Her work has been featured in the Ann Arbor Observer and Sage Business Researcher.