Make the Most of Your Third Stimulus Check
Kiplinger.com contributing editor and NFL linebacker Brandon Copeland offers guidance on targeted ways to wisely utilize your third stimulus check.
Hi everybody, this is Brandon Copeland, a/k/a Professor Cope, and you are now locked into another episode of Cope'ing with Money.
With the third, and perhaps final stimulus payment scheduled to be released soon, here are a few ideas to use the money wisely. Although I can not tell you what to spend the money on, as every situation and household is different, the way you handle the money could provide many benefits.
See All of Brandon Copeland's Cope'ing With Money Features on Kiplinger.com.
Subscribe to Kiplinger's Personal Finance
Be a smarter, better informed investor.
Save up to 74%
Sign up for Kiplinger's Free E-Newsletters
Profit and prosper with the best of expert advice on investing, taxes, retirement, personal finance and more - straight to your e-mail.
Profit and prosper with the best of expert advice - straight to your e-mail.
So when can people expect their stimulus payments? Some of you may have already received these payments via direct deposit this past weekend, so everyone should be on the lookout.
Did I get mine yet? No? I don't, I don't get one? Oh.
If you haven't received yours yet I wouldn't worry, because these things may take a bit more time to get to us. As we know, the government from time to time likes to over-promise and under-deliver. Also, before we get started, please know that the Kiplinger family has put together plenty of resources to help you navigate things like the changing unemployment benefits maze, or exactly how much money you should be expecting. To view this and other useful information, go to kiplinger.com/tools.
Prioritize Paying Everyday Bills
First and foremost, if you're having trouble paying everyday bills, by all means, let's take care of that first. Paying utilities, buying food, keeping health insurance and debt payments current, probably in this order. I've linked to a helpful column written by my colleague Riley Adams that can help you confidently find an order for the bills to pay off.
Pay Down Credit Card Debt, Loans
Second, if you have any credit cards, personal loans that charge interest, consider paying them down if not off completely. Any payment towards the principal on those accounts saves you the current interest rate that it is charging. In addition, if the item is now paid off, the money you were using for that expense can now be used on another expense, or even saved.
Repair or Replace Everyday Items
Perhaps things that you use every single day are in need of repair or replacement. A car, computer, or appliances are just a few examples of such items. The necessary repair to make something functional again, or outright replacement, may free up other time for you to tackle other projects. Perhaps the item is something you use in your business, and this repair will now allow you to continue or even expand.
The value you receive replacing or repairing this item could be priceless.
Build an Emergency Stash
Alternatively, or in conjunction with, consider saving the money as part of your emergency fund. What if you don't have one at all? Now could be the time to start one. We cannot predict when the car will need a repair, a medical issue will arise, or an unexpected bill arrives in the future.
With an emergency fund, it could make the difference in handling this unexpected emergency with ease, as opposed to facing it with stress and anxiety. You want to aim for three to six months of your reoccurring, monthly living expenses as a number to shoot for when you begin saving up for an emergency fund.
Consider Funding Your Retirement Plan
Another thing to consider is saving the money in some kind of retirement plan, such as an IRA, a Roth IRA, or another pension plan. As a stimulus payment is considered non-taxable income, it's really good, you might be able to turn contributions to a retirement account into additional tax savings now and in the future. You can also donate the money to a charity as that could also give you a tax deduction.
However, in both of these examples, individual circumstances will vary. So checking with your tax professional is probably a good idea.
Consider Investing in Stocks
Lastly, for those who already have the emergency fund, this may be a great time to look to invest in the stock market. I know it's tough to stay away from diving into some of the hot name or meme stocks, but getting rich that way is like winning the lottery. And personally, I wouldn't bet my son's next meal on those types of odds.
Consider investing in some of the reopening or reflation plays. What benefits when the world is closer to normal, or whatever our new norm looks like. Now, while some of these companies you may think of already have this reopening priced into their stock price, there are still some good buys out there, especially when you have a longer investment timeframe. Airlines, travel booking services and casinos are just some of the examples of industries that will clearly benefit when the world is operating closer to normal again. If you are uncomfortable picking an individual stock, take a look at an industry-correlated ETF for exposure.
As mentioned, these are just a few ideas on how to maximize the money received under the latest stimulus payment. I am sure you may think of several other ways as well. But the point is to have the conversation, and think about what works best for you and your family. Money, as we know, can be hard to come by and it does not grow on trees. So making the most of your situation is always the smart thing to do.
If you want to stay in the know with stimulus rollout development, sign up for Kiplinger's free daily email newsletter, Kiplinger Today, by simply going to kiplinger.com/email.
One more piece of advice from Professor Cope. If your personal situation allows this check to advance you and move you closer to your dreams, then by all means let's execute the most discipline we've ever used in our lives, and make sure this check does that. Let's not squander this thing trying to look cool on social media. Until next time, your boy Professor Cope signing out here. Another episode of Cope'ing with Money in the books. I'll see you soon.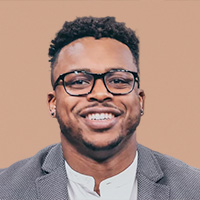 Contributing Editor, Kiplinger.com
Brandon Copeland, an active, eight-year veteran NFL linebacker, has spent the past two years teaching a class he created, and nicknamed "Life 101," at his alma mater, the University of Pennsylvania. Life 101 focuses on life's constant money decisions so that students are better prepared for the financial realities that adulthood brings. Copeland also spends time off of the field consulting and investing in real estate. He is the co-founder of a nonprofit organization, Beyond the Basics Inc., and was the recipient of the 2020 NFLPA Alan Page Community Award, the NFLPA's highest honor given for extraordinary dedication to service, social justice and equality. He is a member of CNBC's Financial Wellness Council and the NFL Players Inc. Advisory Committee. Copeland has interned for UBS and Weiss Multi-Strategy Advisers.