When Will Your Third Stimulus Check Arrive?
The American Rescue Plan authorizes a third round of stimulus checks. When might you receive your payment?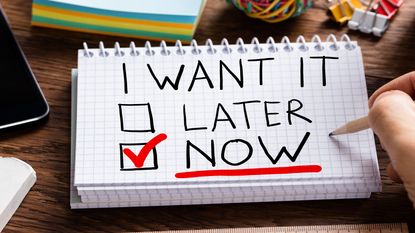 (Image credit: Getty Images)
The IRS started sending third stimulus check payments just a couple of days after President Biden signed the American Rescue Plan Act. In less than a week, 90 million Americans had pocketed a total of $242 billion in stimulus payments. But that was just the first wave of payments. More stimulus checks will be sent – mostly by direct deposit, but some through the mail as a paper check or debit card. So, if you're eligible for a payment (not everyone is) but haven't received your third stimulus check yet, hang in there.
We don't know yet how long it will take to distribute all payments. Hopefully, it will be a matter of weeks, not months, before the vast majority of third stimulus checks are delivered. We shall see. In any event, whether you get your payment in the next few days or in a couple of weeks, at least you know payments will be sent soon. And since the IRS has bank account information for more Americans than it did when first-round stimulus checks were being processed, they'll be able to deposit payments directly into bank accounts for most eligible Americans. This will speed up the payment process considerably. That's good news for people who lost income because of the pandemic and desperately need the extra cash.
[Stay on top of all the new stimulus bill developments – Sign up for the Kiplinger Today E-Newsletter. It's FREE!]
Subscribe to Kiplinger's Personal Finance
Be a smarter, better informed investor.
Save up to 74%
Sign up for Kiplinger's Free E-Newsletters
Profit and prosper with the best of expert advice on investing, taxes, retirement, personal finance and more - straight to your e-mail.
Profit and prosper with the best of expert advice - straight to your e-mail.
Tracking Your Third Stimulus Check
The IRS fired up the popular "Get My Payment" tool again so that you can track the status of your third stimulus check. The online tool lets you:
Check the status of your stimulus payment;
Confirm your payment type (paper check or direct deposit); and
Get a projected direct deposit or paper check delivery date (or find out if a payment hasn't been scheduled).
For more information about the tool, see Where's My Stimulus Check? Use the IRS's "Get My Payment" Tool to Get an Answer.
Calculating Your Third Stimulus Check Amount
Under the American Rescue Plan, every eligible person will receive a $1,400 third stimulus check "base amount." For married couples that file a joint tax return, the base amount is $2,800. Then, for each dependent in your family, an additional $1,400 will be tacked on.
But not all people will receive the full amount. As with the first two stimulus payments, third-round stimulus checks will be reduced – potentially to zero – for people reporting an adjusted gross income (AGI) above a certain amount on their latest tax return. If you filed your most recent tax return as a single filer, your third stimulus check will be phased-out if your AGI is $75,000 or more. That threshold jumps to $112,500 for head-of-household filers, and to $150,000 for married couples filing a joint return. Third-round stimulus checks will be completely phased out for single filers with an AGI above $80,000, head-of-household filers with an AGI over $120,000, and joint filers with an AGI exceeding $160,000.
Your filing status, AGI, and number of dependents will be taken from either your 2019 or 2020 return. If your 2020 return is already filed and processed when the IRS is ready to send your payment, your stimulus check will be based on information from your 2020 return. If your 2020 return isn't filed and processed at that point, the IRS will use your 2019 return. If your 2020 return is filed and/or processed after the IRS sends you a stimulus check, but before August 16, 2021 (or September 1 if the May 17 filing deadline is pushed back any further), the IRS will send you a second payment for the difference between what your payment should have been if based on your 2020 return and the payment actually sent based on your 2019 return.
You can use our handy Third Stimulus Check Calculator to get a customized estimated payment amount. All you have to do is answer three easy questions.
For more information about your third stimulus check, see Your Third Stimulus Check: How Much? When? And Other FAQs.
Rocky Mengle was a Senior Tax Editor for Kiplinger from October 2018 to January 2023 with more than 20 years of experience covering federal and state tax developments. Before coming to Kiplinger, Rocky worked for Wolters Kluwer Tax & Accounting, and Kleinrock Publishing, where he provided breaking news and guidance for CPAs, tax attorneys, and other tax professionals. He has also been quoted as an expert by USA Today, Forbes, U.S. News & World Report, Reuters, Accounting Today, and other media outlets. Rocky holds a law degree from the University of Connecticut and a B.A. in History from Salisbury University.