21 Great Ways To Use $1,000
From buying a long-term bond to smart vacation planning, we've rounded up financially smart ideas to make the most of a thousand bucks.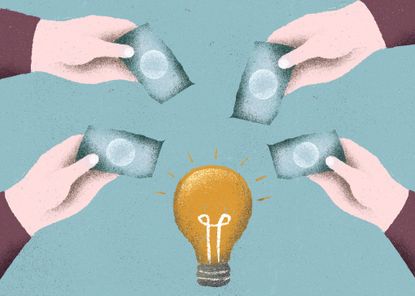 (Image credit: Getty Images )
High inflation has taken a toll, so your dollars don't stretch quite as far as they once did. But if you have $1,000 to spare, you can still give your savings and investments a boost, make an impact on causes you care about, or reward yourself with a vacation or home upgrades.
Kiplinger has rounded up 21 ideas to make the most of a thousand bucks.
Invest it wisely
Buy a long-term bond. Even though you can still find higher yields on a six-month Treasury bill (5.5% in late August) than you can on a 10-year T-note (4.1%), it's time to consider locking in today's higher yields for longer, says Wells Fargo Investment Institute fixed-income strategist Brian Rehling. "Remember, those 5%-plus yields are temporary — when the economy slows, those rates will fall," he says. Long-term yields may not yet have peaked as the Federal Reserve continues to battle inflation, so Rehling advises building a stake gradually in long-term, high-quality bonds (think 10-year Treasuries and up).
Subscribe to Kiplinger's Personal Finance
Be a smarter, better informed investor.
Save up to 74%
Sign up for Kiplinger's Free E-Newsletters
Profit and prosper with the best of expert advice on investing, taxes, retirement, personal finance and more - straight to your e-mail.
Profit and prosper with the best of expert advice - straight to your e-mail.
You can buy Treasuries at auction directly from Uncle Sam at TreasuryDirect.gov, with a minimum purchase of $100. You may also be able to buy them either at auction or on the secondary market via your brokerage account. Or try a fund — although you can't truly "lock in" any given rate because bonds move into and out of a fund's portfolio.
Still, yields are "stickier" at long-term funds than at short-term counterparts. Vanguard Long-Term Treasury ETF (symbol VGLT, $60) yields 4.4% and has a reported turnover rate of 19%, meaning that just 19% of the portfolio changes over the course of a year. Vanguard Short-Term Treasury (VGSH) yields 5% but with a turnover rate of 59%.
Find a Wall Street bargain. Putting some of your focus on an out-of-favor sector or investment strategy can pay off over time. Investors have given dividend stocks the cold shoulder so far this year. The Morningstar Dividend Composite index has returned 5.1% in 2023 through August 31, well below the 18.7% gain in the S&P 500. Sectors with big dividend payers, including health care and energy, have lagged, too. But these dividend-rich sections of the market are now attractively priced, says Morningstar strategist Dan Lefkovitz.
The energy sector was on a roll last year, but 2023 has been tough so far. Oil prices are rising, though, which is a boon to energy firms. Consider Energy Select Sector SPDR (XLE, $89), which charges a low 0.10% expense ratio. Healthcare stocks are this year's "forgotten sector," says SoFi head strategist Liz Young. It includes defensive plays (drug and health care providers), while its innovative side (biotech) offers good growth opportunity. Invesco S&P 500 Equal Weight Health Care ETF (RSPH, $29) smooths out the impact of the sector's bigger stocks. Investors looking for more-traditional exposure to the sector should consider Health Care Select Sector SPDR ETF (XLV, $133).
Start an in­vesting habit. It's cheap and easy to open an investment account, whether you're doing it for yourself or seeding an account for a loved one. And now is a good time to do it, because a few companies are offering signing bonuses that promise an immediate profit.
You only need $50 to open a Charles Schwab Starter Kit account, which offers investing how-to tools and videos and includes a bonus of $101 worth of stock in the five biggest firms in the S&P 500 index. (Given the prices of mega-cap S&P stocks such as Apple, Microsoft and Amazon.com, Schwab deposits fractional shares.)
Fidelity also allows you to start small and offers investing tutorials and cash bonuses for several kinds of newbie accounts. Put at least $50 in its new Bloom app, or its "starter pack" of a brokerage and cash account, and you'll get a $100 sign-up credit added to your balance. If you want to get a youngster started in the market, Fidelity offers $50 opening bonuses for its Youth Account, which empowers those ages 13 to 18 to control investments while allowing their adult cosigners to monitor activity.
Share your generosity
Contribute to a donor-advised fund. There's no shortage of worthwhile causes to support, and as the year draws to a close, you may not have time to decide which charity (or charities) will make the best use of your dollars. A donor-advised fund allows you to donate now, deduct the contribution on this year's tax return (as long as you itemize) and decide later which charities you want to support.
When donor-advised funds were created, you needed to invest a significant amount of money to meet their minimums, but that's no longer the case. Donor-advised funds from Fidelity and Schwab have no minimum investment. Once you've set up your fund, you can continue to make contributions as cash becomes available. Most also accept contributions of appreciated stock, so if your $1,000 consists of shares of a stock you bought long ago, you can donate them to your account. You won't have to pay capital gains taxes on the appreciated stock, so you'll get a tax break even if you don't itemize.
Fund a small business with a microloan. Through microloans, which distribute small amounts of money to entrepreneurs, you can help small-business owners who have difficulty borrowing from traditional lenders, such as banks. Entrepreneurs can use the money for inventory, repairs, hiring employees or other needs.
One avenue to fund microloans is through the websites of reputable regional nonprofit organizations, such as LiftFund (www.liftfund.com), a community-development institution that serves mostly southern states. With a tax-deductible $1,000 donation to LiftFund's Dream Makers Fund, you become a member of the President's Circle and receive two gifts from a LiftFund borrower. Repaid loans are reinvested in other small businesses, and interest goes toward LiftFund's operational expenses.
You can also fund microloans through a worldwide nonprofit organization such as Kiva (www.kiva.org). Kiva crowdfunds loans for small-business owners, and you can choose which businesses to support. When a business owner repays a loan, your principal is deposited into an account you create on Kiva's website. (Kiva doesn't collect interest from business owners, although its partners that disburse the loans typically do.) If you wish, you can fund another microloan with your repayment.
Help victims of natural disasters. Extreme weather events — including intense wildfires in Hawaii, Washington State and Canada, a tropical storm that struck Mexico, California and Nevada, and a suffocating heat wave across the central and southern U.S. — disrupted and took many lives this past summer.
Donations to the Maui Strong Fund from the Hawai'i Community Foundation (www.hawaiicommunityfoundation.org) support victims of the devastating fires in Maui; the fund allocates resources to local charities that assist the most-vulnerable groups. Another organization to consider, All Hands and Hearts (www.allhandsandhearts.org), provides volunteer-powered disaster relief across the country and around the world and works to rebuild communities to help prevent future devastation from extreme weather.
Beware of scams when donating to an unfamiliar charity. Charity Navigator (www.charitynavigator.org) is a great resource for vetting and researching charities. Any charity that solicits donations in Hawaii must be registered with the Hawaii Department of the Attorney General; its status can be verified at https://charity.ehawaii.gov/charity/search.html.
Adopt a rescue pet. The story about 4,000 beagles rescued from the Envigo lab in Virginia had a happy ending — most of the beagles are living their best lives — but thousands of dogs are still awaiting their forever home. Adoption fees range from $50 to $350 or more, depending on the shelter and the type of dog you adopt (puppies are usually more expensive).
The adoption fee may include the cost of vaccinations and spaying or neutering, but you'll still need to put aside money for supplies, such as a crate (you can often find used crates for a low cost), a leash and food. Petfinder.com estimates that the minimum cost of owning a dog or puppy for the first year is $395, which should leave you with some additional funds to pay for a few training sessions and replace your chewed-up Birkenstocks.
Are you more of a cat person? The adoption fee is usually lower — typically up to $200, or you may pay no fee at all — but you'll still need to put aside funds for food, a litter box, a carrier and, to preserve your furniture, scratching posts or mats.
Boost your savings
Open a certificate of deposit. To fight inflation, the Federal Reserve has raised short-term interest rates from near zero in March 2022 to a recent target range of 5.25% to 5.5%. As a result, CD rates have jumped, too. Many one-year CDs with minimum-deposit requirements of $1,000 or less offer yields of more than 5%, and some five-year CDs offer rates north of 4.5%. Although rate cuts are unlikely in the near future, the Fed is winding down its rate-boosting campaign, so now may be a good time to lock in a high yield on a CD.
Recently, the one-year CD from Rising Bank (www.risingbank.com) had a 5.5% rate, with a $1,000 minimum deposit. The five-year CD from First National Bank of America (www.fnba.com) yielded 4.65% and has a $1,000 minimum deposit. For more top-yielding CDs, see page 51. You can also search for the best CD rates that are available in your area by visiting www.depositaccounts.com/cd.
If you withdraw from a CD before it matures, you'll typically pay a penalty of at least a few months of interest. If you'd rather avoid penalties, you can look for a no-penalty CD, such as the one from online bank Ally Bank (www.ally.com). It has an 11-month maturity, a 4.55% yield and no minimum-deposit requirement.
Top off your emergency fund. Only 43% of Americans say they could cover a $1,000 emergency expense — say, an unexpected car repair or medical bill — according to a Bankrate.com survey. If you're single or child-free, you should have an amount equal to about six months of your salary saved for a rainy day. If you have a family to support or are nearing retirement and will have a reduced income soon, it's wise to stash away about a year's worth of your salary for emergencies.
Look for a high-yield, low-minimum money market deposit account or savings account to store your emergency fund. An MMDA can be an especially strong option because you can typically withdraw money directly from it with a debit card or check. To withdraw funds from a savings account, you usually have to link it to a checking account to transfer the money first.
Recently, Vio Bank (www.viobank.com) offered an MMDA with a 5.25% yield, a $100 minimum opening deposit and no monthly fees. The high-yield savings account from Evergreen (www.evergreenbankgroup.com) has a 5.25% yield, no monthly fees and a minimum-deposit requirement of $100. You can search for other top-yielding MMDAs and savings accounts at www.depositaccounts.com.
Give your child (or grandchild) a jump start on retirement. If your child has earned income from a part-time or summer job this year, give the gift that keeps on giving by opening a custodial Roth IRA and contributing to it on his or her behalf. In 2023, individuals younger than 50 can contribute up to $6,500 to a Roth, but contributions can't exceed the child's income — so if your kid earned $1,000 this year, that's the maximum you can contribute.
Contributions can be withdrawn tax- and penalty-free anytime, and after your child has had the Roth IRA for at least five years, he or she can withdraw up to $10,000 of investment earnings tax- and penalty-free for a first-time home purchase. But ideally, your child will let the money grow tax-free until retirement.
Even if your child never contributes another dime to the account, an initial $1,000 investment will be worth more than $29,450 in 50 years (based on an average annual return of 7%). If your child is inspired to continue contributing to the Roth, adding just $1,000 a year could provide a nest egg of more than $434,000 when your child retires.
Pay down debt
Rising interest rates may be good news for savers, but they're a detriment for borrowers. In the second quarter of 2023, credit card balances reached an all-time high of $1.03 trillion, and total household debt hit $17.06 trillion, according to the Federal Reserve Bank of New York.
Credit card debt is particularly troublesome because interest rates usually run high — recently an average 22%, according to the Fed — and most cards have variable rates that rise along with the Fed's interest rate target. A $1,000 payment toward your card debt could take a bite out of the amount of interest you owe and the time you spend whittling the debt.
For example, say you have an $8,000 card balance with a 22% rate and make a $200 monthly payment. It'll take you a little more than six years to eliminate the debt, and you'll pay interest of $6,551. If you knock $1,000 off the debt, leaving you with a $7,000 starting balance, and then make $200 monthly payments, you'll owe $4,298 in interest and spend less than five years paying off the balance.
Get a new-account bonus
Some credit cards offer a heap of extra cash, points or miles if you spend a certain amount in the first few months of opening the account. Recently, for example, the Bank of America Customized Cash, U.S. Bank Altitude Go and Wells Fargo Autograph cards all offered a bonus worth $200 if you spend $1,000 in the first three months. The U.S. Bank Cash+ Visa gives you a little more time to earn the bonus, offering $200 back if you spend $1,000 in the first 120 days. And the Capital One Quicksilver, Chase Freedom Flex, Chase Freedom Unlimited and Wells Fargo Active Cash cards offer a $200 bonus if you spend just $500 in the first three months.
Similarly, some banks offer a cash bonus if you open an account and deposit a certain amount. The online SoFi Checking and Savings account (www.sofi.com), which has no monthly fee, offers a $50 cash bonus if you have a direct deposit of $1,000 to $4,999 within the first 25 days ($250 bonus if your deposit is $5,000 or more). The account yields a healthy 4.5% if you have a direct deposit, too. You can search for account bonuses available in your area at www.bankbonus.com.
Make upgrades at home
Enhance your home cinema ex­perience. It has been a big year for movie debuts. Many of the films that had to suspend or postpone production because of the pandemic were finally able to premiere over the summer. Whether you're looking to bring the movie theater home or you want the best possible viewing experience as you enjoy your favorite sports and TV shows, investing in a high-quality TV has its perks.
Consider TCL's latest 6-Series Roku TV. For a price of about $1,000, you can get a 65-inch model (the TCL 65R655). The 4K Ultra HD picture quality provides 2160p resolution, and mini-LED technology and QLED Wide Color ensure superior brightness and color. The Roku interface is easy to navigate and offers applications for a number of video-on-demand and live-streaming services, such as Netflix, Hulu and Disney+.
Another compelling option is the $950 Samsung 65-inch Class Q60C QLED 4K Smart Tizen TV, which carries many of the same features, including high-quality resolution, color and brightness, as well as video-streaming applications.
Fortify your security. Locking the door only goes so far in securing your home. Installing multiple security cameras that monitor your front door, back and side doors, yard, and garage can help you keep an eye out for trespassers (and may also be handy for monitoring your kids).
Try the Ring Floodlight Cam Wired Pro with Bird's Eye View and 3D Motion Detection ($250 each on Amazon), which comes with a floodlight, motion detection and a speaker so you can hear and speak to anyone on camera. It's also compatible with Amazon's Alexa voice assistant, so you can tap into the feed from any of the cameras with an Alexa device, such as an Echo Show, a Fire TV or a Fire Tablet.
Hire a professional organizer. Home organization has reached new heights of popularity in recent years, thanks in part to the pandemic — when many people were spending plenty of time at home — as well as popular books and TV shows such as Marie Kondo's The Life-Changing Magic of Tidying Up and Netflix's Get Organized With The Home Edit. If you're compelled to declutter and organize but would rather not do it all yourself, consider outsourcing the project to an expert who can provide an outsider's perspective, ease the decision-making burden, and create effective and efficient storage solutions.
The National Association of Productivity & Organizing Professionals lets you search for providers by type of service, distance from your location, or both. Visit www.napo.net and select "Find a Pro" to get a list of professionals in your area, along with in-formation about their businesses, including links to their websites and contact information.
Fees vary widely based on the professional's experience, your location and the scope of services you request. Many pros charge by the hour, while others charge by the package or project. According to HomeAdvisor, a digital marketplace that connects homeowners with local service professionals, you can expect to spend between $80 and $140 per hour, on average, for a professional organizer's services. Also check for any initial consultation fees, extra costs for needed materials and supplies, and disposal fees.
Create a hydroponic indoor garden. Growing your own garden is a satisfying way to enjoy fresh produce while also saving on your grocery bill. But not everyone has the luxury of living somewhere with a long growing season, lots of yard space or the right climate for the produce they consume most. A hydroponic indoor garden can serve as a convenient, reliable source of fresh lettuces, herbs and fruiting plants year-round. These gardens require relatively little maintenance; a high-quality hydroponic garden setup includes its own irrigation system (typically a large tank that you top off weekly) and automated lighting for the plants.
At $899, the Gardyn Home 3.0 (www.mygardyn.com) provides an indoor hydroponic garden setup with 30 starter plants of your choosing, a growth assistant that relies on artificial intelligence to look after your garden 24/7 via cameras and sensors, and automated lighting and watering. The system is soil-free, so you must feed the plants with liquid nutrients that you add to the water tank.
For a smaller garden tailored to lettuce lovers, try the Farmstand Nook by Lettuce Grow (www.lettucegrow.com) to grow fresh herbs, greens and edible flowers all year long. At $699, the Nook supports up to 20 plants and fits well in tight spaces. E.P.
Buy artwork online. You don't need to have deep pockets to buy fine art—and you can build your collection by shopping at online galleries. You may be able to find more-affordable artwork through online galleries than traditional ones, and you can easily compare prices. With The Artling (www.theartling.com) and Zatista (www.zatista.com), for example, you can filter your search for pieces with price tags of less than $1,000.
Similar to traditional galleries, online galleries have a wide range of artwork, such as sculptures, photographs and paintings. The Artling, for example, recently offered a minimalist painting titled Black Glitter Bucket, by Jose Ricardo Contreras Gonzalez, for $1,000, and Zatista had a striking, colorful photograph called Kaleidoscope 55, by Michael Filonow, for $920. Make sure you shop with sites that provide authentic artwork. The Artling and Zatista provide certificates of authenticity with each purchase. Some galleries, including The Artling, have a no-return policy. Others, including Zatista, let you return artwork if you're not satisfied with your purchase.
Get a new mattress. You should replace your mattress about every six to eight years, according to the Sleep Foundation. Although quality mattresses commonly cost more than $1,000, you can find solid options at lower prices, too. In its online review of mattresses, TechRadar.com deems the memory-foam Nectar mattress as the best value for the money, suitable for a wide range of sleepers. A king-size foam mattress from Nectar was recently $899, or $999 for a hybrid version with both memory foam and springs.
Tech-Radar also highlights the DreamCloud Hybrid mattress, offering "hotel-like luxury" at a lower price than some other brands and relief for those who suffer from joint pain. The king-size model is $999. If you run warm when you sleep, check out the Cocoon by Sealy Chill mattress, a strong and affordable candidate among cooling mattresses, which draw heat away from the sleeper. The king-size version is $899.
Get ready for your next vacation
Reserve summer flights. The holiday season is one of the best times to book flights for the next summer's vacation, says Scott Keyes of Going.com. With a $1,000 budget, you should be able to buy at least one round-trip ticket for a trip abroad. A typical good deal on a round-trip flight to Europe this past summer was $813, according to Hopper, a flight-tracking and travel app. Meanwhile, the average good deal on a round-trip flight was between $400 and $500 for travel to Mexico, Central America, the Antilles and Canada, and a good deal on a round-trip flight to South America came out at just over $700, on average.
If you're planning a vacation within the U.S., you may be able to score a few tickets for $1,000. Average domestic round-trip airfares ran less than $300 last summer, according to Hopper. Use flight-tracking and cost-comparison tools such as the best travel websites and apps Hopper, Google Flights and SkyScanner to look for deals.
Replace your luggage. Whether it makes sense to invest in a small suitcase to carry onboard an airplane and stash in overhead bins, a larger piece to check in the luggage hold or both may depend on which airlines you frequent. Southwest Airlines is the only major U.S. airline that doesn't charge fees for one or two checked bags. Carry-on bags are often free, although some airlines — including Frontier and Spirit — charge fees for them, and JetBlue and United charge for them if you book a Basic Economy ticket.
If you need both types of luggage, consider buying a set. The two pieces in the $840 Travelpro Platinum Elite Carry-On/Large Check-In Hardside Set are "spinners" that stand upright on four wheels, and they have an ultra-strong 100% polycarbonate shell that flexes upon impact to prevent cracking and protect the bags' contents. Travelpro luggage has a lifetime warranty against any defects, and you can register for free within 120 days of your purchase for a five-year warranty to cover the cost of any repairs for damage caused by an airline. If you don't need both pieces, you can opt for the large spinner for $470 or the carry-on spinner for $370.
All of the major U.S. airlines let passengers bring a small personal item (a shoulder bag, backpack or laptop bag that fits under the seat in front of you) free. The $98 Beis Mini Weekender includes a built-in padded laptop sleeve and a separate bottom compartment that's perfect for shoes. Or check out Travelpro's Crew VersaPack Rolling UnderSeat Carry-On. At $230, this bag comes with a removable personal organizer that has water-resistant compartments, padded sleeves for your laptop or tablet, exterior side pockets to fit an umbrella or water bottle, a built-in USB charger, and wheels for rolling.
Book a volunteer vacation. A more hands-on approach to philanthropy than dollar donations, volunteer vacations offer the chance to broaden your perspective, connect with the community you're visiting and make a difference in a cause that you care about. International Volunteer HQ (www.volunteerhq.org) organizes journeys to more than 50 destinations around the world, and the programs cost as little as $20 per day.
Accommodations, meals and in-country support are all included. You'll just have to cover the cost of flights. You could teach English in Antigua or help conduct research in the wild forests of Madagascar, for example. The organization also accepts medical volunteers who have a professional background in health care. Some programs have a foreign-language proficiency requirement. The organization uses information that you provide in your application to determine whether you're eligible for your program of choice.
Related Content

Executive Editor, Kiplinger's Personal Finance
Anne Kates Smith brings Wall Street to Main Street, with decades of experience covering investments and personal finance for real people trying to navigate fast-changing markets, preserve financial security or plan for the future. She oversees the magazine's investing coverage, authors Kiplinger's biannual stock-market outlooks and writes the "Your Mind and Your Money" column, a take on behavioral finance and how investors can get out of their own way. Smith began her journalism career as a writer and columnist for USA Today. Prior to joining Kiplinger, she was a senior editor at U.S. News & World Report and a contributing columnist for TheStreet. Smith is a graduate of St. John's College in Annapolis, Md., the third-oldest college in America.