Biden Extends Suspension of Student Loan Payments
The president gave borrowers another 90 days until May 1 before they have to start paying back their student loans.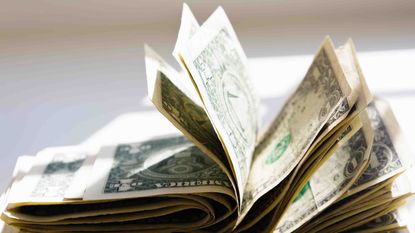 (Image credit: Getty Images)
If you're scrambling to resume paying your student loan, you can relax for now. President Biden has extended the pause on repayments another 90 days until May 1, 2022.
The extension will come as a relief to the vast majority of student loan borrowers; a recent survey from the Student Debt Crisis Center (opens in new tab) found 89% of borrowers saying they were not prepared to restart payments on Feb. 1.
According to the Education Data Initiative (opens in new tab), student loan debt in the U.S. totals $1.75 trillion with 43.2 million borrowers owing an average of more than $39,000 each.
Subscribe to Kiplinger's Personal Finance
Be a smarter, better informed investor.
Save up to 74%
Sign up for Kiplinger's Free E-Newsletters
Profit and prosper with the best of Kiplinger's expert advice on investing, taxes, retirement, personal finance and more - straight to your e-mail.
Profit and prosper with the best of Kiplinger's expert advice - straight to your e-mail.
Biden first continued the suspension of student loan payments on his first day in office last January, then giving debtors a reprieve through September. In August, he extended that break through January 2022.
Borrowers Still Coping With Pandemic Impact
"Now, while our jobs recovery is one of the strongest ever — with nearly 6 million jobs added this year, the fewest Americans filing for unemployment in more than 50 years, and overall unemployment at 4.2 percent — we know that millions of student loan borrowers are still coping with the impacts of the pandemic and need some more time before resuming payments," Biden said in a statement (opens in new tab).
"Given these considerations, today my Administration is extending the pause on federal student loan repayments for an additional 90 days — through May 1, 2022 — as we manage the ongoing pandemic and further strengthen our economic recovery. Meanwhile, the Department of Education will continue working with borrowers to ensure they have the support they need to transition smoothly back into repayment and advance economic stability for their own households and for our nation."
President Urges Preparing for Repayments
Biden urged borrowers to use this time to "take full advantage of the Department of Education's resources (opens in new tab) to help you prepare for payments to resume." These include options to lower payments through income-based repayment plans (opens in new tab) and public service loan forgiveness.
TIAA surveyed nonprofit and public sector employees in November and found 95% who benefitted from the CARES Act reported that they will experience at least some trouble keeping up with their student loan payments once the relief program ends. That survey found 40% saying they will have a "great deal" of difficulty keeping up with their payments and 45% reporting it would have been "very difficult" or impossible to keep up over the past 18 months.
Borrowers Not Financially Secure
According to the Student Loan Crisis Center, 68% of its survey respondents were fully employed. Yet many reported struggling to resume payments.
Among other findings by the center's survey:
Even among those who are fully employed, 89% said they're not financially secure enough to resume payments on Feb. 1. Another 21% say they will never be financially secure enough to resume payments.
27% of respondents said that at least a third of their income would go toward student loan payments when they resume. 10% said half their income would be needed to repay their loans.
88% said the relief from making payments was critical to their financial well-being during the pandemic. 87% said it made it possible for them to pay other bills.
44% of fully employed borrowers said they can't afford their payments or are in default.
The center joined more than 200 organizations (opens in new tab) earlier in December demanding the president extend the pause and grant further student debt relief. "The student loan payment pause has been one of the most important investments the federal government has made in Americans' financial lives in a generation," the organizations wrote in a letter to Biden. "Before the pandemic struck, tens of millions of borrowers struggled every day to navigate a badly broken student loan system. America's student debt crisis wreaked havoc on the financial lives of families across the country, despite payment relief and debt forgiveness programs that promised that these debts would never be a life-long burden."
The letter further noted that the burden of student debt falls disproportionately on Black and Brown borrowers, who are also disproportionately blocked from existing avenues of relief.
Senior Retirement Editor, Kiplinger.com
Elaine Silvestrini has had an extensive career as a newspaper and online journalist, primarily covering legal issues at the Tampa Tribune and the Asbury Park Press in New Jersey. In more recent years, she's written for several marketing, legal and financial websites, including Annuity.org and LegalExaminer.com, and the newsletters Auto Insurance Report and Property Insurance Report.