What You Should Know About Giving Tuesday
After draining their wallets to buy holiday gifts, Americans will dig deeper into their pockets for charities on Giving Tuesday.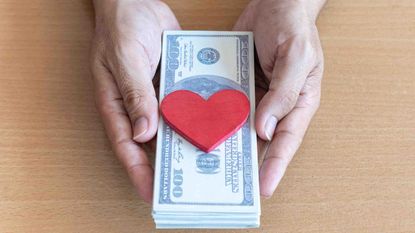 (Image credit: Getty Images)
In spite of (or maybe because of) a global pandemic that rocked the economy, Americans have been especially generous to those in need. Last year, they gave more than $471 billion to charity, an increase of more than 5% over 2019, according to the Giving USA 2021 report by the Giving USA Foundation (opens in new tab), based on research by the Lilly Family School of Philanthropy at the University of Indiana.
And recent data show that people remain highly motivated to give in 2021, according to Caryn Stein, chief communications officer for Giving Tuesday (opens in new tab).
What is Giving Tuesday?
Created in 2012, Giving Tuesday is a day in which we are all encouraged to take a break from all that holiday spending and donate to those in need. Giving Tuesday typically comes the day after Cyber Monday, which follows Black Friday, two big holiday shopping sales events.
Subscribe to Kiplinger's Personal Finance
Be a smarter, better informed investor.
Save up to 74%
Sign up for Kiplinger's Free E-Newsletters
Profit and prosper with the best of Kiplinger's expert advice on investing, taxes, retirement, personal finance and more - straight to your e-mail.
Profit and prosper with the best of Kiplinger's expert advice - straight to your e-mail.
During Giving Tuesday last year, Stein said, $2.47 billion was donated in a 24-hour period in the U.S. alone. Stein said 13% of adults participated with gifts, time and other acts of kindness. Stein said 2020 "was unique in that it bucked the multi-year trend of fewer donors giving. Instead, we saw an overall increase in both donors and dollars. Giving in 2020 increased by an estimated 5.2% year-over-year when compared to 2019."
Under the banner of "Radical Generosity," the organizers of Giving Tuesday are suggesting taking it beyond an annual event to a weekly "Giving Every Tuesday (opens in new tab)."
What Are Some Ideas for Giving Tuesday?
The organizers of Giving Tuesday have suggestions for people who aren't quite sure where to start:
Donate to a charity that is working to create change in your community.
To find individuals in need of help, you can go to the Reddit Charity (opens in new tab) sub, follow the Twitter hashtag #TwitterPhilanthropy or just send money to someone you know who could use the help.
A pay-it-forward gesture: buying groceries for the person behind you in line or leaving a gift card at the gas station. On a toll road, you can pay the toll for the person behind you. At a restaurant drive-through, you can pay for the person who follows you in line.
Post a message of hope or an inspiring doodle in your window.
Share your ideas on social media using the #GivingTuesday (opens in new tab) hashtag.
What Is New With Charitable Tax Deductions?
The good news is that even if you don't itemize your tax deductions, you can still deduct up to $300 this year in qualified charitable cash donations or up to $600 for married couples filing jointly. That's because of pandemic-related tax law changes that began last year and were extended and modified for 2021. While the deduction will lower your taxable income, it won't reduce your adjusted gross income. Usually, people who take the standard deduction, rather than itemizing, can't claim charitable contributions.
The IRS estimates that nearly 90% of taxpayers take the standard deduction and could potentially be helped by this new benefit.
If you itemize, this year the law allows you deductions for cash contributions of of up to 100% of your adjusted gross income to qualified charities. Before the pandemic tax changes, these deductions were limited to between 20% and 60% of AGI, depending on the type of contribution and the type of charitable organization.
The new pandemic-related tax benefits apply only to cash donations to qualified charities and not to donor- advised funds and supporting organizations or to most contributions to charitable remainder trusts.
How Is This Year's Giving Tuesday Different?
Stein noted that each Giving Tuesday is slightly different from previous years "as the movement grows and more people and organizations participate with new ideas and ways to connect.
"As we are still facing a continued global pandemic we expect to see continued adoption of virtual and hybrid events, increased coalition building and collaboration across sectors and borders, collective giving through organized giving circles, and continued interest and activity via person-to-person giving, mutual aid networks, and other acts of community care that are happening outside of formal organizations," Stein continued.
Also, Stein said, more youth are participating in the day around the world.
How Do You Know If a Charity Is Legitimate?
If you want to receive a tax deduction regardless of whether you itemize, a charity has to be a registered 501c(3) (opens in new tab). You can research charities and their IRS 990 forms (opens in new tab) through a service like Candid GuideStar (opens in new tab). These forms must be filed with the IRS each year to share information with the public about their programs. You can also search the IRS website (opens in new tab) for tax exempt organizations.
The Federal Trade Commission (opens in new tab) suggests doing some research before making any donations so you know your contribution will count. Among the FTC's suggestions:
Search online for the cause you're interested in, along with phrases like "best charity" or "highly rated charity." Then when you've selected on a particular charity, search its name plus "complaint," "review," "rating," "fraud," or "scam."
Go to the charity's website to determine if it provides specifics about its programs and how it uses donations. See if it tells you how much of your donation will go directly to programs you want to contribute to. If you can't find this detailed information regarding the charity's mission and programs, be cautious.
BBB Wise Giving Alliance (opens in new tab)
Charity Navigator (opens in new tab)
CharityWatch (opens in new tab)
Candid (opens in new tab)
Find out if the fundraiser and the charity are registered. Some states require that charities register with the state regulator. Check to see if a fundraiser and the charity they're calling on behalf of are registered with your state's charity regulator.
Check if the donation will be tax deductible. If this is important to you, confirm that the organization you're donating to is registered with the IRS as a tax-exempt organization. Look up the organization in the IRS's Tax Exempt Organization Search (opens in new tab).
Check with the charity regulator (opens in new tab) in your state to see if the charity is registered (if your state requires it).
Senior Retirement Editor, Kiplinger.com
Elaine Silvestrini has had an extensive career as a newspaper and online journalist, primarily covering legal issues at the Tampa Tribune and the Asbury Park Press in New Jersey. In more recent years, she's written for several marketing, legal and financial websites, including Annuity.org and LegalExaminer.com, and the newsletters Auto Insurance Report and Property Insurance Report.