Could You Lose Your Job if You Get COVID-19?
With omicron surging, many are losing the ability to work. Can they get fired? Will they get paid time off? It depends.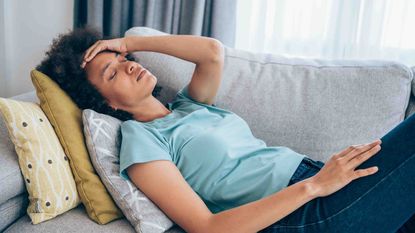 (Image credit: Getty Images)
With the omicron variant taking over, COVID-19 has become more contagious than ever. Worrying about your health and the health of your loved ones is bad enough; do you have to worry about your job, too?
Technically, it's possible for some companies to fire workers who get sick or to require them to take time off without pay. Is it likely? Experts say no. But still, it's better to know the rules and to talk to your employer before you get sick.
What Determines If You're at Risk?
Legal protections in the U.S. are unclear and limited. But experts say most employers are striving to get through the pandemic with an intact and happy workforce.
Subscribe to Kiplinger's Personal Finance
Be a smarter, better informed investor.
Save up to 74%
Sign up for Kiplinger's Free E-Newsletters
Profit and prosper with the best of expert advice on investing, taxes, retirement, personal finance and more - straight to your e-mail.
Profit and prosper with the best of expert advice - straight to your e-mail.
"Employers are forced to be more nimble in this day and age," said attorney Lisa Banks, a member of the American Bar Association Section on Labor and Employment Law. With omicron, "their normal calculus around leave and the cost of leave and setting a precedent goes out the window. A good portion of their workforce will get COVID. They have to protect the rest of the people in the company; they have to retain their workforce and they have to protect their reputation at the same time."
The rules that apply are a patchwork of federal, state and local laws and company policies and practices. Factors include the state where a company is located, number of employees and the type of job involved.
For example, workers in California are much more likely to receive paid sick leave than people in many other states. Managers in white-collar jobs are more likely to get paid sick leave than part-time food service workers. And union workers are more likely to get it than non-union workers.
Can I Be Fired for Missing Work with COVID-19?
With a workforce shortage and a general understanding of the seriousness of the pandemic, most employers aren't eager to fire employees who get sick, experts say. That said, they acknowledged there are some difficult bosses out there, and that workers should know their rights if they get sick.
In addition to the law, employees may be protected under employment contracts or by their companies' policies and practices, noted Amber Clayton, knowledge center director at the Society for Human Resources Management. However, those who are not protected under contracts, policies or the law may be terminated, she said.
Still, said Holly Sutton, a San Francisco-based lawyer who advises employers, managers should think hard before such a move. "It's extremely risky for employers to fire someone for getting COVID," she said. "It would be ill-advised for a number of reasons. (Workers are) protected in many different parts of the law."
Does FMLA Apply to COVID-19?
Some workers who contract COVID-19 – or need to care for someone who has – may be protected from termination by the Family and Medical Leave Act (FMLA). Employees who have worked at their jobs for at least a year in companies that employ at least 50 employees within 75 miles are covered under the act, which requires companies to provide up to 12 weeks of unpaid leave under certain circumstances, including the serious health condition of the employee or a spouse or children.
The law requires employers to maintain workers' health benefits during leave and to restore them to their same or an equivalent job when they return. It bars interference or retaliation against workers who exercise their rights under the law.
A serious health condition, under the law, makes the employee unable to perform their job. This would include a condition that requires an overnight stay in a medical facility or that incapacitates the employee for more than three consecutive days and includes ongoing medical treatment.
Similarly, more than 30 states have their own laws requiring companies to provide paid or unpaid family and medical leave, according to the National Conference of State Legislatures (although some of the state laws pertain just to pregnant workers). Two states - New Jersey and Georgia - and Puerto Rico enacted medical leave laws in response to the pandemic.
An example is Wisconsin, which has a law requiring companies with at least 50 permanent employees to provide workers with at least a year on the job up to two weeks of unpaid leave for the employees' serious health conditions or to care for a child, spouse, parent or domestic partner with a serious health condition.
Will I Get Time Off If I Get COVID-19? Will It Be Paid?
According to the Department of Labor, at the start of the pandemic, 75% of private industry workers had access to paid sick leave, with 86% of full-time workers having that benefit and 45% of part-timers. Workers in management, professional and related occupations enjoyed the greatest access to paid sick leave, with a rate of 92%.
Early in the pandemic, Congress passed emergency legislation giving many workers access to paid sick leave – and many employers increased coverage accordingly. But that law expired at the end of 2020. After that, the federal government gave small companies tax credits to pay workers for sick leave, but those also expired at the end of September 2021.
State and Local Paid Sick Leave Laws
While no federal law currently requires paid sick leave, 14 states plus the District of Columbia, Puerto Rico and 18 cities have their own laws requiring companies to provide paid time off for sick employees.
According to the National Conference of State Legislatures, the states with laws requiring paid sick leave are:
States and localities have also passed a range of laws that address COVID-related sick leave. In some cases, these include requiring paid sick leave not just when employees are themselves ill or forced to quarantine, but when a member of their family is affected by the disease, in isolation, or forced to stay home because schools are closed.
Service Workers Lack Paid Sick Time
Yet, workers in certain industries overwhelmingly lack paid sick leave across the United States, particularly in states without legal requirements.
According to a survey by Harvard University's Shift Project, 55% of workers at large retail and food service companies have no paid sick leave. And even though 45% of those workers reported having access to paid sick leave, just 8% had earned at least 14 days of leave.
Some large companies, including Walmart and Amazon, that enacted paid sick leave for COVID-19 have reduced the amount of paid time for employees as the Centers for Disease Control and Prevention reduced the recommended length of time for isolating after exposure.
Recently, Red Lobster came under fire when the site Popular Information reported the restaurant chain's employees said they were being forced to work while sick with COVID-19. According to the Shift Project, just 12% of Red Lobster workers reported having access to paid sick leave.
But other companies fared even worse in the Harvard survey. A whopping 99% of Waffle House employees reported not having access to paid leave, followed by Zaxby's and Bob Evans, both with 97%, and Cracker Barrel with 95%. Of 91 companies included in the survey, Ikea and Costco had the best results with just 3% of employees at each company reporting not having access to paid sick leave.
Stingy Employers May Regret Their Actions
Most employers, Sutton said, "want to be as safe as possible because the last thing you want is a big outbreak because that's going to cripple the workforce. Most employers and employees are aligned on safety concerns."
It's not a good look for employers, Banks noted, to force employees to come to work with a contagious virus. Just because they can fire workers who get sick, she said, doesn't mean they should.
"I'm sure there are bad employers out there," she said. For the others, "it's not that they're so altruistic; it's self preservation and in their best interest to keep their workforce employed and healthy."
In addition to looking bad in the eyes of the public, Banks said, "if they do start firing people because they can, then they'll be hard pressed to complain about lack of employees or the bad reputation that will soon result."
Senior Retirement Editor, Kiplinger.com
Elaine Silvestrini has had an extensive career as a newspaper and online journalist, primarily covering legal issues at the Tampa Tribune and the Asbury Park Press in New Jersey. In more recent years, she's written for several marketing, legal and financial websites, including Annuity.org and LegalExaminer.com, and the newsletters Auto Insurance Report and Property Insurance Report.