Pandemic Aid That's Still Available
Broad-based stimulus checks and the like are over, but some people still qualify for help.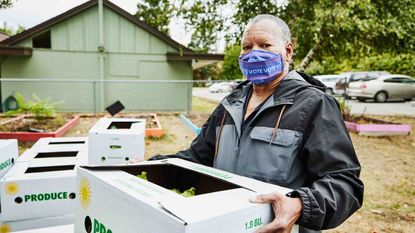 (Image credit: Getty Images)
While available aid for individuals is dwindling, there still are some benefits available to help people affected financially as we enter year three of the COVID-19 pandemic.
These benefits include enhanced healthcare subsidies, aid for food workers and rental assistance. In addition, a moratorium on federal student loan payments has been extended.
It remains unclear whether the Biden administration and Congress will come to an agreement to extend the enhanced child tax credit program. – but there's also talk on Capitol Hill of new legislation to help businesses such as restaurants, gyms and performance spaces
Subscribe to Kiplinger's Personal Finance
Be a smarter, better informed investor.
Save up to 74%
Sign up for Kiplinger's Free E-Newsletters
Profit and prosper with the best of Kiplinger's expert advice on investing, taxes, retirement, personal finance and more - straight to your e-mail.
Profit and prosper with the best of Kiplinger's expert advice - straight to your e-mail.
Enhanced Obamacare assistance
Congress increased subsidies for healthcare plans under the Affordable Care Act (opens in new tab) in the American Rescue Plan Act of 2021. Under this benefit, more people qualify for help in paying for health insurance, meaning lower premiums for many, depending on household income.
This is intended to extend health insurance to a significant portion of uninsured Americans. The benefit is set to expire at the end of 2022, but Congress could extend it or make it permanent. In the meantime, open enrollment ended Jan. 15, so it's too late for many new enrollees this year. But if you have a qualifying event, such as losing a job, you can apply for insurance and under the plan regardless of open enrollment.
Rental Assistance
While there is no longer a federal ban on evictions, struggling renters may still be eligible for federal aid to help them avoid becoming homeless. According to the most recently available Treasury Department statistics, more than 2.5 million renters and landlords had received federal rental assistance aid through local and state agencies as of the end of October. The government expected to spend between $25 and $30 billion by the end of the year out of a total of $46.6 billion (opens in new tab) provided in two federal relief acts.
The aid covers things like rent, utilities, home energy, trash removal, certain late fees and internet service, as well as moving expenses and other fees related to your rental,
If you're a renter struggling to make rent or utility payments or a landlord struggling financially, you can apply to a local emergency rental assistance agency. A list of local agencies is available on the website of the Consumer Financial Protection Bureau (opens in new tab) or you can call 211 or your local housing authority for guidance.
Food Worker Payments
Workers at grocery stores, farms and meatpacking plants may be eligible for $600 assistance payments later this year under the Farm and Food Worker Relief Grant Program (opens in new tab). This program will funnel federal funds through state agencies, as well as nonprofit organizations and tribal entities.
These entities are to distribute the funds to workers who spent money "preparing for, preventing exposure to and responding to" the pandemic. A total of $20 million of the $665 million in available funds was to be set aside for grant agreements to benefit grocery store workers.
State agencies and eligible organizations have until March 10 to apply for grants, which are scheduled to be awarded in June. Workers will later be able to apply to the agencies for flat-rate payments of $600. The workers will be required to certify that they incurred costs because of the pandemic, but will not be required to provide itemized receipts.
Enhanced Child Tax Credit
The last — and possibly final — enhanced child tax credit payments (opens in new tab) went out in December. The current law doesn't authorize any further advance payments of this tax credit. However, the Build Back Better Act (opens in new tab), if passed, would extend the payments for another year. That measure has been passed by the House of Representatives and is awaiting action in the Senate, where West Virginia Sen. Joe Manchin has reportedly expressed opposition to continuing the child tax credit.
The credit enhancements in effect for 2021 were designed as pandemic relief and to reduce child poverty. People with children were potentially eligible for an additional tax credit of $1,000 or $1,600 per child, depending on the child's age.
Student Loan Deferral
People with federal student loans held by the government have not been required to make payments since March of 2020. In August, the Department of Education extended the deferral until Jan. 31, 2022. And in December, President Biden extended it until May 1 (opens in new tab).
In addition to deferring loan payments, the government eliminated interest on the loans during this time, meaning the amount outstanding isn't rising. The government has also stopped collecting defaulted debt.
The deferral can also lower the total repayment requirement for some borrowers, such as those on income- driven repayment (opens in new tab) plans. The deferred payments will count toward IDR forgiveness. The deferrals do not apply to privately held student loans.
Senior Retirement Editor, Kiplinger.com
Elaine Silvestrini has had an extensive career as a newspaper and online journalist, primarily covering legal issues at the Tampa Tribune and the Asbury Park Press in New Jersey. In more recent years, she's written for several marketing, legal and financial websites, including Annuity.org and LegalExaminer.com, and the newsletters Auto Insurance Report and Property Insurance Report.