Welcome to the Post-Pandemic Workplace
There are five generations in the workforce for the first time. Here's how employers are trying to please everyone.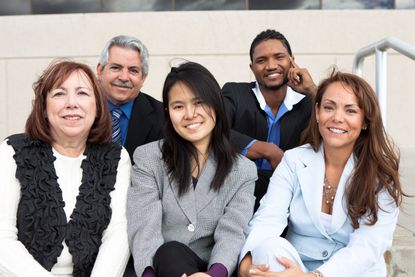 (Image credit: Getty Images )
For the first time in history, American workplaces encompass employees spanning five generations, from those born before World War II to those who have never known life without Google. The main reason for this generational diversity? People are working longer, sometimes into their 70s and 80s.
As businesses grapple with the fallout from the Great Resignation and the resulting labor shortage, employers want employees of all ages to feel valued so that they don't look for a new job or decide to retire. But hitting all the right buttons with a five-generation workforce isn't easy. "I think everyone is looking for the silver bullet that will serve all generations," says Lindsey Pollak, a workplace consultant and author of The Remix: How to Lead and Succeed in the Multigenerational Workplace (HarperCollins, $29.99).
Money only goes so far, experts say. Once people feel fairly compensated, other benefits matter more. "We're seeing salaries rising, but also higher quit rates so salary isn't the whole thing," says Andy Challenger, a senior vice president at employment consultant Challenger, Gray & Christmas. In fact, the benefits that seem to count the most are often the same ones that people needed during the pandemic: work-life balance support. Employers are just looking for ways to apply those benefits broadly to workers of all ages, he adds.
Subscribe to Kiplinger's Personal Finance
Be a smarter, better informed investor.
Save up to 74%
Sign up for Kiplinger's Free E-Newsletters
Profit and prosper with the best of expert advice on investing, taxes, retirement, personal finance and more - straight to your e-mail.
Profit and prosper with the best of expert advice - straight to your e-mail.
A Better Way to Work
The No. 1 benefit workers of all ages want is flexibility in how and where they work. According to a July survey by Challenger, Gray & Christmas, 68% of the 172 human resource and business leaders surveyed are worried about employees leaving their companies, and 73% -- the highest percentage by far -- say they believe flexible workplaces will keep employees from fleeing to the competition. "We saw the trend starting before the pandemic; it was something people wanted but very few companies offered," Challenger says. "The pandemic has accelerated the trend by five to 10 years."
During the pandemic, many employees had the autonomy to work the hours they wanted as long as they remained productive. Remote work may be part of this newfound freedom or a separate perk, but the workers driving this trend may be broader than companies realize. While some surveys find younger people are more eager for flexible hours, others -- like a survey from workplace automation platform Nintex -- show that senior employees adapted more easily to working at home and younger workers, especially those in entrylevel jobs, felt more isolated and overwhelmed. Meanwhile, a Pew survey found that most workers, no matter their age, preferred a hybrid option rather than returning to the office full time.
The difference in remote work is likely to be more class-based than generational, says Rhetta Standifer, an associate professor in the department of management and marketing at North Central College in Napierville, Ill. "Mostly white-collar workers will have that luxury. The people serving customers day in and day out have to be there," she says. Remote work "is going to be broadly attractive but not broadly accessible."
Caregiving Support
Although it's long been an issue for many workers, the ability to care for family moved front and center during the pandemic. When schools and senior centers closed, employees were left juggling the competing demands of work and family.
Most employer caregiving benefits, if they exist at all, tend to focus on child care, but other types of care are just as crucial, says Bob Stephen, AARP vice president of caregiving and health. "This is something we were trying to build awareness of before the pandemic." According to a 2020 SPC Global and AARP survey, 66% of employers said they were very supportive of parents with children age five or younger, but only 32% said the same about employees taking care of aging parents, spouses or another adult.
The need for caregiving benefits spans multiple generations, not just Gen X (born between 1961 and 1980), the age cohort that typically comes to mind as today's sandwich generation. In fact, an AARP survey found that 23% of caregivers are millennials (born between 1981 and 1996), and 6% are Gen Z (1997 to present). Young adults might be taking care of parents, grandparents or a sibling with special needs.
During the pandemic, many companies increased their caregiving benefits, generally by offering work flexibility and mental health resources. Other benefits included subsidized backup care, access to a caregiver database, or a concierge or coach to coordinate actual care, says Dani McCauley, senior vice president and customer experience leader for Aon Voluntary Benefits. Aon is one of the world's largest insurance brokers. Some companies also offered paid caregiver leave along with standard paid leave. In some cases, employers helped coordinate caregiving support groups.
The jury is still out on whether these benefits will become permanent once the crisis wanes. "These caregiving benefits will continue in some form," Stephen says. "I don't think they will stay where they are now, but I think it will be really hard to roll them back." In another AARP survey of caregivers, 43% of respondents said they would look for other jobs if work flexibility and caregiving benefits are rolled back.
Employers may be asking about caregiving benefits more, McCauley says, but that doesn't mean they are pouring money into them. She thinks companies are testing the waters to see which new or expanded benefits will attract and retain employees.
Two-Way Mentorships
Working remotely also prompted employers to rethink how far-flung employees can work better together. In the process, companies are discovering that mentoring is really a two-way street, particularly because younger workers are far more fluent in digital technology. "When I started in the workplace, I had no skills," Pollak says. "If you had 30 years experience and I didn't, the understanding was you could do technical things I couldn't. Now, my 10-year-old can do things on a computer that a CEO can't." The technological edge of younger workers is more relevant in some fields than others, but "it changes the power dynamic," she says.
Some firms are giving traditional mentorships a new twist, with not only senior workers counseling junior employees but younger colleagues teaching older ones to become more technologically proficient. Young adults, raised on group projects in school, are used to collaborating, says Karen Strating, founder of KLS Consulting, a leadership development company.
A New Generation of Leaders
A new generation of leaders -- Gen X -- is shaping the workforce. Sometimes known as the forgotten generation, Gen X now runs many companies. "They hold 52% of leadership roles and are playing a huge role in guiding the workforce," says Stephanie Neal, director of the Center for Analytics and Behavioral Research at DDI, a global leadership consultancy firm.
In a 2021 global survey of company leaders and human resource executives, DDI found Gen X will play an even more critical role in the next 10 to 15 years. Neal notes that Gen X bosses had more employees reporting directly to them during the pandemic than any other age group. And digitally, she says, Gen X leaders are often better at leading virtually, perhaps because they were more likely to have subordinates who worked remotely even before the pandemic.
Still, Gen Xers receive fewer promotions than boomers or millennials, Neal says. Certainly, millennials are further down the career ladder and have more room to move up, but she adds, "companies don't always look at Gen X as leaders. They're being leapfrogged over, probably because, as a general trend, millennials are looked to more as the future."
To keep Gen X as well as other generations happy, employers will need to pay attention to some of the same enticements, like promotions and career development, that they relied on before the pandemic, Strating says. "At the end of the day, it really is more about the work environment, about being able to contribute, grow and develop."
Contributing Writer, Kiplinger's Personal Finance
Alina Tugend is a long-time journalist who has worked in Southern California, Rhode Island, Washington, D.C., London and New York. From 2005 to 2015, she wrote the biweekly Shortcuts column for The New York Times business section, which received the Best in Business Award for personal finance by the Society of American Business Editors and Writers. Her work has appeared in numerous publications, including The Times, The Atlantic, O, the Oprah Magazine, Family Circle and Inc. magazine. In 2011, Riverhead published Tugend's first book, Better by Mistake: The Unexpected Benefits of Being Wrong.