Tips for Making Caregiving an Easier 24/7 Labor of Love
Caregivers are America's invisible helpers, often giving up everything to care for an ailing family member. But there are ways to lighten that burden.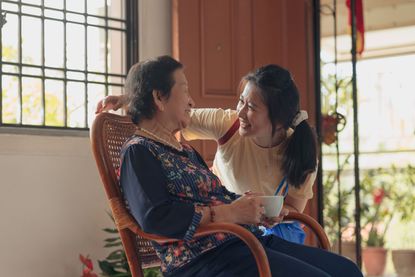 (Image credit: Getty Images)
Larry Perlstein knew something was wrong when a cop showed up at his door. His wife had taken their 9-year-old daughter to karate class that day in February 2017. "The cop said, 'Something has happened. You need to come with me,'" Perlstein recalls.
Although only 49 at the time, his wife Jacquie had suffered a near-fatal hemorrhagic stroke while at the karate school. Initially, doctors weren't sure if she would live. Jacquie had always been healthy. "She had no high blood pressure, which is the typical cause of this kind of stroke," Perlstein says.
Jacquie spent six weeks in a neuro intensive care unit at a Connecticut hospital and another four months at a rehabilitation center. Early on, doctors tried to ascertain the stroke's damage by asking her to wiggle a finger or blink if she understood something they had said. "Some days, the signs were good and some days, not so good," says Perlstein, now 64.
Subscribe to Kiplinger's Personal Finance
Be a smarter, better informed investor.
Save up to 74%
Sign up for Kiplinger's Free E-Newsletters
Profit and prosper with the best of expert advice on investing, taxes, retirement, personal finance and more - straight to your e-mail.
Profit and prosper with the best of expert advice - straight to your e-mail.
Over time, it became clear that Jacquie's cognitive ability had survived largely intact, but speaking and even performing the most basic daily functions, like dressing herself, were beyond her. Bringing her home was especially terrifying. Social workers, Perlstein says, can answer specific questions, but "they're not good at preparing you for the process and being proactive."
Nearly five years later, Perlstein continues to care for Jacquie, now 53, at their home in Westport, Conn. "There is nothing she can do on her own," says Perlstein, who has blogged about his caregiving journey at caringforaspouse.com. Although his blog uses the pseudonym Marc Lawrence, Perlstein has decided to go public with his identity and only his wife's first name (her last name is different). Caregiving is so all-consuming, he says, that "the biggest issue with the caregiver is how to maintain some identity of their own."
Caregivers are America's invisible helpers, giving up everything -- often their jobs, retirement savings, even their own health -- to care for an ailing or incapacitated family member. A MetLife study found that the average caregiver sacrificed more than $300,000 in lifetime earnings from lost wages, retirement benefits and Social Security. Self-neglect is practically a requirement. "We make sure our loved ones get all the medications and nutrition they need, but often, late at night, we're the ones going through the drive-thru for dinner," says Gary Barg, editor of Today's Caregiver magazine, who along with his siblings cares for his aging mother.
Most caregivers cobble together extra help from other family members, along with paid services like home health aides, and some get help from community services like Meals on Wheels. Once predominantly women, today's family caregivers are almost equally split, with 55% women and 45% men, Barg says, and they're not a young group. The average family caregiver is 49 years old, and about a third are 65 and older, according to the Family Caregiver Alliance, a national organization that supports caregivers. Like Perlstein who is raising his now 13-year-old daughter, many caregivers also care for more than one person. Their unpaid labor doesn't just benefit their families but an entire nation. Or as Barg puts it: "If every family caregiver decided tomorrow to go on a cruise for a year, somehow the system would have to come up with $357 billion to replace what we do out of love."
A System in Crisis
Medicare generally doesn't cover the kind of nonmedical home-based care that family members provide daily, and middle-class families won't qualify for Medicaid unless they bankrupt themselves first. In most states, Medicaid will cover some home-based care, but the person needing it must have less than $2,382 per month in income and $2,000 or less in assets. Although a spouse's income doesn't count, assets do and are limited to $130,380 with exemptions mainly for a primary residence, car or nonluxury personal belongings to protect the spouse from impoverishment. Even families that qualify for Medicaid often must get on waiting lists to receive help, and nursing homes are an expensive last resort for everyone. As part of the framework for the scaled-down Build Back Better bill, President Joe Biden has proposed spending $150 billion to expand home-based care for Medicaid recipients. The bill would also make Medicaid's spousal impoverishment protections permanent.
For many caregivers, home health aides are a lifeline, but the cost through an agency is about $25 an hour, with the aide getting less than half that, says Howard Gleckman, author of Caring for Our Parents. You could hire the aide directly for about $12 an hour, but as the employer you're responsible for paying Social Security and Medicare payroll taxes. Even at $12 an hour, "it's more than most families can afford," Gleckman says, and nowhere near enough money for the home health aide to live on. "A vet tech is paid about $15 an hour," he says. "It's more valuable to care for our cats than our mothers."
Meanwhile, the soaring costs of long-term care insurance have priced out many families; only 8.1 million Americans have it, according to the American Association for Long-Term Care Insurance. We pay so much attention to the 8% of the population that doesn't have health insurance, says Jeff Smedsrud, president of insurance at HealthCare Insurance Services. "When you look at long-term care, it's 75% who will need care and don't have a plan for coverage."
The situation is so dire that in January, Washington will become the first state with a public long-term care insurance program requiring all workers to pay a 0.58% long-term care payroll tax unless they can show proof of having the insurance already. Once you trigger a benefit, the state will cover up to $36,500 of longterm care costs for everyone who pays in, but the program isn't portable. If you leave the state, it's useless.
Gleckman, who is also a senior fellow at the Urban-Brookings Tax Policy Center, would like to see a national public long-term care insurance program that offers a catastrophic benefit. Although fewer people would qualify, the benefit would be more generous. "If you were a high-wage worker, you might be responsible for paying your care for three or four years. After that, the program would pay for life," he says. The same payroll tax increase of 0.58% as Washington state's, about $300 per employee annually, would fund a national program, according to the center's analysis.
But that doesn't help families now. The system for long-term care is in crisis, Smedsrud says. Gleckman goes one further: "To call it a system is to give it far more credit than it deserves."
Take Stock of What You Have
The first few months after Jacquie's stroke, Perlstein was flying blind trying to figure out the disability benefits she had through her work. Although they had been married 11 years, he and Jacquie had never gotten around to naming each other as power of attorney. Consequently, Perlstein couldn't access any financial accounts or benefits in Jacquie's name. "Her employer would not talk to me," he says. "The employer wouldn't tell me her insurance, her earnings, nothing."
At the time, she was the breadwinner, and Perlstein, having been laid off from a job a few years earlier, was unemployed. "Both of our careers were in tech, so we pretty much did everything online," he says. "I was OK getting monthly bills paid as long as paychecks were deposited in the account."
An attorney suggested that Perlstein apply for a conservatorship to get control over her affairs, and a Connecticut probate court judge appointed an attorney to represent Jacquie. "They came to the rehab facility to meet her and assess her situation. She was pretty nonresponsive," says Perlstein, who was appointed conservator after that meeting. But conservatorships, he says, are a nightmare because you must inventory the person's estate and submit detailed reports whenever their finances overlap with yours.
Thanks to the conservatorship, Perlstein discovered that Jacquie had long-term disability insurance through her employer. That income, equal to about two-thirds of her salary, saved them. After two years, Social Security disability benefits displaced some of the insurance benefits, and today 60% of the couple's monthly income is from the insurer and 30% from Social Security. The disability insurer will continue to pay for 10 more years, and at that point, they'll rely on the Social Security benefits each will receive based on their own work history. The health insurer picked up most of Jacquie's medical costs. "We were lucky," says Perlstein. "We both had good corporate jobs for a long time. We had good insurance, good finances and smart people around us."
Most families don't understand the benefits they already have, says Connie McKenzie, a certified care manager and president of the Aging Life Care Association, which represents geriatric care professionals. "I just had a client with 47 hours a year of home health aide coverage that she didn't know she had through her Advantage plan," McKenzie says. Medicare Advantage plans often include extra perks, like home care coverage, that traditional Medicare doesn't offer. Those 47 hours, along with three hours a week of housekeeping benefits through the same plan, were enough to cover the caregiving support (see "Getting Help From a Home Care Agency" on page 8) that her client needed.
Geriatric care managers will review the benefits you have, ideally before you need them, and consider what else you might be eligible for through community resources or government programs. They will discuss the level of care required, assess a home's setup for the person needing care and draft a plan for graduated care that you can turn to as needed. "We look at the immediate needs and the long view," McKenzie says. Hourly rates for care managers range from $125 to $250, depending on location, and a comprehensive in-home assessment can cost $1,500 to $2,000, she says.
If you have it, long-term care insurance will pay for home care after a waiting period of up to 90 days. In fact, 51.5% of claims start with home care and another 43% end with it, says Jesse Slome, executive director of the American Association for Long-Term Care Insurance. To trigger the policy, most insurers require that the person cannot perform two of six activities of daily living -- eating, bathing, dressing, toileting, mobility and continence -- without help, but even circumstances that don't fall neatly into those categories can satisfy the insurer, says Slome. A friend caring for his mother once asked Slome how to get the insurer to recognize that his mother needed help. Slome, who was visiting at the time and watching his friend's mom putter around the house while serving them tea and cookies, was confounded. To his eyes, she seemed perfectly capable, but the friend pointed out that his mother couldn't dress herself because of her arthritic fingers and she had fainted at home on several occasions from a health condition. Cameras all over the house had even captured incidents on video. Show the insurer the footage, Slome told his friend. Sure enough, it triggered the policy, and his friend's mom got the help she needed. "When someone is starting to lose functionality, that's when you talk to the insurance company, but you have to demonstrate it," Slome says.
All Hands on Deck
It's not only financial benefits that count. A caregiver's friends, family and neighbors often want to help but don't know how, Barg says. "As family caregivers, we think we don't need to burden anyone else."
Some families share the responsibilities. Barg, for instance, handles his mom's finances, his brother takes care of her mail and his sister brings food. All three live nearby, but even far-flung relatives can be of help. "A brother who lives four states away can pay for the incontinence products," he says. "Come up with 10 people who could do manageable tasks for you and ask."
Perlstein has sometimes turned to his sister or one of Jacquie's friends for respite care, but caregivers are not interchangeable. "They don't have your experience, and they have their own way of doing things, making it difficult for me to pick up where they left off." He's had one weekend off in four years to go sailing with a friend, and if something were to happen to him, he's arranged for his sister to care for his wife.
Designating a caregiver -- and a successor if you're also a caregiver -- should be included in your instructions for your own end-of-life care. "Say to all the kids, 'I want to live in Cleveland with Jane, not in New York with Charlie," says Gleckman. "Maybe that hurts somebody's feelings, but better to do it before the crisis." Gleckman also suggests planning ahead for the type of home you might need. He and his wife recently bought a house with all the essential rooms on one floor. It will be their home until they can no longer live there alone.
Once his daughter finishes school, Perlstein will move somewhere more affordable where he can continue caring for Jacquie. His biggest challenge is helping her regain some independence. He recently found an exercise bike that she can do on her own.
Then a few months ago, her condition changed. Suddenly, she became more animated, more conversational, although she still has difficulty with motor control and speech. One day, she wanted to know why they didn't go out and do something. On another, she asked if she could work again. "The bad news is a lot of this is at 3 o'clock in the morning," he says.
Perlstein doesn't know what's causing the change or if it will last. He's just grateful to have his wife back, especially her interest in conversation. "It's been hard on me not having her to talk to and especially hard on my daughter." All three sat around the dinner table one night recently and chatted. Says Perlstein, "It almost felt like we were a normal family again."
Managing Editor, Kiplinger's Retirement Report
Siskos is an old hat with the Kiplinger brand. More than a decade ago, she spent eight years writing about personal finance for Kiplinger's Personal Finance magazine, including a monthly column—Starting Out—that served young adults. That was in her salad days. Now she's turned her attention to an audience she hopes to join in a decade or so: retirees. Siskos is the managing editor for Kiplinger's Retirement Report. In between, she broadened her personal-finance repertoire with real estate and investing stories at Old-House Journal, Investing Daily and U.S. News. She comes to Kiplinger by way of the Newseum, where she worked as an exhibit editor.