Be Money Smart in Tough Times
The difficult times we've been going through are a great opportunity to teach some important money lessons to your kids and grandkids.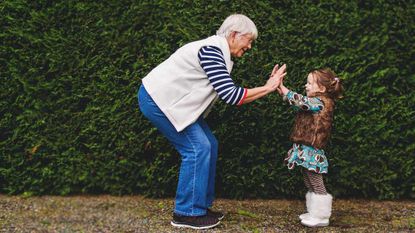 (Image credit: Getty Images)
I'm partial to this topic, because it is the title of my latest book, Be Money Smart in Tough Times: For Parents and Grandparents (opens in new tab). I wrote the book because many people have sidelined some lessons they want to teach their kids about money because of the impact of the pandemic. Lots of folks are continuing to struggle with being unemployed, caring for kids or sick loved ones and are still suffering with the economic effects of this situation.
The statistics are sobering. As of June there were 4 million people who have been out of work for 27 weeks or more, and 9.5 million are still looking for work, according to Bureau of Labor Statistics (opens in new tab) data. In addition, 3.2 million people have lost their jobs permanently — and these figures don't even count the people who left the workforce due to health or child-care responsibilities, as they are not even considered unemployed.
Seniors are also financially disproportionally affected by the pandemic. AARP (opens in new tab) has reported that "A year after the Covid-19 pandemic was declared a national emergency, many of the disproportionate number of older Americans pushed out of the workforce by the combined health crisis and economic downturn are retiring earlier than planned, risking long-term financial insecurity because of lower-than-anticipated savings and payouts from pensions, Social Security and other sources." The impact is that about 2 million older adults have stopped looking for work and are not counted in the unemployment numbers. This can really throw off your financial plans if you wanted to keep working. You may not even qualify for Social Security yet and not have the savings to carry you.
Subscribe to Kiplinger's Personal Finance
Be a smarter, better informed investor.
Save up to 74%
Sign up for Kiplinger's Free E-Newsletters
Profit and prosper with the best of expert advice on investing, taxes, retirement, personal finance and more - straight to your e-mail.
Profit and prosper with the best of expert advice - straight to your e-mail.
Tough Times
Even if you didn't lose your job, you may have had your younger kids home. They were trying to do their schoolwork online, and you were trying to act professional when your pets decided to have a fight in front of your Zoom board meeting. You were distracted, to say the least.
You may have also been distracted from teaching some of those great lessons you had put in place with your kids; like having them earn an allowance. You want them to know that Money Doesn't Grow on Trees (opens in new tab). You want to raise them with a healthy attitude toward money and not to embrace the "I want, I want syndrome" that grips many of our kids.
How Do You Get Back on Track with Allowances?
The truth is that having everyone at home for this year would have been a perfect time to get your kids started on a work-for-pay system, but if you didn't, no worries. You may want to ease the kids into understanding that the only way they will get extra money is to earn it.
Start them with odd jobs. And this is also perfect for Grandma and Grandpa to start, as well. Make a list of age-appropriate chores that you want done.
Younger kids (ages 5-10)
Dusting
Separating whites and colored laundry
Bringing small wastepaper baskets to the larger baskets
Older kids (ages 11-15)
Clean out the garage or attic (they can then hold a garage sale and earn extra money)
Sweep walks or shovel snow
Be responsible for the recycling
A hint about pay
Pay by the job, not by the hour. For the younger kids, you can pay them $1 to $2 per job. For the older ones, you figure out what amount of time you think each job should take. For instance, if you think it should take one hour to sweep the walks, pay them half of what minimum wages are in your area. Explain that if you hired a professional, the job would probably be done more professionally! Feel free to pay bonuses for a really great job.
Hotel Mom and Dad
The other phenomenon that is happening is that a huge number of our adult kids returned to the empty nest during the pandemic. In fact, Pew Research (opens in new tab) found that the majority of young adults now live with their parents again. This even surpasses the previous peak that occurred during the Great Depression.
Although it is always great to have the kids at home, it comes with its own financial pressures. You may have downsized your home, and physical space may be limited for your adult kids, with maybe their kids and pets. You may be one of those seniors who had to take early retirement and are really squeezed for cash, and your severance for early retirement may be running out fast.
Come Clean with Your Kids
Be honest with your adult kids. This doesn't have to be an uncomfortable conversation, because you are coming from your heart. You want to be there to be a safe-haven for your kids, but you want to set up a workable situation for all parties. Sit down with them and discuss your financial situation and what your real budget looks like. Create a new budget together that includes total food costs, utility increases, maybe shared car expenses and any other new expenses that have crept into your budget now that the kids are back at home.
It is also appropriate to ask if they are seeking employment and new living arrangements, and of course, the timeframe.
It truly is time to be "Money smart in tough times."
This article was written by and presents the views of our contributing adviser, not the Kiplinger editorial staff. You can check adviser records with the SEC or with FINRA.
President & CEO, Children's Financial Network Inc.
Neale Godfrey is a New York Times #1 best-selling author of 27 books, which empower families (and their kids and grandkids) to take charge of their financial lives. Godfrey started her journey with The Chase Manhattan Bank, joining as one of the first female executives, and later became president of The First Women's Bank and founder of The First Children's Bank. Neale pioneered the topic of "kids and money," which took off after her 13 appearances on "The Oprah Winfrey Show." www.nealegodfrey.com (opens in new tab)