Secrets to Setting and Keeping Financial Goals for the New Year
If you've ever broken a New Year's resolution (and who hasn't?), don't worry. You really can reach your goal this time. You just need to set yourself up for success. Here's how.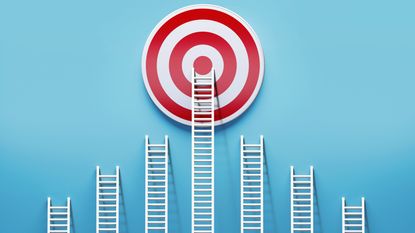 (Image credit: Getty Images)
It's safe to say that most of us are ready for 2020 to finally be over. While this year may have dashed many of our financial goals, a new year brings the promise of new beginnings and opportunities.
So often, our New Year's resolutions fall apart by February. Below, I've shared some "SMART" tips on how you can make the most of 2021 with tactics to help you stick to your financial goals, sustain them through habit-forming behaviors and build yourself a better financial future.
SMART Goals
The SMART goal system is a simple but effective guide for setting manageable goals that will yield your desired result, help you form new habits and keep you accountable along the way. Take your 2021 financial goals and make sure they check off every letter in the following acronym:
Subscribe to Kiplinger's Personal Finance
Be a smarter, better informed investor.
Save up to 74%
Sign up for Kiplinger's Free E-Newsletters
Profit and prosper with the best of Kiplinger's expert advice on investing, taxes, retirement, personal finance and more - straight to your e-mail.
Profit and prosper with the best of Kiplinger's expert advice - straight to your e-mail.
"S" for Specific: A good goal is detailed and narrowly focused. A generic goal to "save for retirement" is not specific enough. A better one would be, "Call HR tomorrow to put 2% of my salary from each paycheck into my 401(k)." Defining what you want to do along with what's needed to get to the finish line helps give you a concrete place to begin.
"M" for Measurable: A goal needs to be quantifiable. For instance, "Budget better" has no concrete metrics. For the coffee enthusiast, consider a goal like "Allocate $75 each month to spend on coffee — I won't spend over that amount, and I'll roll over any balance to next month's budget." Once you have the detail and the dollar value attached to your goal, you can then determine if it's …
"A" for Achievable: Ultimately, can you accomplish this? Setting goals that are out of reach leads to constant failure and frustration. It's critical to understand that you won't reach your goals in one fell swoop — it's an iterative process, and each step along the way will feel great and motivate us to keep going. Start by setting goals that are within reach, like saving 2% of your income each paycheck. If you can stick with that for a couple months, then you can level up to 3%, and continue to build up from there.
"R" for Reasonable: Is your goal appropriate for you? Does accomplishing this goal improve your financial life, or would you be better served focusing your efforts in other areas? The person with high-interest credit card debt may have different priorities than the person who is debt-free with no savings. To check whether your goal is reasonable, try sharing it with a financial adviser or someone you trust. Let them know what else is on your plate.
"T" for Time-bound: Goals need to have deadlines. To avoid procrastination, establish parameters for yourself. Have you consulted yet with a financial adviser? Mark a specific day on your calendar to do your research. Set another day in the next week to contact potential advisers. Identify a reasonable timeline to make an informed decision on which adviser to work with, and work back from there. One goal can be broken down into several more manageable deadlines.
Habits
Setting and keeping goals for the long term can seem like a daunting task — and it does take conscious effort. But the key to really cultivating long-term change is to structure your goals to form a new habit you can sustain into the future.
Let's say you want to save for an emergency fund or retirement account. If you need to manually move money out of your checking account each paycheck, you run the risk of skipping a month — if you misplace your account password, feel anxious about a low balance or altogether forget. Rather, make it a habit by setting up an auto-draft that pulls out a reasonable amount of money for you each month. You can even set safe balance levels to avoid overdrawing your account.
This set-it-and-forget-it approach develops a habit you can rely on, and seeing the progress might encourage you to increase your contribution or apply this momentum to another financial goal on your list. Just make sure you're keeping track of what's on autopilot to avoid making unintentional dents against your budget.
Another way to create effective habits is to take stock of your highest-spending categories and adjust your routine accordingly. Perhaps you and your friends order takeout from a restaurant every time you hang out. Could you cook together instead? If you're a frequent online shopper, could you set a maximum limit per month? You'll be more successful trimming the fat in your budget if you focus on your biggest repeat expenses first.
Accountability
Whatever goals you set and habits you try to form, tell your friends and family. Better yet, make pacts with the people in your life to stick to your goals together. Having accountability partners is one of the best ways to stay in line. And, if you and your friends work together to accomplish your financial goals, you can reward yourselves as a group by getting your budgets ready to celebrate.
Perhaps that can be the goal to get you started!
Assistant Professor of Financial Planning, The American College of Financial Services
Matt J. Goren is an Assistant Professor of Financial Planning at The American College of Financial Services (opens in new tab)who focuses on the interplay of personal finance and psychology. In addition to teaching and developing content, he provides strategic consulting on financial literacy initiatives and hosts a personal finance radio show, Nothing Funny About Money, which was named 2018's most outstanding consumer financial information resource by the AFCPE.