5 Ways to Survive Divorce, Emotionally and Financially
Set yourself up to thrive during this difficult time with these five tips.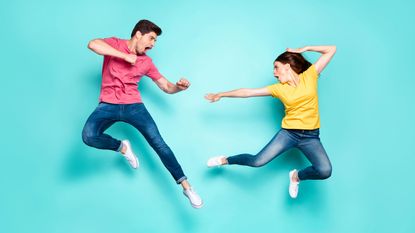 (Image credit: Getty Images)
When clients come to me ready to get divorced, they're often concerned about how they will get through it emotionally and financially. Indeed, the toll divorce takes on your mental well-being and bank account is steep. But it's for a limited time; most divorces don't drag on for forever.
It is possible to not just survive divorce but thrive as you find your way to your next — hopefully happier — chapter. Here are my five tips for getting through splitting up without letting it drain you emotionally or financially.
1/5
1. Interview divorce attorneys until you find the right fit
On the emotional front, you want to make sure the lawyer you hire has the same values as you and that you like this person, because you are going to be spending a lot of time together.
As for the financial part, ask each attorney you interview about their fees, and make sure to understand what they think you need to achieve your desired outcome.
I educate my clients and prospective clients about all of their different options. These options include collaborative divorce, which saves time, money and emotional trauma, because you and your soon-to-be ex agree to figure things out with your divorce team rather than fight it out in court.
I also help my clients prioritize the items we tackle, so that we can be the most productive and cost effective. It's not all litigation. It's also all of the other services and guidance clients may need, like "Do you need me to educate you on your monthly bills, so you can figure out your budget, or do have that under control?"
2/5
2. Hire a mental health professional
Get yourself a counselor, a therapist, a mental health professional. ASAP.
Your friends and family are great, but it will wear on them if you are going only to them. Also, they can't be as honest with you as a neutral, third-party professional can be. And you don't want to use your lawyer as your therapist, because that is going to get pretty pricey pretty quickly.
This is time and money well spent, because together you and your therapist can focus on you and what you need to come out of your divorce healthier and happier.
3/5
3. Figure out your budget – and keep an open mind about how it might change
Get your budget together. Know your expenses and your assets. Know how and what you and your soon-to-be ex get paid — salaries, bonuses, interest income. Build a budget, factoring in, of course, lifestyle changes and your legal expenses.
Also know that you aren't going to have shared household and resources, anymore, so you have to be open to downsizing. That might mean smaller vacations or less frequent ones. You might have to move out of or sell the big house.
Be open to change in your budget and lifestyle, because holding on to what you have might not be possible. Or, you might risk overspending on trying to hold on to what you actually might be ready to let go of.
4/5
4. Visualize and focus on what you want
Visualize what you want to be able to say about yourself and how you conducted yourself after your divorce and once you are on to your new normal.
Most of the time, people say, "I just want to have done this with integrity."
Make that a reality by picking out some focus words, such as "grace" and "integrity." Write them down and pull them out when you get frustrated.
5/5
5. Commit to a new health routine
Pick up something new and positive in your health routine.
Exercise. Take walks outside. Meditate. Eat better. Sleep better. Drink less wine. Drink more water. It could be all of those things or one of those things. The point is to shift your focus — to you.
You're going to feel better. As for how this helps you financially, well, being healthier seems less costly than not. For example, you might not need to see your therapist as often. Plus, you'll probably do a better job at work, which has financial benefits, too.
Focusing on you gives you something productive to think about — you and how you will survive and thrive during and after your divorce. Onward.
Founder, GraserSmith, PLLC
Tonya Graser Smith is a Board Certified Specialist in Family Law, licensed North Carolina attorney and founder of GraserSmith, PLLC, in Charlotte, N.C. She focuses her practice on divorce, child custody, child support, alimony, equitable distribution, prenuptial agreements and other family law matters.