5 Best Video Game Stocks to Play for Years
Even the best video game stocks are starting to cool off after a white-hot 2020. That spells opportunity for investors wanting to get in on a promising longer-term trend.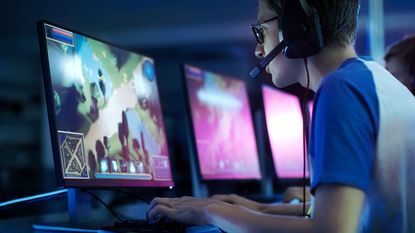 (Image credit: Getty Images)
The video game market has long abandoned the family basement. Now, it – and video game stocks – get plenty of respect.
Consider that over the past few months, several video game companies enjoyed blockbuster starts to their publicly traded lives. For instance, in January, Playtika (PLTK) launched its initial public offering (IPO) by selling 69.5 million shares at $27, much higher than its projected range of $22 to $24. More recently, Roblox (RBLX) directly listed on the New York Stock Exchange at a reference price of $45 per share, and was driven 54.4% higher on its first day of trading.
That follows a burst of pandemic-fueled growth in video game companies' businesses (and their stocks) last year. According to IDC, 2020's global video game revenues are expected to have grown by 20% to $179.7 billion.
"Video gaming had a tremendous year in 2020," says Ed Lopez, head of ETF product at VanEck, during a recent virtual media roundtable. But he adds that there is a "longer-term, persistent trend happening within the video gaming and esports space."
Catalysts for continued growth ahead include "games-as-a-service," where players spend more on in-game items and upgrades; consumers becoming more accustomed to monthly subscription passes; the rise of esports; and the rise of social and cloud-based gaming.
Many video game stocks ran hot through 2020 as sales went through the roof, but they're starting to cool off amid a rotation into "recovery stocks." While some remain preciously valued, a continued dip could provide a better entry point for investors looking to harness their longer-term potential. Read on as we explore five of the best video game stocks on the market.
Disclaimer
Data is as of market close on March 11. Forward price-to-earnings (P/E) data provided by Morningstar.