How to Cash In on the Final Frontier
Most space-themed investments are moonshots. Use our stock and fund picks to bet on space exploration.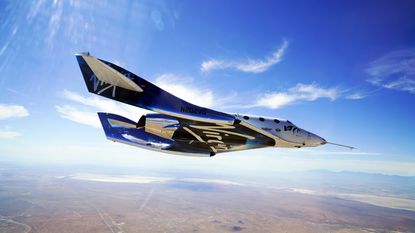 (Image credit: Getty Images)
You don't have to be a Trekkie to appreciate the growing investment opportunities in space. The space economy, measured by revenues generated by space-related endeavors, could triple in size to top $1 trillion over the next 10 years.
A big push is coming from innovative start-ups – private companies that have dramatically lowered the cost of making rockets and launching them into space. Recently, those efforts culminated in SpaceX's recycled rocket – the first ever – which took four astronauts to the International Space Station in April. Leaps like that have space geeks predicting that we'll have a colony on the moon by 2040.
"When you think about bases on the moon or Mars, that will happen, but it will take time. It's incremental," says Ronald Epstein, BofA Global Research senior aerospace analyst. "But we've seen an acceleration in incremental change because the cost has come down a lot."
Subscribe to Kiplinger's Personal Finance
Be a smarter, better informed investor.
Save up to 74%
Sign up for Kiplinger's Free E-Newsletters
Profit and prosper with the best of expert advice on investing, taxes, retirement, personal finance and more - straight to your e-mail.
Profit and prosper with the best of expert advice - straight to your e-mail.
Combine that with technological advances in remote sensors and miniaturization – satellites, once school-bus sized, are now the size of a shoebox or a dorm fridge – and voilà.
"Lower costs, smaller satellites, smaller rockets and more ways to get things into orbit – that's driving all of this," Epstein says about the excitement surrounding space ventures.
Boundless Possibilities
Space is already an integral part of our everyday lives. Satellites enable us to watch TV, listen to the radio, connect to the internet and get directions.
When Kiplinger's talked to Andrew Chanin, chief executive of Procure Asset Management, which sponsors a space-focused exchange-traded fund, he noted, "This interview wouldn't be happening without space satellite systems to help."
Soon, networks of satellites, sometimes called mega constellations, will bring the web to people in remote places; SpaceX and Amazon.com (AMZN) have ones in the works.
Reusable rockets are here; space tourism is nearly here, for those who can afford it. The frontier is global, with nations of all sizes venturing into space. Bhutan, Costa Rica and even Ethiopia have launched satellites. China and Russia, according to reports, plan to build a joint research station on the moon in the next 10 years.
Things may get more exciting over the next two decades.
Hypersonic travel (flying at five times the speed of sound) will get us from New York to Singapore in four hours instead of 18. Then there's space manufacturing. Zero gravity is an ideal environment, apparently, for making high-end semiconductors, optical fibers and proteins for drug discovery, to name a few products. Eventually, we may mine for resources in space. Ice deposits on the moon and on asteroids could be used to create oxygen and supply water; lunar soil could be used to make solar cells.
Sign up for Kiplinger's FREE Investing Weekly e-letter for stock, ETF and mutual fund recommendations, and other investing advice.
Over time, space will touch "every business, consumer, government and military force," says Chanin.
For investors, that means a brave new world to explore.
"It's just exploding at the moment," says Fidelity Select Defense and Aerospace Portfolio fund manager Jonathan Siegmann. "I've been covering aerospace for six years, and two new companies went public in the first five years. Now, two new companies go public every week."
These firms are nascent. Some have revenues; few have profits. Not all will be winners, and there likely will be many losers.
"It's the Wild, Wild West," says Siegmann. It makes sifting through the investment options difficult.
That's the case even though today's buzziest space companies, including Elon Musk's SpaceX and Jeff Bezos's Blue Origin, are private and prefer to stay that way. "Space entrepreneurs aren't motivated by money," says Dylan Taylor, chief executive of Voyager Space Holdings, which acquires space businesses. "What they want to do is work on bold, important projects."
Fortunately, we have found some promising wagers you can make now.
Today's best investment opportunities center on satellites, space tourism and military defense. Just be mindful that the majority of space-themed investments are moonshots, so to speak, that are best reserved for money you don't need anytime soon. Space exploration is a long-term undertaking that could take years to play out and take you on a wild ride along the way. (Returns and data for the investments below are through May 7, unless other­wise noted.)
Aiming for the Stars
Satellites dominate the space economy today. Nearly 88% of space-industry revenues come from satellites and related products or services, according to BofA Global Research.
Maxar Technologies (symbol MAXR, price $32) is a space-infrastructure company that builds and services high-resolution imaging satellites. The company is a leader in earth imaging and one of the few pure-play space stocks. If you've used your phone to check on the vicinity of a car in a rideshare app, then you've probably relied on info provided by Maxar.
Rising debt and flat-to-declining revenues in recent years have been a drag on the stock. But Canaccord Genuity analyst Ken Herbert says Maxar, which has a $2.3 billion market value, has been working to lower its debt, now at $2.4 billion (down from $3.0 billion in 2018). This year, the company will launch its next-generation Legion earth-imagery satellites, which enable increased monitoring and multiview scans.
Buy on the dips. Shares are richly priced following two years of losses, but Herbert predicts profitability will return in 2022.
The first space tourist hitched a ride to the In­ternational Space Station in 2001. Space tourism didn't take off after that, but in 2019, Virgin Galactic Holdings (SPCE, $20) became the first publicly traded commercial spaceline (as in space airline). It did so via a special purpose acquisition company, or SPAC.
These investment vehicles offer private companies an easier path to issuing shares than the traditional initial public offering process. More space-related SPAC transactions are coming in the next 18 months, says Siegmann. (For more on SPACs, see Winning With SPACs Is a Long Shot.)
It's early days at Virgin Galactic, which was founded by billionaire Richard Branson. The company isn't yet operational but says it is gearing up to serve customers this year, offering orbital trips around the planet. Some 600 people have already paid $250,000 for a ride.
"There are millions of willing participants," says Morgan Stanley analyst Adam Jonas.
Most important, Virgin is unique. The company designs, develops and produces its own vehicles and components, unlike commercial airlines. And it has no competition, for now – some firms, including Blue Origin and SpaceX, are zeroing in.
"Virgin's growth potential is unparalleled, and its nascent stage provides a unique entry point," says BofA's Epstein, who rates the stock a Buy.
Some space geeks dismiss traditional aerospace and defense companies as less-worthy investments than new entrants. That's in part because the space-related business segments of these firms make up a fraction of their overall businesses. Still, we wouldn't rule them out.
"The government space market is one of the most exciting growth areas," says Fidelity's Siegmann.
The Department of Defense has said that staying ahead of other countries in space is a high priority and pivotal to U.S. defense.
"What happens if a foreign military takes out your satellite?" says Procure Asset Management's Chanin. "The next space race has major defense and safety aspects to it," he says, that go well beyond "it's 'really neat if we do this.' It's a necessary and essential investment in many cases."
Among long-established defense firms, Northrop Grumman (NOC, $371) stands out in the new space race.
The firm's space-systems business accounts for 25% of overall revenue, a larger chunk than in Northrop's old-school aerospace competitors. It makes satellites and satellite sensors and is a key partner in building NASA's Lunar Gateway, an outpost for astronauts orbiting the moon. Now, the fast-growing space-systems segment is starting to lift the firm's overall results. In 2020, Northrop's space sales rose 18%; operating income went up 12%. By contrast, the firm's overall revenues climbed 9% and operating income grew 2%.
CFRA analyst Colin Scarola rates Northrop, the country's second-biggest defense company, a Strong Buy. The firm is a key subcontractor for many high-priority defense programs (unmanned reconnaissance drones, for example), so its earnings should remain stable even in a wobbly economy or amid defense-budget cuts. Scarola predicts a 24% jump in annual earnings in 2021 and a 13% bump in 2022.
The stock trades at 15 times expected year-ahead earnings – a discount to peers in the aerospace-defense market.
Baskets of Space Stocks
Three exchange-traded funds focus on the space industry. But their approaches differ, and that results in different port­folios. The one that's right for you depends on how you define space.
Procure Space ETF (UFO, $30, expense ratio 0.75%) bills itself as the first pure-play global stock ETF. Procure worked with the U.S. Securities and Exchange Commission to ensure the fund's holdings fit the term "space," says Chanin.
Sign up for Kiplinger's FREE Closing Bell e-letter: Our daily look at the stock market's most important headlines, and what moves investors should make.
The fund tracks a carefully crafted index of 30-odd stocks. About 80% of its holdings are space firms that generate 50% or more of revenue from space-related business. Satellite companies, such as Orbcomm (ORBC) and Dish Network (DISH), are top investments. The rest of the fund is devoted to firms with space-related businesses that compose a minority of overall revenue. Old-school aerospace and defense firms, such as Lockheed Martin (LMT) and Boeing (BA), fit in here. Over the past 12 months, Procure Space, which launched in April 2019, has returned 68.6%.
At SPDR Kensho Final Frontiers ETF (ROKT, $41, 0.45%), the emphasis is on undiscovered frontiers in space and the sea. Matthew Bartolini, head of SPDR Americas research at State Street Global Advisors, says the fund's holdings are "predominantly" space-oriented.
The fund's index is built by scanning company-issued regulatory filings for relevant terms. Firms that describe their material operations as space-related – space-mission support or space-debris tracking and removal, for example – make it into the benchmark.
"We're focused on innovation and where the company is going with that," says Bartolini.
Northrop Grumman and Raytheon Technologies (RTX) are top holdings. Kensho Final Frontiers has been around since 2018; over the past 12 months, the fund has gained 50.7%.
The newest fund, Ark Space Exploration & Innovation ETF (ARKX, $20, 0.75%), launched in March and is actively managed by Catherine Wood, who runs other funds, too, including Ark Innovation, a member of the Kiplinger ETF 20.
All sorts of technological innovation, including 3D printing, energy storage and artificial intelligence, are needed for space exploration, says Ark analyst Sam Korus. So the fund's approach is broad. That's why in addition to pure space stocks, such as rocket makers, the fund also holds shares in firms that may benefit from progress in space.
That includes Deere (DE, better crop management thanks to satellites) and Netflix (NFLX, a boom in new users when satellite-internet service reaches remote areas). Enablers of space exploration (battery technology and robotics firms) also figure in the fund.

Senior Associate Editor, Kiplinger's Personal Finance
Nellie joined Kiplinger in August 2011 after a seven-year stint in Hong Kong. There, she worked for the Wall Street Journal Asia, where as lifestyle editor, she launched and edited Scene Asia, an online guide to food, wine, entertainment and the arts in Asia. Prior to that, she was an editor at Weekend Journal, the Friday lifestyle section of the Wall Street Journal Asia. Kiplinger isn't Nellie's first foray into personal finance: She has also worked at SmartMoney (rising from fact-checker to senior writer), and she was a senior editor at Money.