Best Cheap Stocks to Buy Now (Under $10)
If you're willing to take on the risk of owning cheap stocks, these seven picks are all priced under $10.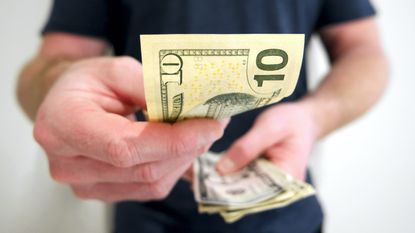 (Image credit: Getty Images)
First things first: Cheap stocks are not necessarily better stocks.
"False promises of quick and painless riches are easier to fall for when an investment can be made with so little money up front," writes Dan Burrows, senior investing writer at Kiplinger.com. "An investor might think, 'How risky could it be?'"
The answer, Burrows says, is plenty. "Per the Securities and Exchange Commission: 'Academic studies find that OTC [over-the-counter] stocks tend to be highly illiquid; are frequent targets of alleged market manipulation; generate negative and volatile investment returns on average; and rarely grow into a large company or transition to listing on a stock exchange.'"
Why should I buy cheap stocks?
But with the turbulence the broader market has seen over the last year or so, many investors have seen their portfolios decline in value. And one opportunity that comes from a less favorable environment on Wall Street is the presence of more cheap stocks.
While Burrows was referring specifically to penny stocks, the same argument can be made on cheap stocks under $10. These names tend to be risky and volatile, and are often facing weak fundamentals. Still, others love cheap stocks for their affordability factor and their ability to reap big gains in a short period of time (though, this also means investors can suffer big losses in a hurry).
If you are interested in cheap stocks, it's vital to do your research beyond just looking at the latest print for prices. You need to take a hard look at risk metrics, recent performance and future outlook in order to invest responsibly.
How we chose the best cheap stocks to buy
I have written extensively about capital markets, Wall Street and investing since 2008. So when I compiled this list of cheap stocks, I focused on companies that are traded on major exchanges vs over-the-counter penny stocks, which tend to be riskier. Additionally, this list includes stable low-priced stocks with healthy dividends, as well as tech companies with growth potential in a digital age. And some are simply bargains after recent declines.
With that in mind, here are seven cheap stocks under $10 to consider.
But remember, cheap stocks move quickly, so if you decide to invest in them at all, do so in small amounts that you can afford to lose.
Data is as of May 16. Dividend yields are calculated by annualizing the most recent payout and dividing by the share price.
Contributing Writer, Kiplinger.com
Jeff Reeves writes about equity markets and exchange-traded funds for Kiplinger. A veteran journalist with extensive capital markets experience, Jeff has written about Wall Street and investing since 2008. His work has appeared in numerous respected finance outlets, including CNBC, the Fox Business Network, the Wall Street Journal digital network, USA Today and CNN Money.