5 Momentum Stocks to Buy as Energy Prices Soar
Investors often seek momentum stocks to capitalize on a bullish trend. These five energy picks could very well fit the bill.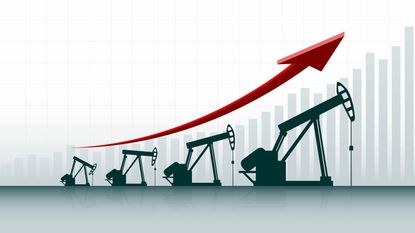 (Image credit: Getty Images)
The energy sector has been the envy of the stock market in 2021. Its 50%-plus year-to-date return is leaps and bounds better than the next closest sector – which is financials, up 37% so far in 2021 – and that has included downright aggressively bullish performance from energy stocks over the past month or so.
The strong global economic recovery has driven these gains. As economies reopened, the demand for energy skyrocketed and producers couldn't keep up.
Crude prices are also rising due to a shortage of natural gas used to power businesses and homes, as well as the decision from the Organization of the Petroleum Exporting Countries and its allies (OPEC+) to gradually increase oil output versus calls to boost production at a quicker rate. Against this backdrop, U.S. crude oil prices are now at levels not seen since 2014.
All of this has painted a bullish backdrop for the sector and has momentum investors seeking out energy stocks. Momentum investing is a strategy that seeks to capitalize on the continuation of a trend – and it's one that some investors swear by.
With the energy sector in a bullish trend, here are five momentum stocks to buy right now. We looked at stocks tracked by the Stock News POWR Ratings System (opens in new tab) and focused only on those that received a Buy rating from the pros based on a company's current fundamentals and longer-term outlook. We then homed in on energy stocks with a Momentum Grade of A, suggesting these names are more likely to continue outperforming. Check them out.
0
Contributing Writer, Kiplinger.com
David Cohne has 20 years of experience as an investment analyst and writer. Prior to StockNews, David spent 11 years as a consultant providing outsourced investment research and content to financial services companies, hedge funds and online publications. David enjoys researching and writing about stocks and the markets. He takes a fundamental quantitative approach in evaluating stocks for readers.