Stock Market Today: Oh, Snap! Social Swoon Keeps Market Guessing
Social media platform Snap's dour outlook triggered a rout in the communication services sector that dragged down the Nasdaq.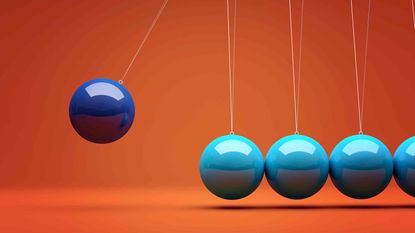 (Image credit: Getty Images)
The stock-market pendulum swung in the other direction again Tuesday, though how exactly it treated investors' individual portfolios was largely contingent on how much technology and tech-esque exposure they had.
The major catalyst today was last night's announcement by Snap (SNAP (opens in new tab)) CEO Evan Spiegel that the company would fall well short of its internal current-quarter revenue and earnings estimates. "The macro environment has deteriorated further and faster than we anticipated when we issued our quarterly guidance last month," he says.
Snap shares cratered 43.1% in response Tuesday and sent shockwaves throughout the rest of the digital advertising space. Google parent Alphabet (GOOGL (opens in new tab), -5.0%), Facebook parent Meta Platforms (FB (opens in new tab), -7.6%) and Amazon.com (AMZN (opens in new tab), -3.2%) were all swept up in the selling pressure.
Subscribe to Kiplinger's Personal Finance
Be a smarter, better informed investor.
Save up to 74%
Sign up for Kiplinger's Free E-Newsletters
Profit and prosper with the best of expert advice on investing, taxes, retirement, personal finance and more - straight to your e-mail.
Profit and prosper with the best of expert advice - straight to your e-mail.
Not only did that spark a flurry of single-stock downgrades from the analyst community, but CFRA's Sam Stovall downgraded the entire communication services sector (opens in new tab).
"A rapid recovery in any area driven by advertising and consumer spending is not expected in the near to intermediate term," he says. "What's more, increased regulatory risk directed toward the larger information technology companies will also likely add pressure."
Also Tuesday, S&P Global's flash U.S. Composite PMI Output Index, which reflects both manufacturing and services activity, fell to 53.8 in May from 56.0 in April – still expansion, but at a slower rate than last month, amid weaker demand growth and heightened inflationary pressures, among other factors.
And new single-family home sales plunged 16.6% month-over-month to a 591,000 annual rate in April as increases in housing prices and mortgage rates put the brakes on homebuying.
Sign up for Kiplinger's FREE Investing Weekly e-letter for stock, ETF and mutual fund recommendations, and other investing advice.
Distress in the communication services (-3.6%) and technology (-1.5%) sectors weighed most heavily on the Nasdaq Composite, which dropped 2.4% to 11,264 and is now down roughly 30% from its Nov. 19, 2021, high. The S&P 500 was off a more modest 0.8% to 3,941, while the Dow Jones Industrial Average managed to wrangle a 0.2% gain, to 31,928, out of Tuesday's mess.
"Obviously markets are fragile, distressed, and volatile, but with the Nasdaq down much more than the broader markets, clearly not all downside is the same thing," says David Bahnsen, chief investment officer with wealth management firm The Bahnsen Group. "The 'shiny objects' of the market – particularly tech stocks that thrived during the pandemic but have no underlying business model – have been most vulnerable, and that vulnerability will continue."
Other news in the stock market today:
The small-cap Russell 2000 slumped by 1.6% to 1,764.
U.S. crude oil futures slipped 0.5% to end at $109.77 per barrel.
Gold futures were up for a fourth straight day, gaining 1.0% to $1,865.40 per ounce.
Bitcoin improved by 1.0% to 29,346.91. (Bitcoin trades 24 hours a day; prices reported here are as of 4 p.m.)
Roblox (RBLX (opens in new tab)) spiraled 10.0% after Atlantic Equities analyst Kunaal Malde downgraded the metaverse stock to Neutral (Hold) and halved the price target to $30 – still a roughly 11% premium to today's close at $26.93. The analyst cited concerns that the bulk of engagement growth is coming from overseas markets that have lower average revenue per user (ARPU), as well as stagnating usage across North America. Malde also pointed to unattractive valuations for RBLX based on its gross profit and free cash flow yield.
Abercrombie & Fitch (ANF (opens in new tab), -28.6%) became the latest retail stock to slump after earnings, dragging peers American Eagle Outfitter (AEO (opens in new tab), -6.3%), The Gap (GPS (opens in new tab), -8.3%) and Guess (GES (opens in new tab), -13.2%) down with it. In its first quarter, ANF swung to a loss of 27 cents per share versus a consensus estimate for earnings of 8 cents per share due to higher freight and product costs, as well as ballooning inventories (+45% year-over-year). And while the company beat on the top line ($813 million actual vs. $799 million est.), it cut its full-year forecast. "ANF's bright spot is its strong balance sheet and aggressive share buyback," says CFRA Research analyst Zachary Warring (Hold). "We are disappointed with margin guidance for the year and large miss in Q1 as the company is clearly unable to pass costs on to consumers or manage cost effectively. We would stay away from shares until management can prove otherwise."
In a 401(k)? Stay the Course With Top-Rated Funds
Market downturns like 2022's slump are sometimes referred to as a "reset." In short, says Luiz Pacheco, a partner at Brainvest Wealth Management, investors are reassessing risks, and that's causing a repricing in most assets.
"There are many causes for this risk reassessment, mainly interest rates and inflation," he says, "[but they] are not the only culprits, however. The war in Ukraine, although now on the backburner, can always escalate to the rest of Europe, and the risk of an economic recession in the U.S. is growing."
For more active investors, this reassessment could mean a lot of adjustments to better position their portfolios for the next economic twists and turns. Not so for 401(k) investors, who might make a few tweaks, but otherwise should continue to dollar-cost average into high-quality funds.
Some of those funds will be more familiar to more investors than others. We regularly look at the 100 most popular mutual funds offered in 401(k) programs (opens in new tab) – a list of offerings that you're more likely than not to come across in your workplace retirement plans. And we also separate the wheat from the chaff.
Today, we've gone back and reviewed the list, and we've highlighted 29 actively managed 401(k) funds that stand out as buys (opens in new tab). However you choose to build your retirement portfolio, it's extremely likely that at least a few of these top-flight funds are offered through your 401(k) plan.
Kyle Woodley is the Editor-in-Chief of Young and The Invested (opens in new tab), a site dedicated to improving the personal finances and financial literacy of parents and children. He also writes the weekly The Weekend Tea (opens in new tab) newsletter, which covers both news and analysis about spending, saving, investing, the economy and more.
Kyle was previously the Senior Investing Editor for Kiplinger.com, and the Managing Editor for InvestorPlace.com before that. His work has appeared in several outlets, including Yahoo! Finance, MSN Money, Barchart, The Globe & Mail and the Nasdaq. He also has appeared as a guest on Fox Business Network and Money Radio, among other shows and podcasts, and he has been quoted in several outlets, including MarketWatch, Vice and Univision. He is a proud graduate of The Ohio State University, where he earned a BA in journalism.
You can check out his thoughts on the markets (and more) at @KyleWoodley (opens in new tab).