Stock Market Today: Big Tech Stocks Thumped After Banning Trump
Shares of several major tech firms slumped Monday after 'deplatforming' President Trump and others in response to last week's attack on the Capitol.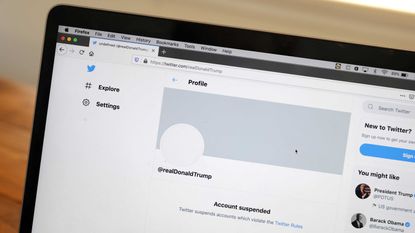 (Image credit: Getty Images)
Stocks dipped from record heights Monday amid fresh fallout over last week's assault on the U.S. Capitol.
Democrats have quickly stepped up pressure to remove President Donald Trump from office, seeking first to call upon Vice President Mike Pence and the Cabinet to invoke the 25th Amendment; should that fail, House Dems appear ready to move on an article of impeachment charging the president with "incitement of insurrection."
But also moving against the president were several big tech companies. Over the weekend, in one way or another, they "deplatformed" Trump and the social site Parler, which they claimed didn't do enough to moderate incitements of violence. Those stocks – including Apple (AAPL (opens in new tab), -2.3%), Facebook (FB (opens in new tab), -4.0%), Amazon.com (AMZN (opens in new tab), -2.2%), Google parent Alphabet (GOOGL (opens in new tab), -2.3%) and Twitter (TWTR (opens in new tab), -6.4%) – sold off heavily on Monday.
Subscribe to Kiplinger's Personal Finance
Be a smarter, better informed investor.
Save up to 74%
Sign up for Kiplinger's Free E-Newsletters
Profit and prosper with the best of expert advice on investing, taxes, retirement, personal finance and more - straight to your e-mail.
Profit and prosper with the best of expert advice - straight to your e-mail.
"News over the weekend reminded investors that the FAANG stocks could certainly see increasing regulatory pressure over the coming months," says David Keller, chief market strategist at StockCharts.com. "The stock market is all about pricing in expectations for the future, and perceived threats to their business models could mean limited upside for this group."
Today's weakness in Big Tech weighed on all the blue-chip indices to varying extents. The Dow Jones Industrial Average declined 0.3% to 31,008, while the Nasdaq Composite took a bigger 1.3% hit to 13,036.
Other action in the stock market today:
The S&P 500 declined 0.7% to 3,799.
The small-cap Russell 2000 inched marginally lower to 2,090.
U.S. crude oil futures continued to rise, finishing up 0.2% to $52.32 per barrel.
Gold futures improved, too, settling up 0.8% to $1,850.80 per ounce.
Bitcoin prices, at roughly $39,000 on Friday, crashed to as low as $30,305 on Monday, technically putting it in a bear market. Prices were at $33,300 as of the Monday market close. (Bitcoin trades 24 hours a day; prices reported here are as of 4 p.m. each trading day.)
Keep Your Portfolio Balanced With Income
Whether Big Tech's losses will stick remains to be seen, but Monday did serve as a quick reminder of growth's double-edged sword. Many growth stocks, even the market's largest, can have momentum turn against them in a flash, whether it's on regulatory worries, a disruptive rival or some other outside shock.
That's why, when you're constructing a strategy to build wealth over time, it pays to also invest in companies that pay … dividends, that is.
While it can be difficult to find stocks that can deliver huge chunks of returns via those cash distributions, especially at the market's current lofty levels, they do exist. You'll see many of them among the ranks of Wall Street's monthly dividend payers (opens in new tab), whose distributions are much more frequent than the quarterly norm.
Among that group are real estate investment trusts (REITs) (opens in new tab) – a familiar sector, and one whose components are required to pay 90% of their taxable profits as dividends to shareholders.
You might be less familiar with another business structure with the same mandate: business development companies (BDCs), which provide financing to smaller businesses. These private equity-esque firms can struggle when economic conditions hamper Main Street, but they stand poised to reap the rewards of an American recovery while offering some of the best yields on Wall Street. Read on as we look at some of the best BDCs for the year ahead: a set of five stocks yielding between 7.7% and 10.6%.
Kyle Woodley was long AMZN and Bitcoin as of this writing.
Kyle Woodley is the Editor-in-Chief of Young and The Invested (opens in new tab), a site dedicated to improving the personal finances and financial literacy of parents and children. He also writes the weekly The Weekend Tea (opens in new tab) newsletter, which covers both news and analysis about spending, saving, investing, the economy and more.
Kyle was previously the Senior Investing Editor for Kiplinger.com, and the Managing Editor for InvestorPlace.com before that. His work has appeared in several outlets, including Yahoo! Finance, MSN Money, Barchart, The Globe & Mail and the Nasdaq. He also has appeared as a guest on Fox Business Network and Money Radio, among other shows and podcasts, and he has been quoted in several outlets, including MarketWatch, Vice and Univision. He is a proud graduate of The Ohio State University, where he earned a BA in journalism.
You can check out his thoughts on the markets (and more) at @KyleWoodley (opens in new tab).