Stock Market Today: Investors Lose Their Nerve as Relief Deadline Nears
Retail sales in September improved by more than expected and a consumer sentiment reading improved, providing the market with a tiny lift Friday.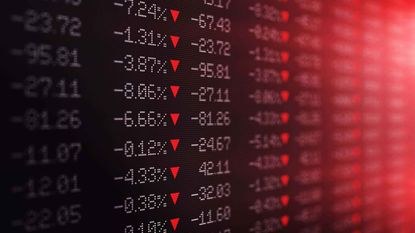 (Image credit: Getty Images)
Black Monday, it certainly wasn't. But the 33rd anniversary of Wall Street's worst-ever trading day was nonetheless marked with red ink.
Investors continue to eye COVID stimulus negotiations, which now have a deadline. House Speaker Nancy Pelosi has said that an agreement must be reached by Tuesday to get a bill passed before the November elections. (The Kiplinger Letter's up-to-the-minute forecast: Don't count on relief passing the House and Senate prior to Nov. 3.)
Meanwhile, the U.S. on Friday recorded 68,000 new COVID-19 cases – the country's highest daily total since July – fueling concerns of a long-discussed "second wave" as we approach winter.
Subscribe to Kiplinger's Personal Finance
Be a smarter, better informed investor.
Save up to 74%
Sign up for Kiplinger's Free E-Newsletters
Profit and prosper with the best of expert advice on investing, taxes, retirement, personal finance and more - straight to your e-mail.
Profit and prosper with the best of expert advice - straight to your e-mail.
The Dow Jones Industrial Average was actually 105 points (0.3%) higher in early trading, but it quickly flipped to losses that accelerated in the afternoon, culminating in a 1.4% loss to 28,195. Apple (AAPL, -2.6%) and Johnson & Johnson (JNJ, -2.6%) were the industrial average's steepest decliners, but the Dow 30's pain was widespread – every Dow 30 component but Intel (INTC, +0.8%) finished lower.
Other action in the stock market today:
The S&P 500 declined 1.6% to 3,426.
The Nasdaq Composite shed 1.7% to 11,478.
Small caps were less dreary, with the Russell 2000 off 1.2% to 1,613.
Buckle Up
No matter how Washington's negotiations turn out, you can expect Wall Street to react with vigor. But from an investing standpoint, understand that "no deal" likely doesn't mean forever ... it probably just means not right now.
"We believe that the probability of a package pre-election is very small and that a bill is unlikely before the end of 2020," writes the Wells Fargo Investment Institute. "Our view is the best chance for an economic support program is in the first quarter of 2021. By then, a package of (conservatively) $2.0 trillion appears likely – possibly more if Democrats control both chambers in the new Congress."
If you can't stand the thought of another herky-jerky ride, you can look to bond funds to provide a counterbalance, or you can always raise a little cash and look for new opportunities once the dust has settled. But for most, we suggest worrying less about the next two days, and game-planning for the next few decades.
That's the idea behind these 10 buy-and-hold mutual funds. This group of products has something for everyone – core stock holdings, sector-specific plays and, of course, fixed income – but they all have a few traits in common, including low expenses and proven track records. Take a look.
Kyle Woodley is the Editor-in-Chief of WealthUp, a site dedicated to improving the personal finances and financial literacy of people of all ages. He also writes the weekly The Weekend Tea newsletter, which covers both news and analysis about spending, saving, investing, the economy and more.
Kyle was previously the Senior Investing Editor for Kiplinger.com, and the Managing Editor for InvestorPlace.com before that. His work has appeared in several outlets, including Yahoo! Finance, MSN Money, Barchart, The Globe & Mail and the Nasdaq. He also has appeared as a guest on Fox Business Network and Money Radio, among other shows and podcasts, and he has been quoted in several outlets, including MarketWatch, Vice and Univision. He is a proud graduate of The Ohio State University, where he earned a BA in journalism.
You can check out his thoughts on the markets (and more) at @KyleWoodley.