3 Uranium ETFs That Pack a Nuclear Punch
Uranium prices are positively radiant this year and have reclaimed prices last seen in 2014. These uranium ETFs can help you harness this power.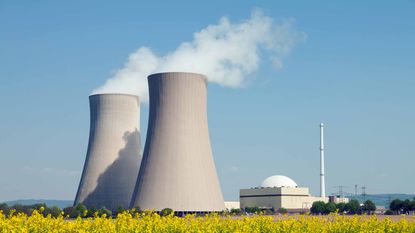 (Image credit: Getty Images)
A tiny corner of the commodities market is going nuclear this year. Uranium prices – and therefore uranium stocks and uranium exchange-traded funds (ETFs) – have reached critical mass.
Commodities in general have enjoyed stellar gains so far this year, thanks to the sharp economic snap-back and related burst of fast-rising prices. Indeed, shares in commodity stocks dealing in steel, aluminum, copper and a host of other hard assets tend to outperform when inflation runs hot.
Uranium, however, has been in a class of its own. Prices are up 38% year-to-date, to $42.40 per pound. That's an increase of nearly 140% since bottoming out below $18 per pound in late 2016.
Most of the price appreciation over the past five years has been driven by a rejuvenated global search for alternative energy sources. Over the past few months, however, a new source of support emerged. The newly launched Sprott Physical Uranium Trust began purchasing copious amounts of the element.
The result? Massive gains for uranium stocks, and a gusher of new assets flowing into a handful of uranium ETFs.
Here, we explore three uranium ETFs. It's a small field – these are three of the most pure-play funds in the space, and they still collectively represent less than $1.5 billion in assets. But they can provide a few different types of exposure to this rocketing commodity.
Data is as of Sept. 12. Yields represent the trailing 12-month yield, which is a standard measure for equity funds.
1/3
Global X Uranium ETF
Assets under management: $886.2 million
Dividend yield: 0.6%
Expenses: 0.69%
The Global X Uranium ETF (URA (opens in new tab), $26.34) is the largest uranium-focused ETF on the market. True, it has just under $890 million in assets under management (AUM), but that's a 365% increase over the $243 million in AUM it claimed at the beginning of 2021.
URA provides comprehensive exposure to the niche uranium industry, with its portfolio of 45 stocks spanning miners, refiners, and manufacturers of equipment for both uranium companies and nuclear-facility firms.
Concentration risk is often a factor in smaller industry and thematic funds, and that's certainly the case for URA. For one, producer Cameco (CCJ (opens in new tab)) makes up nearly a quarter of the uranium ETF's assets. And the top five holdings – which includes Kazakhstan's Kazatomprom (8.7%), the world's largest uranium producer – make up more than half of URA's weight.
Also worth noting is that Global X Uranium ETF's holdings are almost entirely international. Canada accounts for half of net assets, followed by Australia (11%) and Kazakhstan (9%). The U.S. is weighted at just a little more than 5%.
Learn more about URA at the Global X provider site. (opens in new tab)
2/3
North Shore Global Uranium Mining ETF
Assets under management: $538.1 million
Dividend yield: 1.8%
Expenses: 0.85%
As the name would suggest, the North Shore Global Uranium Mining ETF (URNM (opens in new tab), $84.71) is mostly focused on companies involved in uranium mining, although it also will invest in companies that hold the physical element.
This is another concentrated, mostly international portfolio with just 35 holdings at present. It's mighty top-heavy too. However, single-stock risk is more of a two-headed giant than it is with URA, with Cameco and Kazatomprom accounting for 14.9% and 13.3% of assets, respectively.
The third-largest weighting? The Sprott Physical Uranium Trust, which, as mentioned before, holds physical uranium. The uranium ETF's top five holdings are rounded out with Australian production firm Paladin Energy (PALAF (opens in new tab)) and Channel Islands-domiciled Yellow Cake, which purchases and holds uranium oxide.
Like URA, URNM has seen its assets explode in 2021, to nearly $540 million today from roughly $48 million at the end of 2020.
Learn more about URNM at the North Shore provider site. (opens in new tab)
3/3
VanEck Uranium+Nuclear Energy ETF
Assets under management: $28.5 million
Dividend yield: 2.0%
Expenses: 0.60%
The VanEck Uranium+Nuclear Energy ETF (NLR (opens in new tab), $55.35), like the other two uranium ETFs on this list, has seen its assets swell considerably in 2021. And yet even after increasing by 57% this year, NLR still has less than $30 million in AUM.
What gives?
The VanEck Uranium+Nuclear Energy ETF is a lesson in the importance of "checking under the hood." The name would seem to imply similar exposure to either URA or URNM. And so would its description (from VanEck):
"VanEck Uranium+Nuclear Energy ETF (NLR) seeks to replicate as closely as possible, before fees and expenses, the price and yield performance of the MVIS Global Uranium & Nuclear Energy Index (MVNLRTR), which is intended to track the overall performance of companies involved in: (i) uranium mining or uranium mining projects that have the potential, in MV Index Solutions GmbH's (the "Index Provider") view, when such projects are developed are expected to generate at least 50% of a company's revenues or are expected to constitute at least 50% of such company's assets; (ii) the construction, engineering and maintenance of nuclear power facilities and nuclear reactors; (iii) the production of electricity from nuclear sources; or (iv) providing equipment, technology and/or services to the nuclear power industry.
To put the above paragraph a bit more succinctly, the fund invests in miners, nuclear facilities builders, nuclear power companies and associated firms.
In other words, it sounds a lot like URA.
A closer look at the fund's meager 24 holdings, however, reveals exactly who butters NLR's bread.
Some 87% of the fund's assets are invested in plain ol' utility stocks – companies such as Duke Energy (DUK (opens in new tab)), Dominion Energy (D (opens in new tab)) and Exelon (EXC (opens in new tab)). And although they do indeed have ties to uranium – all three utilities produce electricity from a collective 27 nuclear plants – their businesses simply aren't positioned to benefit from spikes in uranium prices the same way that uranium miners and several other related companies are.
The bottom line: URA has returned 72% year-to-date, while URNM has nearly doubled with a gain of 97%. NLR, meanwhile, is up a mere 12.5%.
Learn more about NLR at the VanEck provider site. (opens in new tab)
Kyle Woodley is the Editor-in-Chief of Young and The Invested (opens in new tab), a site dedicated to improving the personal finances and financial literacy of parents and children. He also writes the weekly The Weekend Tea (opens in new tab) newsletter, which covers both news and analysis about spending, saving, investing, the economy and more.
Kyle was previously the Senior Investing Editor for Kiplinger.com, and the Managing Editor for InvestorPlace.com before that. His work has appeared in several outlets, including Yahoo! Finance, MSN Money, Barchart, The Globe & Mail and the Nasdaq. He also has appeared as a guest on Fox Business Network and Money Radio, among other shows and podcasts, and he has been quoted in several outlets, including MarketWatch, Vice and Univision. He is a proud graduate of The Ohio State University, where he earned a BA in journalism.
You can check out his thoughts on the markets (and more) at @KyleWoodley (opens in new tab).