Do You Have Gun Stocks in Your Funds?
Investors looking to make changes amid gun violence can easily divest from gun stocks ... though it's trickier if they own them through funds.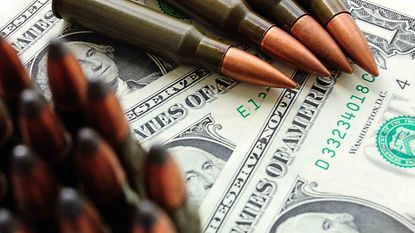 (Image credit: Getty Images)
Mass shootings in the U.S. have become a quotidian part of American life. Just as the public was struggling to understand the May rampage at a Uvalde, Texas, elementary school that left 19 students and two teachers dead, the carnage of a July Fourth shooting in Highland Park, Illinois, has shocked the country yet again.
If it feels like there are more firearm deaths and injuries in the news, it is because there really are. Add in suicides, accidents and other homicides, and deaths from firearms have more than tripled since 2014. Firearms are now the leading cause of death among U.S. children and teens age 1 to 19, overtaking automobile crashes and cancer.
This naturally has sparked a national conversation about how to solve the problem, with suggested solutions including anything from gun control to better mental-health resources. Some are trying to distance themselves from guns in any way imaginable – even in their own portfolios.
Subscribe to Kiplinger's Personal Finance
Be a smarter, better informed investor.
Save up to 74%
Sign up for Kiplinger's Free E-Newsletters
Profit and prosper with the best of expert advice on investing, taxes, retirement, personal finance and more - straight to your e-mail.
Profit and prosper with the best of expert advice - straight to your e-mail.
Divesting from firearms would seem easy – just sell any gun stocks you might own. But where things get complicated is when a portfolio is chock full of mutual funds or exchange-traded funds that hold dozens, hundreds or thousands of companies, making it difficult to determine which funds will keep you invested in guns.
Do You Hold Gun Stocks? You Might Be Surprised.
Discovering whether you own a mutual fund or exchange-traded fund (ETF) that invests is gun stocks is probably easier than you think.
The website Gun-Free Funds, for one, allows users to search funds by name, ticker or manager, and it will list all gun-related companies it holds. It also grades funds on an A-to-F scale; the more gun manufacturers or retailers it holds, the worse its grade. For example, Vanguard's S&P Mid-Cap 400 Index Fund (IVOO) earns a "D" rating for holding stocks including Olin (OLN), which owns the Winchester brand of firearms and ammunition.
Sign up for Kiplinger's FREE Closing Bell e-letter: Our daily look at the stock market's most important headlines, and what moves investors should make.
What about readers looking for a fund that is both gun-free and well-positioned for the current market?
In the Kiplinger 25 – our 25 favorite low-fee mutual funds – we recommend several that do not have exposure to gun manufacturing or retailing:
Generally speaking, of course, it's easier to avoid guns if you're dealing with individual stocks instead of diversified funds. For instance, in the Kip Dividend 15, just one stock – Lockheed Martin (LMT) – is involved in the manufacture of controversial weapons and small arms.
Walmart (WMT) does sell some gun-related merchandise for hunters, but since a mass shooting at a Walmart in El Paso, Texas, in 2019, the company stopped selling handguns, and it hasn't sold assault rifles since 2015. Also, customers must be 21 to buy a gun at a Walmart store and undergo a background check.
Additional tools exist to help investors parse stocks, ETFs and mutual funds for involvement in the sale or manufacture of guns. In fact, we have cataloged several tools to help investors access environmental, social and governance (ESG) ratings across many issue areas, weapons included.
Contributing Editor, ESG, Kiplinger.com
Ellen writes on environmental, social and governance (ESG) investing and sustainability. She was an ESG manager and analyst at Calvert Investments for 15 years, focusing on climate change and consumer staples. She served on the sustainability councils of several Fortune 500 companies, led corporate engagements, and filed shareholder proposals.
Prior to joining Calvert, Ellen was a program officer for Winrock International, managing loans to alternative energy projects in Latin America. She earned a master's from University of California in international relations and Latin America. She is fluent in Spanish and Portuguese.