Stick With Your Plan
Timing the market is nearly impossible. The worst thing you can do is sell stocks when prices are tumbling.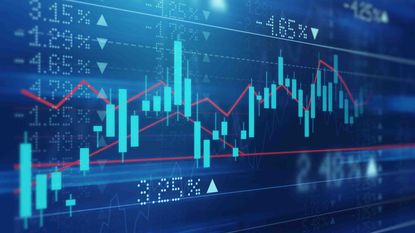 (Image credit: Getty Images)
One major challenge we face as a monthly magazine is that we write, edit, print and mail this publication weeks before it arrives in your mailbox. As I write this column for the February issue, it is early December. We send the publication to the printer in mid December, and most subscribers will receive their issues in the new year.
That's especially problematic when we experience a stretch like the one following Thanksgiving—when Omicron upset Wall Street's best-laid predictions. The prospect of a new, highly transmissible COVID-19 variant led to speculation about new shutdowns. That precipitated a roller-coaster ride for the stock market as investors fretted about the economy. Federal Reserve chief Jerome Powell unnerved traders even more when he warned that with a strong economy and tight labor market, inflation is likely to be persistent rather than transitory. He signaled that the Fed may move up plans to wind down its bond-buying stimulus program—the precursor to lifting short-term rates. The following week, as Wall Street concluded that Omicron would be less disruptive, the markets roared back.
In volatile times, our solution to the time warp between publication and delivery to you is to stick to our knitting—offering guidance based on the long view. For investors, the goal is to follow your investing plan and not panic when the market heads south—or fluctuates wildly. As we've seen in prior COVID scares, stocks fall, then resume their climb. The worst thing you can do is sell when prices are tumbling. Timing the market is nearly impossible, especially when it's time to get back in.
Subscribe to Kiplinger's Personal Finance
Be a smarter, better informed investor.
Save up to 74%
Sign up for Kiplinger's Free E-Newsletters
Profit and prosper with the best of expert advice on investing, taxes, retirement, personal finance and more - straight to your e-mail.
Profit and prosper with the best of expert advice - straight to your e-mail.
That goes for your retirement investments, too. Our cover story, by senior editor Sandy Block, reviews time-tested strategies to maximize your savings: Calculate how much you'll need, get an early start on saving and contribute to your retirement accounts like clockwork. According to a new national poll Kiplinger conducted with money management firm Personal Capital, Americans are doing a pretty good job when it comes to saving: Nearly 60% of respondents are stashing 10% or more of their income toward retirement, and more than 30% are saving at least 15% of income.
Update for subscribers. Kiplinger is now owned by Future, a large, publicly traded U.K.-based media company that recently acquired our previous owner, Dennis. Future has an expansive reach, with an audience of more than 300 million users globally. Kiplinger is key to its strategy to expand its wealth content. Future owns dozens of print publications and has a philosophy of letting its new brands continue to do what they do well. For Kiplinger's Personal Finance, that means we will continue to offer the same actionable, trustworthy investing and personal finance guidance we have been delivering for 75 years.
As part of the transition to new ownership, we are getting new e-mail addresses. You can continue to contact us at our former Kiplinger e-mail addresses. However, e-mails from me and the rest of the staff to readers will now be from the futurenet.com domain.
A reminder: We have switched to a new customer service bureau. For the past few years, we've worked with a bureau in Palm Coast, Fla., but your correspondence should now go to P.O. Box 37234, Boone, IA 50037-0234. (You will see several P.O. Box numbers—37231, 37232, 37233 or 37234—on customer service, subscription and renewal correspondence.) Please watch out for unscrupulous agents who attempt to solicit subscription and renewal payments (without our permission, at higher prices than we charge) at addresses elsewhere.
As part of this transition, we have asked that subscribers accessing the digital publications sign up for a new system called Mylo. Some readers have reported having trouble signing into Mylo. We apologize for the inconvenience, and I'm happy to report the problem has been fixed. Visit https://mylo.id/forgot-password to try again to reset your password. If you continue to experience problems resetting your password, please contact us at KIPService@kiplinger.com, and we will assist you. If you read the online edition and have not yet signed into our new digital subscription system, visit https://mylo.id/signup to get started.
Editor, Kiplinger's Personal Finance
Mark became editor of Kiplinger's Personal Finance magazine in July 2017. Prior to becoming editor, he was the Money and Living sections editor and, before that, the automotive writer. He has also been editor of Kiplinger.com as well as the magazine's managing editor, assistant managing editor and chief copy editor. Mark has also served as president of the Washington Automotive Press Association. In 1990 he was nominated for a National Magazine Award. Mark earned a B.A. from University of Virginia and an M.A. in Writing from Johns Hopkins University. Mark lives in Washington, D.C., with his wife, and they spend as much time as possible in their Glen Arbor, Mich., vacation home.