December Jobs Report Beats Expectations: What the Experts Are Saying
Ordinarily, stronger-than-expected hiring would spook the market, but slowing wage growth caused stocks to pop.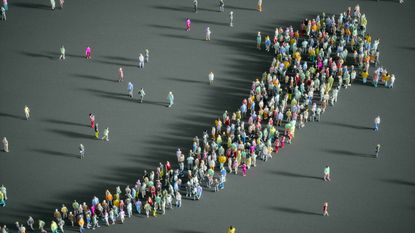 (Image credit: Getty Images)
The December jobs report blew past economists' expectations and the unemployment rate fell, but evidence of cooling wages caused equity markets to rejoice Friday.
In other words, good news was actually taken as good news for a change.
Nonfarm payrolls increased 223,000 last month, while the unemployment rate dipped to 3.5% from 3.7%, the Bureau of Labor Statistics reported Friday (opens in new tab). On an unrounded basis, the unemployment rate came in at 3.468%, or the lowest level since 1969 (opens in new tab), according to University of Michigan economist Justin Wolfers (opens in new tab).
Subscribe to Kiplinger's Personal Finance
Be a smarter, better informed investor.
Save up to 74%
Sign up for Kiplinger's Free E-Newsletters
Profit and prosper with the best of expert advice on investing, taxes, retirement, personal finance and more - straight to your e-mail.
Profit and prosper with the best of expert advice - straight to your e-mail.
Economists were looking for the economy to add 202,000 new jobs in December, per a survey by Bloomberg (opens in new tab), and for the unemployment rate to remain unchanged.
The Federal Reserve has been raising interest rates (opens in new tab) at the most aggressive pace since the late Carter and early Reagan administrations in a bid to tame the worst inflation (opens in new tab) in four decades. As such, stronger-than-expected job growth is usually taken as bad news by market participants. However, cooling wage growth suggests that labor market inflationary pressure might be easing.
Average hourly earnings increased 0.3% month-to-month in December, vs. a forecast for a gain of 0.4%. On a year-over-year basis, average hourly earnings rose 4.6%, vs. expectations of 5.0% growth.
Market reaction was immediate and bullish, with all three major indexes gapping up sharply at the opening bell. By Friday's close, the blue-chip Dow Jones Industrial Average gained 2.1% to finish at 33,629, while the broader S&P 500 rose 2.3% to 3,895. The tech-heavy Nasdaq Composite added 2.6% to close at 10,569.
With the December jobs report now a matter of record, we checked in with economists, strategists, investment officers and other market pros to see what they had to say about the state of the economy, markets and the Fed's path going forward. Please see a selection of their commentary, sometimes edited for brevity or clarity, below:
"A tight labor market is both good news and bad news. The good news is consumer incomes will likely support spending, despite inflation pressures. The bad news for markets is the Federal Reserve will continue to tighten monetary policy. Given the long and variable lags in monetary policy, the Fed will likely further downshift the pace of rate hikes and will likely increase rates by 0.25% at the next meeting as inflationary pressures abate." – Jeffrey Roach, chief economist at LPL Financial
"A better-than-expected jobs report, capping off a year of excellent job growth, suggests the U.S. was not in a recession (opens in new tab) in late 2022. Other data are less upbeat; PMI surveys show the private sector may have contracted in late 2022, the Conference Board's Leading Economic Index has been pointing to a recession ahead for a few months, and continuing jobless claims are up by more than a quarter over the last six months, a rate of increase usually observed only during recessions. But if today's jobs data go unrevised, the committee of economists who determine recession dates is unlikely to call late 2022 a recession. Inflation has peaked in the U.S. and continues to slow, with energy prices (opens in new tab) down from their peaks last summer, shortages of most goods ending, and house prices falling. If the good news keeps coming on inflation, the Fed could pivot to rate cuts in late 2023. But December's strong jobs report shows that the pivot is not just around the corner. The Fed's next move will probably be a quarter percentage point hike at their first meeting of this year, concluding February 1." – Bill Adams, chief economist at Comerica Bank (opens in new tab)
"The U.S. jobs report had a little something for everyone: plenty more jobs and better job prospects for the unemployed, but also somewhat slower wage growth and a pullback in work hours that suggests the economy is losing steam. Alas, a hawkish Fed will likely fret more about the ongoing tightness in labor markets." – Sal Guatieri, senior economist at BMO Capital Markets (opens in new tab)
"For an investor, this report went about as well as it could have gone. If our goal in the next several months is to have this soft landing, where the economy continues growing, but at a slower pace and inflation continues to slow, this was a good report for that scenario. And that's the scenario the market is hoping for. Investors are worried about two things: interest rates (which have been the primary driver of markets for the last year) and a recession. On the issue of interest rates, one bit of information I see is that it looks like wage growth is continuing to slow. That goes to the inflation and interest rate concern. You will still have the Fed acting to raise rates to slow things down, but the fact it looks like some of the inflationary pressures are continuing to fade, that makes you feel good about the Fed having an end date sooner rather than later. In terms of a recession, it would be an odd recession indeed when we see unemployment falling, which we did. And you have job numbers coming back higher than expected. In terms of these numbers, you really don't see signs we're headed into a typical recession. Those are not recession numbers. So economically, these numbers would make you feel good. They're not pointing to an immediate recession and they're not pointing to interest rates going to the sky." – Tim Courtney, chief investment officer at Exencial Wealth Advisors (opens in new tab)
Senior Investing Writer, Kiplinger.com
Dan Burrows is Kiplinger's senior investing writer, having joined the august publication full time in 2016.
A long-time financial journalist, Dan is a veteran of SmartMoney, MarketWatch, CBS MoneyWatch, InvestorPlace and DailyFinance. He has written for The Wall Street Journal, Bloomberg, Consumer Reports, Senior Executive and Boston magazine, and his stories have appeared in the New York Daily News, the San Jose Mercury News and Investor's Business Daily, among other publications. As a senior writer at AOL's DailyFinance, Dan reported market news from the floor of the New York Stock Exchange and hosted a weekly video segment on equities.
Once upon a time – before his days as a financial reporter and assistant financial editor at legendary fashion trade paper Women's Wear Daily – Dan worked for Spy magazine, scribbled away at Time Inc. and contributed to Maxim magazine back when lad mags were a thing. He's also written for Esquire magazine's Dubious Achievements Awards.
In his current role at Kiplinger, Dan writes about equities, fixed income, currencies, commodities, funds, macroeconomics and more.
Dan holds a bachelor's degree from Oberlin College and a master's degree from Columbia University.
Disclosure: Dan does not trade stocks or other securities. Rather, he dollar-cost averages into cheap funds and index funds and holds them forever in tax-advantaged accounts.