Mixed Bag on Business Costs as Manufacturing Costs Fall, Oil is Headed Up: Kiplinger Economic Forecasts
Businesses still have storms to weather but some pressure is easing.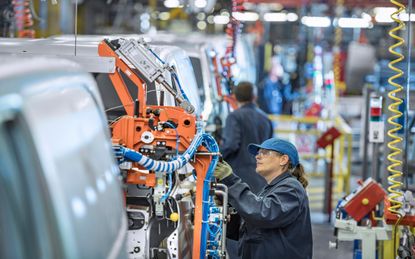 (Image credit: Getty Images)
The prices businesses pay for materials and components have a major impact on the prices we pay for essential goods and therefore the wider economy. So to help you make better investments and other financial decisions we will keep you in the loop on major developments in this market (Get a free issue of The Kiplinger Letter or subscribe). You will get them first by subscribing, but we will publish many (but not all) of the forecasts a few days afterward online. Here's the latest…
One silver lining of the slowing economy: manufacturing costs are finally easing after years of snarled supply chains, shipping delays and spikes in the prices of many key materials.
Inflation is far from vanquished, but the slowdown in commodities and capital goods prices is welcome.
Subscribe to Kiplinger's Personal Finance
Be a smarter, better informed investor.
Save up to 74%
Sign up for Kiplinger's Free E-Newsletters
Profit and prosper with the best of expert advice on investing, taxes, retirement, personal finance and more - straight to your e-mail.
Profit and prosper with the best of expert advice - straight to your e-mail.
Orders for capital equipment have peaked following the pandemic surge. Adjusted for inflation, new orders are down 6% from last year. Unfilled orders are back to the pre-pandemic average. Some equipment shortages remain, especially for electrical gear and HVAC systems. Autos and aerospace are still humming and fueling orders for precision machining equipment.
Most manufacturing sectors are pulling back owing to concerns about demand and tightening credit; the result of banks growing more cautious on lending. That means less competition and smaller price hikes for the companies that do purchase new equipment.
Most materials prices have dipped, or will, cooling the cost of manufacturing and construction.
Energy costs may be poised for diverging paths
Oil is up and natural gas is down. Oil prices have fallen lately, but demand is outrunning supply. Stocks of crude oil and gasoline in the U.S. are low, and oil use is rising briskly in Asia, especially China. Several disruptions to supply, from the Middle East to Canada, could push up prices later this year unless the global economy really stumbles. Russia is exporting more oil than initially expected, despite stiff Western sanctions. But OPEC is cutting back.
Meanwhile, natural gas prices have pulled back from last year's peak. A mild winter in the U.S. and Europe kept demand in check, and now U.S. stockpiles of stored gas are well above normal. Extreme heat this summer could fire up demand for electricity, and thus gas, since the U.S. relies heavily on gas for power generation. But for now, it appears gas costs should stay modest, which is good news for the many industries that use it.
Finally, freight shipping rates have fallen significantly and are back down to their pre-pandemic levels, or lower, now that shipping demand has slackened.
The dilemma for companies: whether to go back to sourcing goods from Asia, as shipping costs are down, and risk disruptions from a future geopolitical crisis.
This forecast first appeared in The Kiplinger Letter. Since 1923, the Letter has helped millions of business executives and investors profit by providing reliable forecasts on business and the economy, as well as what to expect from Washington. Get a free issue of The Kiplinger Letter or subscribe
Read more

Staff Economist, The Kiplinger Letter
David is both staff economist and reporter for The Kiplinger Letter, overseeing Kiplinger forecasts for the U.S. and world economies. Previously, he was senior principal economist in the Center for Forecasting and Modeling at IHS/GlobalInsight, and an economist in the Chief Economist's Office of the U.S. Department of Commerce. David has co-written weekly reports on economic conditions since 1992, and has forecasted GDP and its components since 1995, beating the Blue Chip Indicators forecasts two-thirds of the time. David is a Certified Business Economist as recognized by the National Association for Business Economics. He has two master's degrees and is ABD in economics from the University of North Carolina at Chapel Hill.